How to Create a WhatsApp Campaign
Available on a
paid
pricing plan
Messenger campaigns are a reliable way to attract new customers and keep the attention of loyal customers. Keep in touch with your clients, inform them about important events or changes to their order statuses, and remind them about scheduled events they signed up for.
You can create a campaign for the entire audience of your WhatsApp chatbot using a template or send a message to an active contact.
WhatsApp chatbot subscribers are users who scanned a QR code or followed a link to a bot and sent a message to this chatbot. You can upload a CSV file with previously subscribed users to your bot.
To create a campaign, go to the "Chatbots" section, and click Create campaign.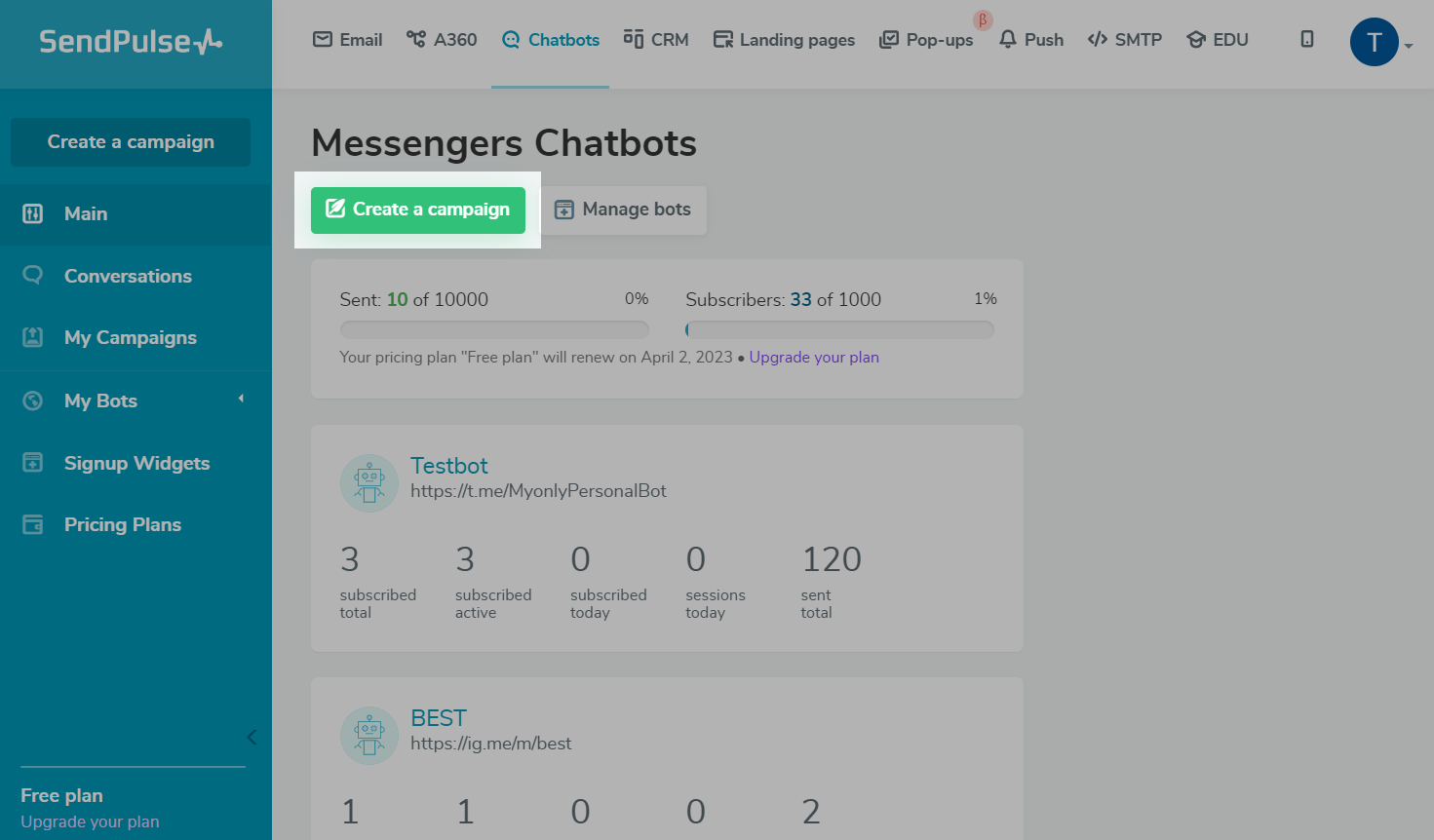 Select a Bot
Choose a previously connected bot from the drop-down list and the campaign will be sent to that chatbot's audience list.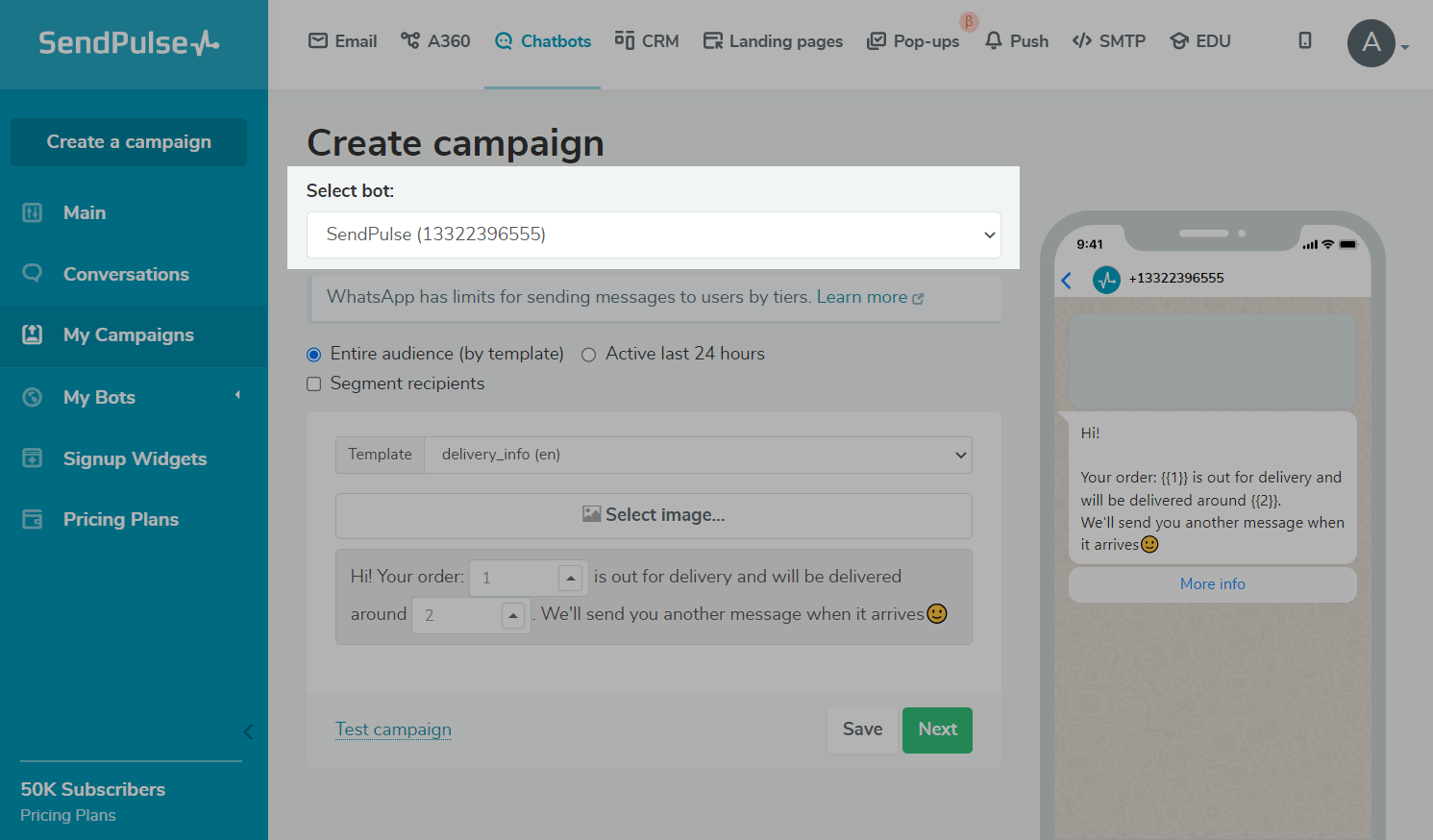 Choose Recipients
Choose recipients for your campaign:
Entire audience: send a message to your entire audience using an approved template. The cost of such messages is calculated according to the SendPulse tariffs.
Active last 24 hours: send a message to contacts who have interacted with your chatbot in the last 24 hours. These messages are free.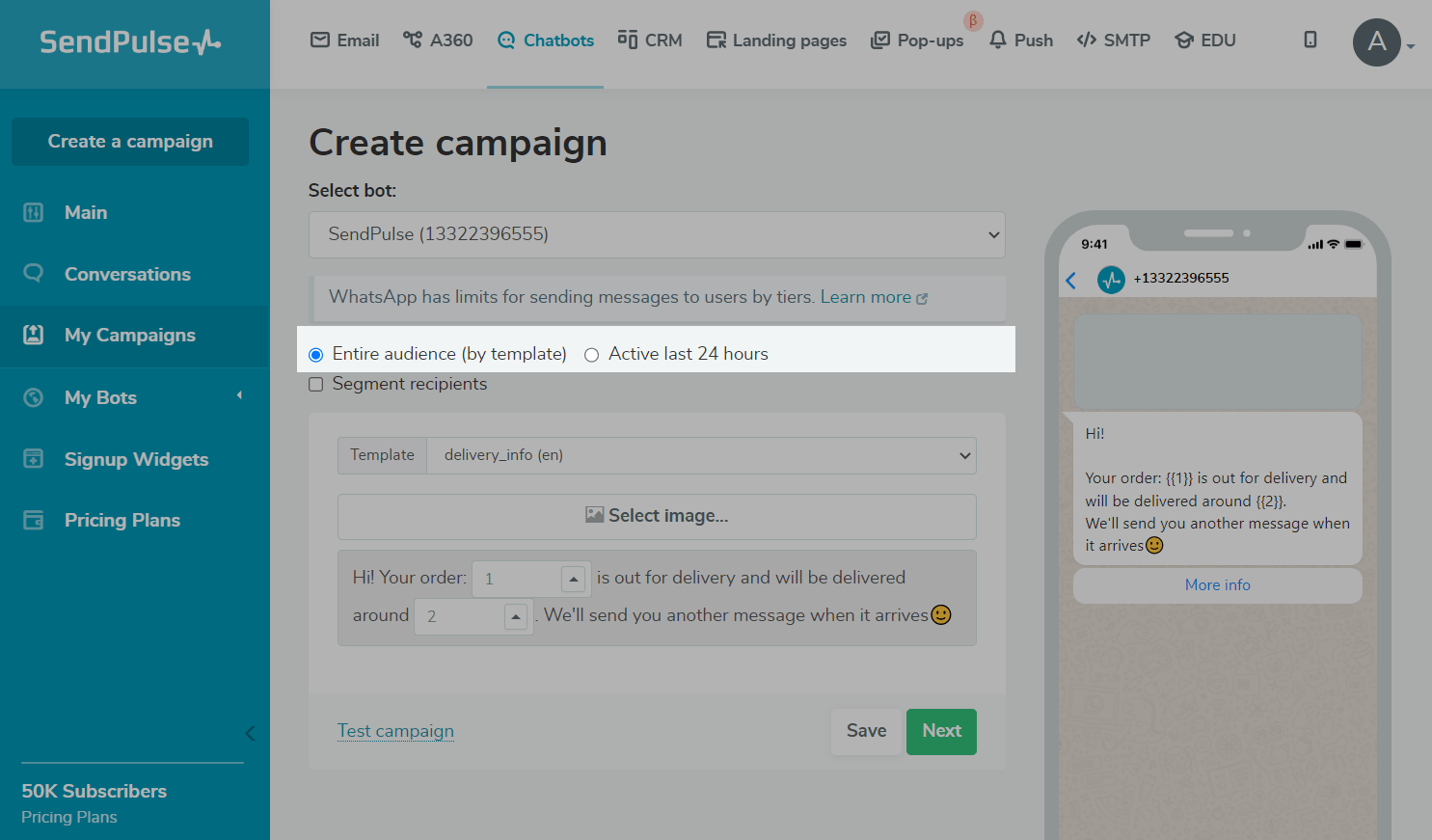 You can also segment recipients by their subscription date, tags, chatbot flow participation, receiving certain campaigns, and variables (or global variables). For example, by country, phone numbers, and names. To select multiple criteria and filter recipients more precisely, click Add the list segmentation criteria > Apply.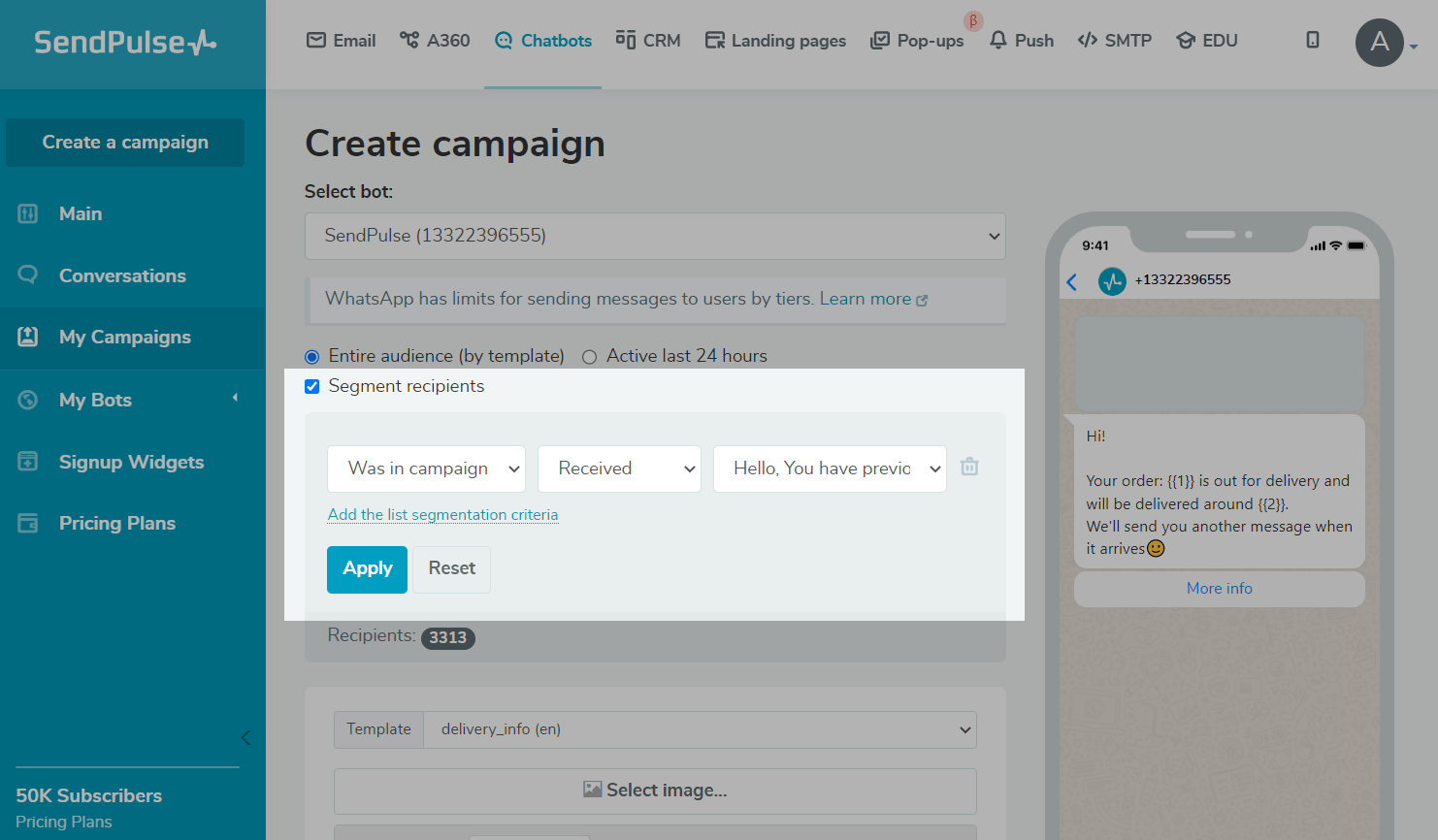 Fill in the Message Content
Template Message
If you chose to send a message to your entire audience using a template, you will not be able to change the text, but you can add your own variables and a link to a picture or file if you added the "Attachment" option to the template.
Choose a template and in place of variables with numbers, select your variable from the "Audience" tab or insert a static value.
If your template also includes an image or attachment, upload it.
Free message
If you choose to send a campaign to contact who was active in the last 24 hours, you can write your text, add variables, and an emoji.
You can also add an image, file, additional block of text, button, list button, audio, video or product card.
Add a Button
You can add a button with a link or use it to launch a flow and pay for the purchase. Place the button under your text or any other element.
Click +Add Button.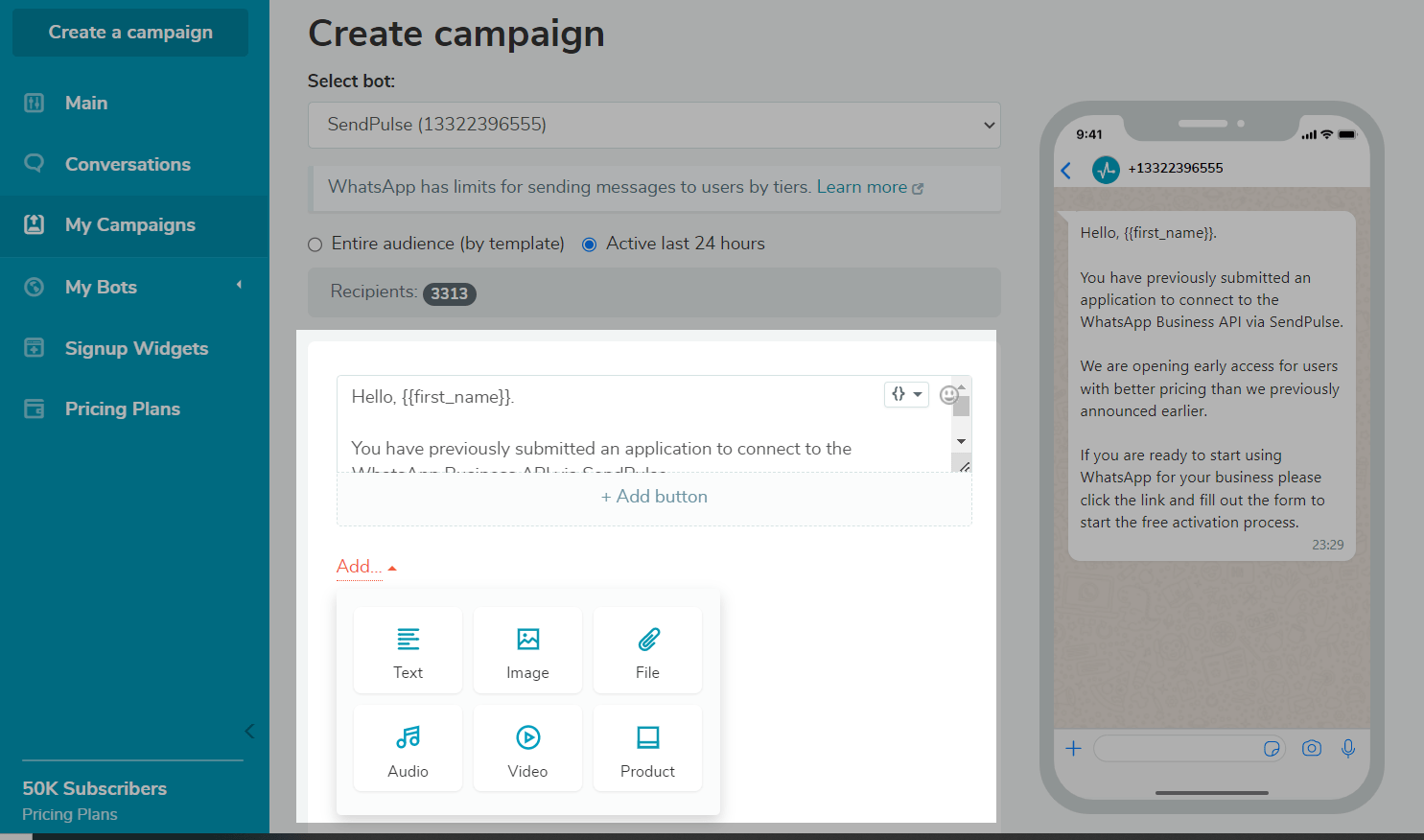 Write the text of the button. The length limit is up to 20 characters.
The button has three scenarios: continue the flow, link, or payment.
Continue the Flow
Select "Button", enter a name, and select flow, which will be sent after clicking on the button.
List
A list button opens a list of clickable options. Select "List," enter button text, a section name, title, and description.
You can add up to 10 items. You can place all the elements in one section or make 10 sections of 1 element each.
In the statistics section, you will see the number of button clicks and the list of subscribers who clicked it.
Payment
Add payment buttons that allow subscribers to purchase products right in your WhatsApp chatbot. To do this, add a payment method, and in the button settings, select a payment system, and enter your product name and payment amount.
Alternatively, you can launch a chatbot flow after a successful payment.
Available only in the paid plan. Read more: «How to Accept Chatbot Payments».
Add Elements
Next, add an image, file, product card, video, audio or extra buttons and text.
To do this, click Add, and select an element.
Text
You can add another text block that will be visually separated from the main message.
Image
You can add a JPG or PNG image that is up to 2 MB in size.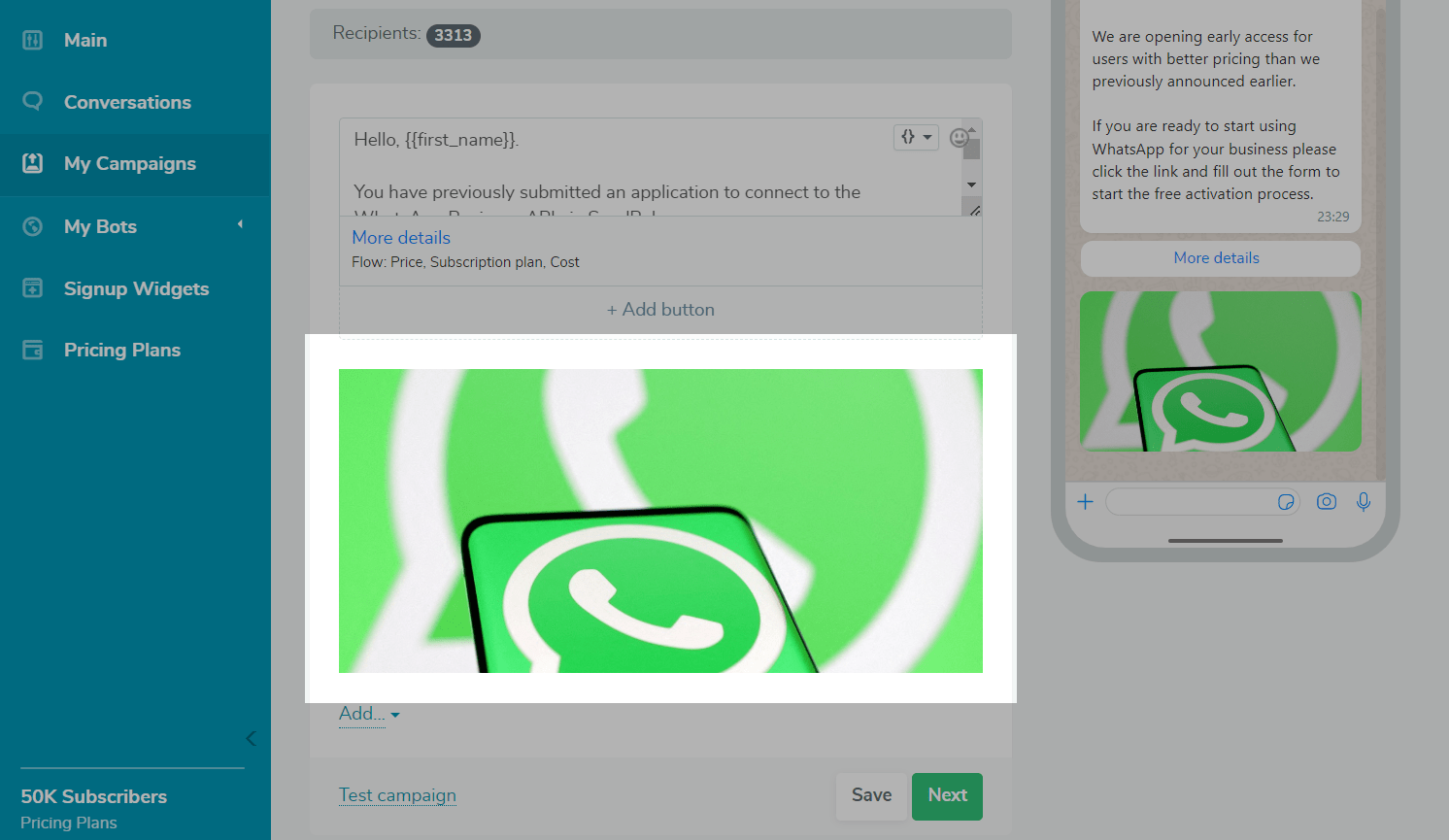 File
Supported file formats: ZIP, PDF and GIF. The maximum file size is 20 MB. The file name must not exceed 40 characters. You can upload a file from your device or add a link to it.
Video and Audio
You can upload videos up to 20 MB.
Product Card
Paste the product and catalog IDs from the Business Manager account that holds the current WhatsApp Business account.
Read also: How to Add a Product Card in a WhatsApp Chatbot.
Ones you have filled the message with all the necessary content, click Next.
Select a Sending Time
In the next window, you can send your campaign immediately or schedule it for a specific date and time.
If you schedule your campaign to be sent later, you can edit it again before sending. Go to the list of campaigns, select the campaign, and in the "Status" field, click Edit. To cancel sending, click Cancel.
Here you can also see the price breakdown for sending a campaign to your mailing list. Money will be debited from your account balance for the number of specified recipients. If WhatsApp provides data that the message was not delivered, the money will be returned to your balance.
Click Send a campaign.
Preview Your Campaign
Once you add all the elements you need, see what your messages look like to users, and if you added a button to the template, you can see which link you inserted.
Analyze Your Results
You can view detailed information about your campaigns: how many messages were delivered, how many recipients interacted with your bot, and the cost of your campaign and delivered messages.
To do that, navigate to the "My campaigns" tab and choose a campaign from the list. You will see the status and statistics of each campaign and a list of recipients.
You can also export a CSV file along with your campaign recipient list and delivery status.
You can export your campaign recipient list only on a paid pricing plan.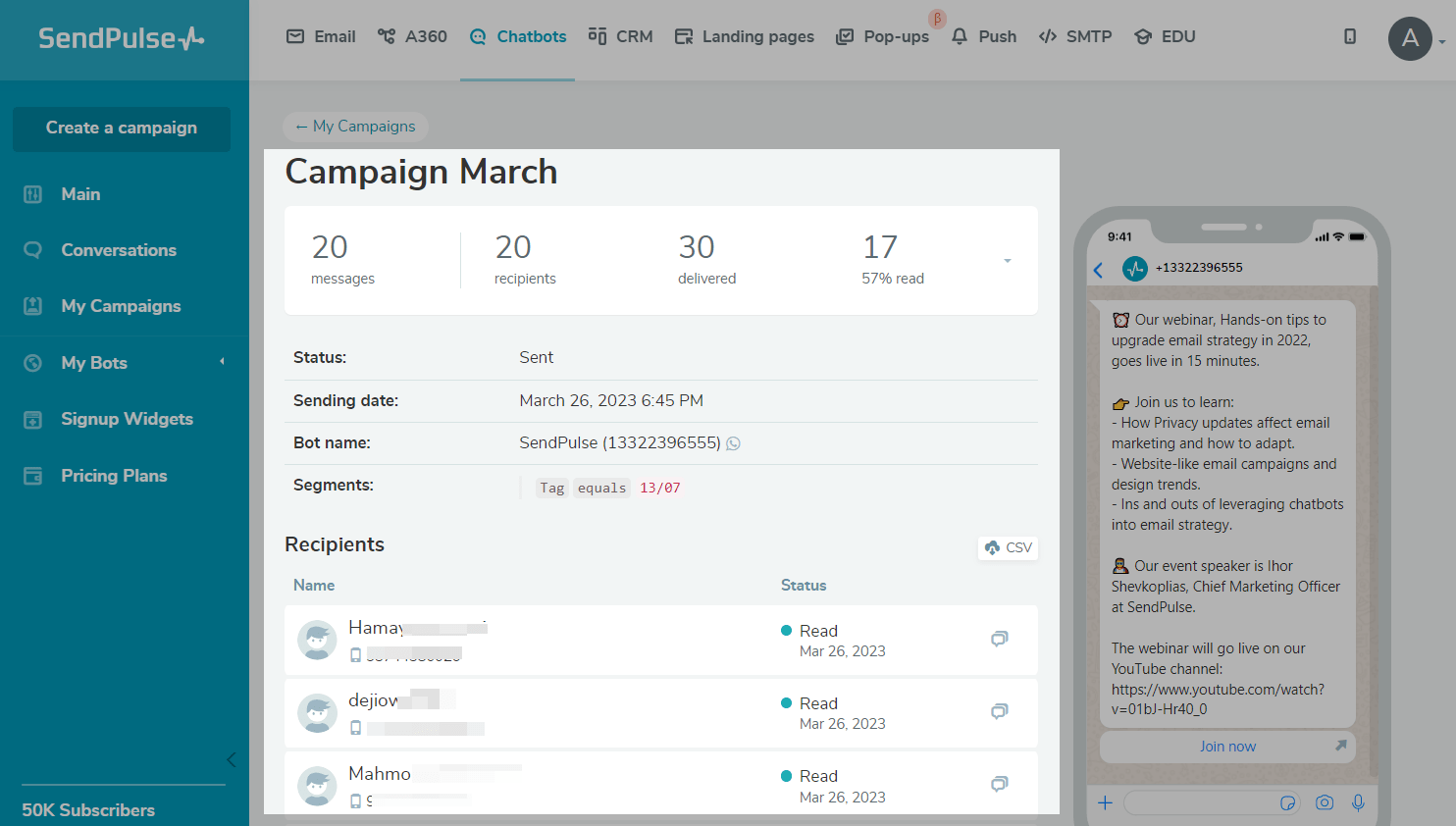 Last Updated: 19.05.2023