Creating and sending a campaign only takes a few minutes and has four steps.
Create a Campaign
Open the "Email" section and click "Create a campaign."
Add Information about the Campaign
Mailing list — choose a mailing list from lists you have created before or create a new one.
After you select a mailing list, the option "Use segmentation" becomes active.
Sender email address — choose a sender email address from the list of active "From" addresses. The "Sender name" field is auto-filled with a name that corresponds to the chosen email address.
Subject line — an exciting subject with a call-to-action motivates your subscribers to open and read an email. Add recipients' names to the subject line or any other personal information using the "personalization" feature.
You can also insert emoji in a subject line.

Choose an Email Template and Add Text
We provide several options for choosing an email template for your campaign. You can:
select a template that you created earlier;
create a new template in the template builder;
choose a featured template offered by SendPulse;
upload a template from a file, a link or by inserting your HTML code;
create a new template in the HTML editor.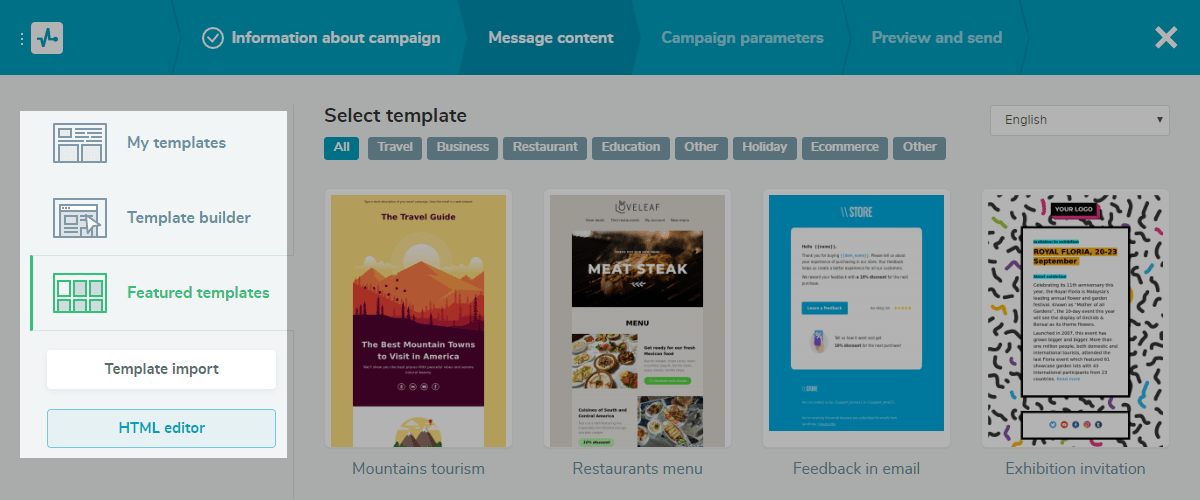 You can personalize a message, as well as an email subject, by adding subscriber's data to it.
Use simple or smart personalization in your campaigns to improve their efficiency.
Configure Campaign Parameters
"Collect statistics" — configure options to collect statistics by the recipients' actions.
"Unsubscribe page" and "Language of the unsubscribe form" — attach a custom unsubscribe page or a default one to the email and set the language of the to unsubscribe form, depending on the language of your target audience.
"Subscription category" — add a category for the subscription. In such a way, customers who are subscribed to several subscriptions will be able to unsubscribe from one of them, but not from all at once.
"Add this email to archive" — check the "Add this email to archive" checkbox and get access to the subscription after deleting data from your account.
"Enable automatic email flow based on a trigger action" — as soon as recipients open the email or follow the link. They will automatically receive subsequent emails from the automation which you set up. This option is active only if there is an automation flow created for the mailing list for which you are creating an email campaign.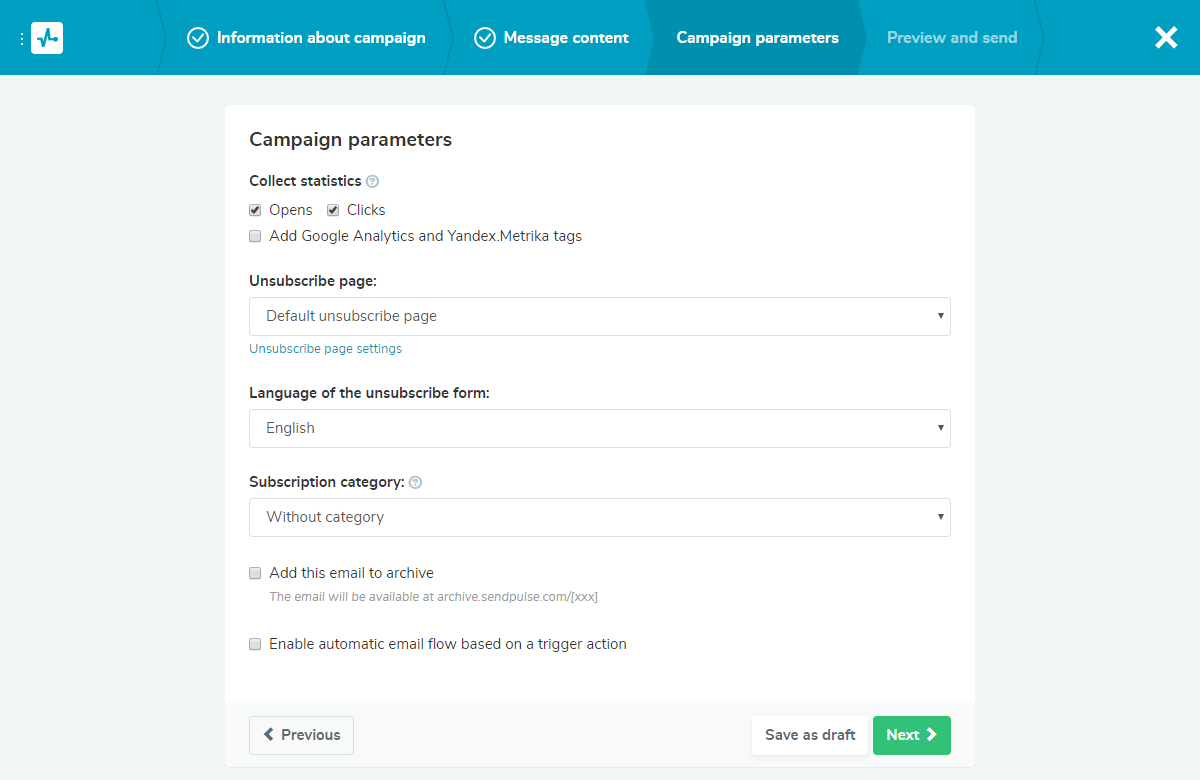 Preview and Send
Before sending the campaign, check all the data.
If you need to make changes in any part of the email, click "Change," make changes and return to the "Preview and send" step.
When all is ready, click "Start" to send the campaign.
Email scheduler
You can schedule a campaign for the future. In the "Sending time" section, select "Send on:" and set the specified date and time. The service will automatically send emails at the specified time.

You can send emails by time zone for scheduled messages.
Resend to unread
You can configure resending an email to subscribers who don't open it. Select the option "Resend message to clients who didn't open it," specify a new subject line or leave the same one and schedule the sending time.
At the scheduled time, the service resends the email to subscribers who have not opened the email yet.
Test sending
You can test the email before you send it to your subscribers.
A test message is sent to the email address registered as a "From" email address in the service.
If you have several sender addresses, you can choose the one you need.
Send Emails via API
In addition to sending emails directly from a personal account, you can send bulk marketing and transactional emails via API.
Attention! For security reasons, there are restrictions on sending campaigns:
Four marketing campaigns per hour via API;
One campaign to the same mailing list in 15 minutes from your account.
Last Updated: 05.04.2021