Anti-Spam Recommendations for Email Campaigns
When you create an email campaign, the embedded antispam system analyzes the email and estimates the probability of the email getting into spam. If the system detects any reason that increases the likelihood of email to be considered spam, a notification will appear in the "Preview and send" step. The notification will offer recommendations on how to improve the campaign's deliverability.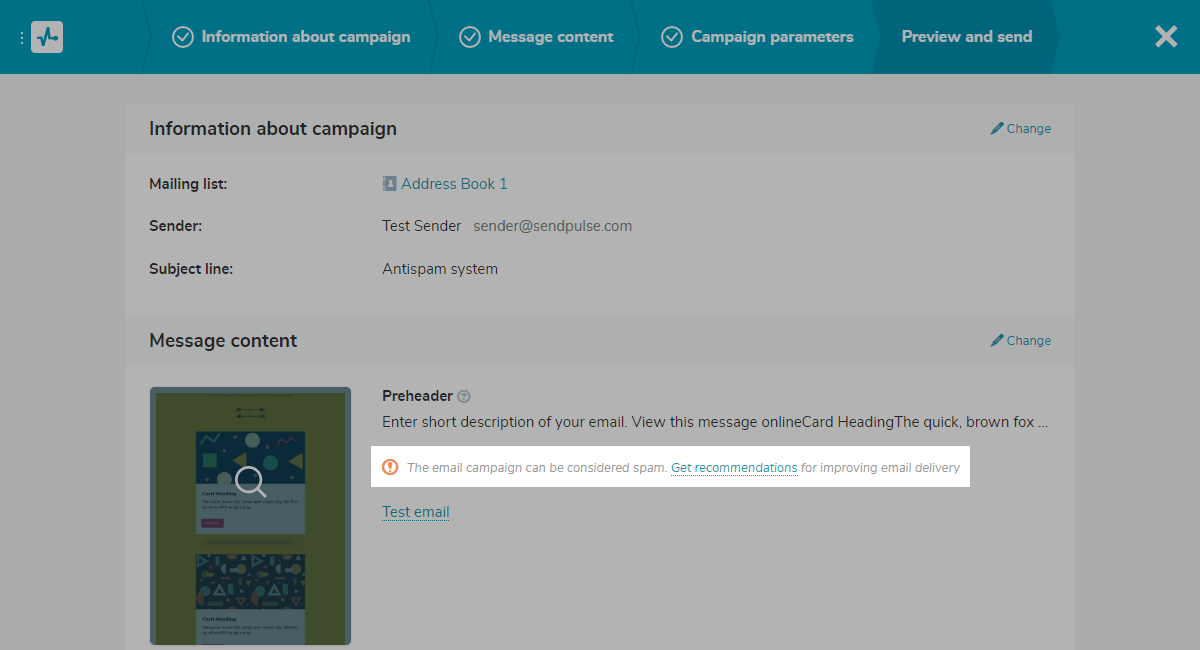 Click "Get recommendations" to see what can be fixed in the email.
How to Reduce the Risk of Emails Going to the Spam Folder
Send campaigns from an email address with a corporate domain. Recipient email servers may reject emails sent from free email services (Gmail, Yahoo, AOL, etc.).
Avoid using stop words in a subject, preheader, and body of an email.
Do not use more than 15 capital letters in a row in a subject, preheader, or body of an email.
Do not use more than 1 exclamation mark in a subject line or more than 3 exclamation marks in one sentence in an email body.
Use a limited amount of font colors and bold text.
Keep a good ratio of text to images: text should be 60% of email content at a minimum.
Use Alt text for images. If the images do not load, the alternative text will appear in their place.
Make sure all the links work in an email.
The recommended length of a sender's name is between 3 and 100 characters.
The recommended minimum amount of text in an email body is 60 characters.
The recommended minimum length of an unsubscribe link is 5 characters.
Last Updated: 11.08.2022