SMTP Limits after Exceeding the Bounce Rate
Sending emails to invalid addresses hurts the reputation of your email service's servers and your sender domain, which is detrimental to mailing list deliverability.
To ensure a high level of email delivery, SendPulse has an "Anti-Spam Policy" and automatic delivery error limits have been implemented for the SMTP service. If restrictions are applied to your account, you will receive an email notification.
What Limits Apply
If you have a bounce rate greater than 7% when sending emails via SMTP, your account's limit per hour will be reduced to our minimum SMTP sending limit of 50 emails per hour.
Restrictions on sending emails are enabled when you exceed the bounce rate for the last 15 minutes of sending. If there are more than 20 errors in 24 hours, your account will be blocked.
How to Сheck Your Сurrent Sending Limit
Go to the "SMTP" section, check the current limit next to the "Sending limit per hour" option.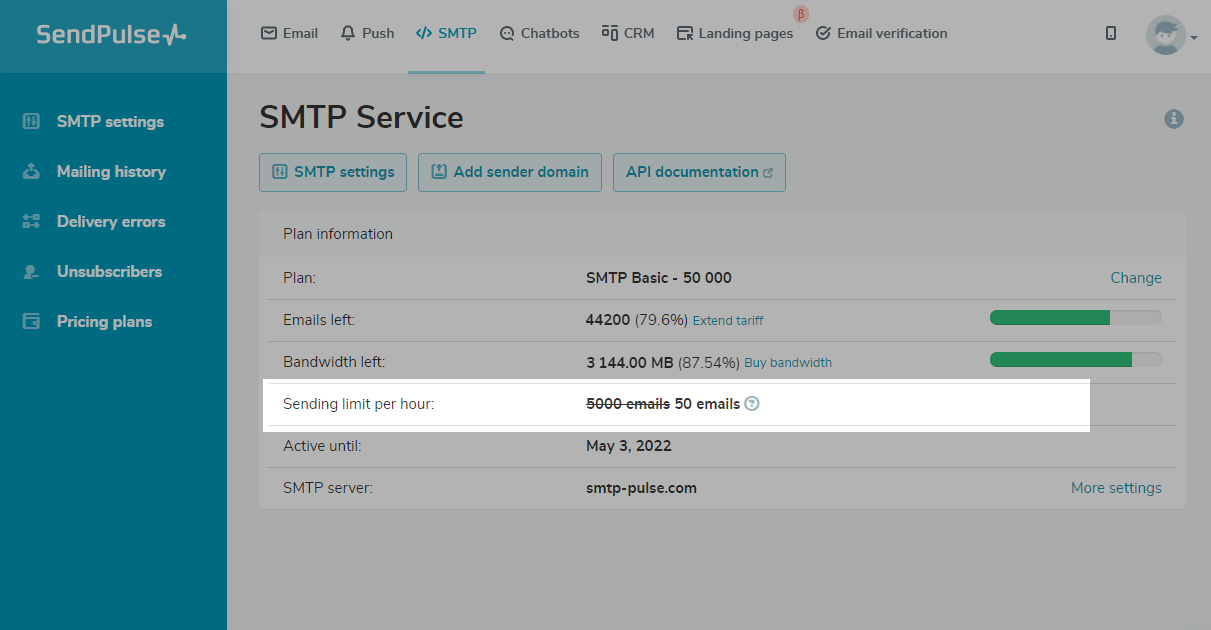 How to Check the List of Addresses with Errors
Go to "SMTP" > "Mailing History" or "Delivery Errors." In the "Statistics" tab, you can check the totals for "Sent," "Delivered," "Read," "Clicks," and "Delivery errors" to track your numbers for the selected time period.
In the "List of Addresses with Errors" tab, you can view the sending history and the sending error log for each sending time.
Use the filter to select the day for which you want to display results.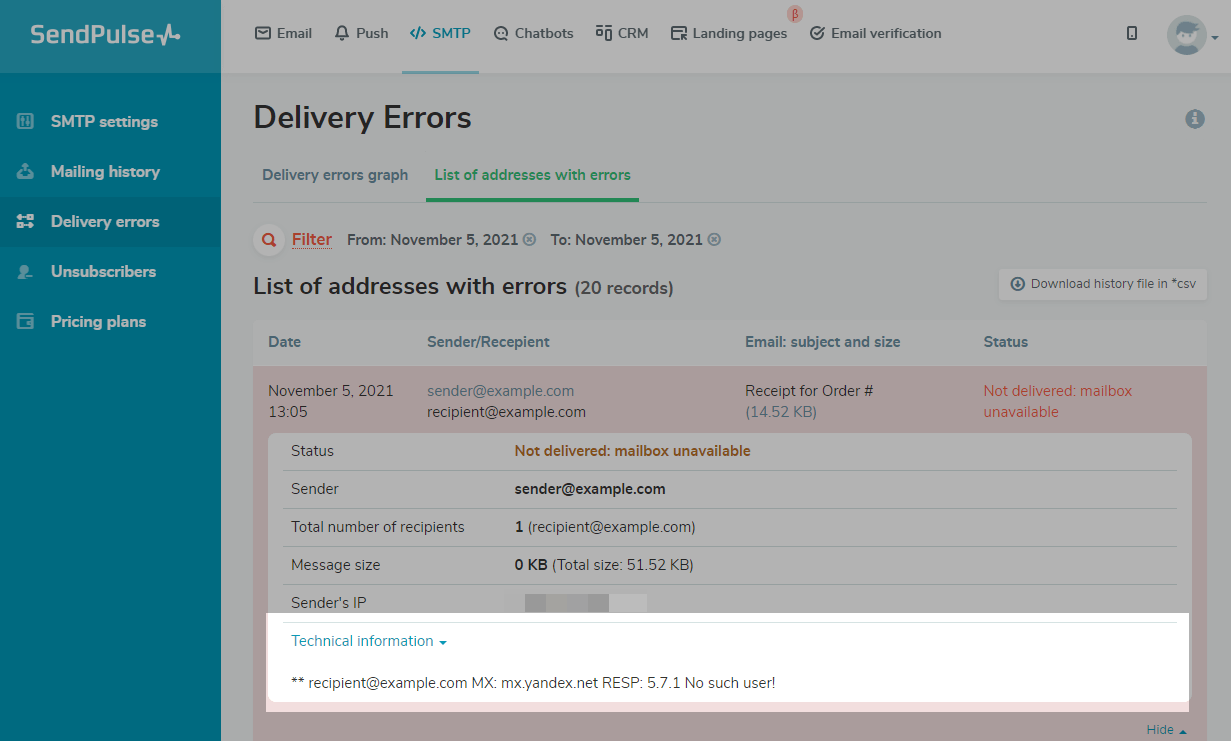 You can also check errors using the "Get list of bounces for a day" API method. In the sending parameter "date" insert the day for which you want to get addresses with delivery errors. With "Get a List of Emails" you can get a list of emails with sending statuses for all time or for the selected time period.
Recommendations to Reduce Bounces
Your contact list may include irrelevant addresses if you've collected addresses using offline methods, a form with a single opt-in option to subscribe, register, or pay for an item, bought addresses in public databases, or haven't received feedback from a subscriber in the last year.
To restore your full mailing limit, you need to remove invalid email addresses from your mailing list.
You can use third-party validators or our "Email validator" service through your personal account or via integration with your website using the "Validate address" API method. Read more in "What is email validator and why you should use it."
To learn more about invalid email addresses and how to deal with them, check out the articles "Email Validation — a Measure Paramount to a Healthy Mailing List" and "Choosing the Best Email Verification Service: A Test Drive."
Recommendations for collecting relevant email addresses:
Collect contacts by double-opt-in from a site on the same domain you plan to send emails from. In the form where the users enter their email address, specify that important transactional messages will be sent to this email. You can also add a captcha to the subscription form so that bots can't fill it in.
Check the email addresses on your mailing list with validation services before sending a campaign.
Send segmented and personalized emails.
Periodically analyze your mailing list and keep it up to date, removing inactive from contacts. You can view the sending statistics in the "SMTP" section, "Send History" tab.
Last Updated: 27.07.2023