How to Choose a Pricing Plan for an Email Service
Choose a SendPulse plan based on the needs, size, and nature of your business.
To choose a pricing plan plan, you need to evaluate:
How often you send campaigns. For campaigns once a month or quarterly, we recommend paying for bulk emails annually — "Pay as you Go," for frequent campaigns to the same users — we recommend using a monthly "Subscription" plan.
What functionality you need. Depending on the pricing plan, the amount of available functionality increases for additional personalization of emails, automation, analytics and teamwork.
What size subscriber base or number of emails you need.
Types of Pricing Plans by Included Functions
For your convenience, depending on the restrictions on the included functions you need, we created 4 types of pricing plans: Free, Standard, Pro, and Enterprise.
List of available functions.
Invite Users

If you are working on an email marketing team, you can add team members with limited access to mailing lists, templates, or analytics. Available on all paid plans.

Sender addresses

The address from which all bulk campaigns or trigger emails are sent. Available on all pricing plans, the number of addresses on one or several domains depends on the pricing plan you choose.

Automations

Customize welcome emails, order confirmations, abandoned cart notifications, event invitations, and other trigger emails that start based on user behavior. You can also add action and filter elements to automate your work with data and contacts. Available on all pricing plans, the number of flows or events transmitted depends on the pricing plan you choose.

Landing page builder

Create a website based on a ready-made, well-thought-out template or develop a unique website from scratch without knowing the code. A drag and drop builder and default domains are available at any pricing plan.

Image storage

Image storage contains all of your images used in autoflows, sent and scheduled campaigns, and is used for landing pages. When you delete images to free up space, the images in received emails become inaccessible. Available on all pricing plans, but storage size depends on the pricing plan you choose. When a pricing plan is reduced, the images are not deleted, but the limit will be exhausted. To add new images, you will need to remove images to free up the space you need.

Segmentation

Create segments for, select contacts by activity, preferences and other differences to create personalized campaigns. Saving and using segments in campaigns is available on any paid pricing plan, but the number of available segments depends on the pricing plan you choose.

Tags

Create tags to add additional information about subscribers and quickly organize your mailing list and search within the list using filters. Available on Pro and Enterprise pricing plans. When you switch to a pricing plan below, the functions of sending mailings by tag and filtering by tags in the mailing list will become unavailable.

Email validator

Check your mailing lists for valid email addresses and keep your mailing list up to date. Available on all pricing plans. The number of available verifications depends on the pricing plan you choose.

With the Enterprise pricing plan, the number of verifications depends on the number of the selected pricing plan plan (the size of the base or the package of emails).

Please note that the number of email verifications for the Email Service pricing plan and the Email Verifier service are not cumulative.

Mailing list growth analytics

Information on subscriber activity: openings, clicks and rating, address status, and information about how the subscriber joined your list is added to charts for a selected period. On a Free pricing plan, the functionality is not available, on a Standard plan the subscriber status (address activity) is displayed, and on the Pro and Enterprise pricing plans, all of the information is available.

A/B tests

Compare senders, subject lines, and message templates to determine the most effective distribution option by comparing responses by distribution group. Available on all paid pricing plans.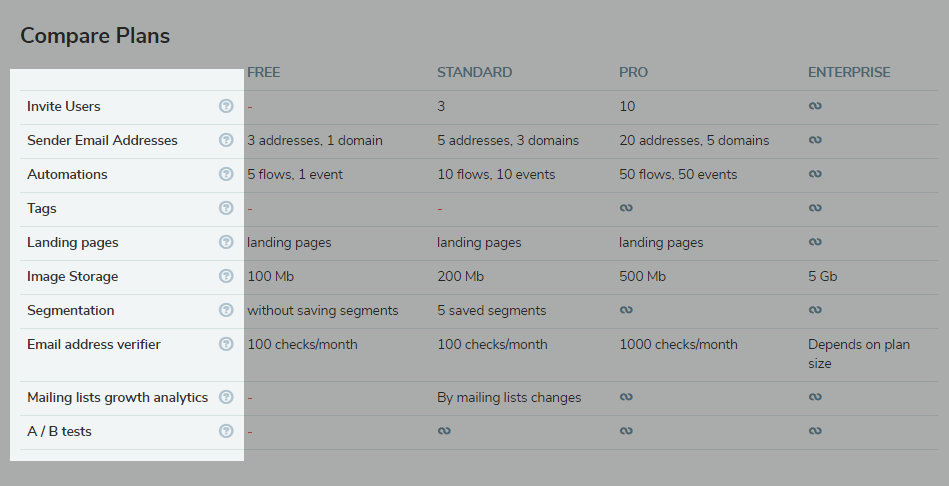 Also, with any paid pricing plan, you can remove the SendPulse logo, use a dynamic list (sending scheduled campaigns to a newly replenished contact base), export mailing lists, templates, and reports, and perform actions with email addresses on your mailing lists.
For each function for which the restriction applies, the corresponding plate is displayed in the personal account.
All unmentioned functionality of the email service (email templates, form builder, email scheduling, SPF and DKIM settings) is available on free and paid plans.
Pricing Plans by Quantity
For each pricing plan, depending on the pricing plan, you can choose:
Total subscribers - the number of unique email addresses to which you can send an unlimited number of emails within a month with the Subscription plan;
additional discounts apply when purchasing a pricing plan for 6 months and a year at a time.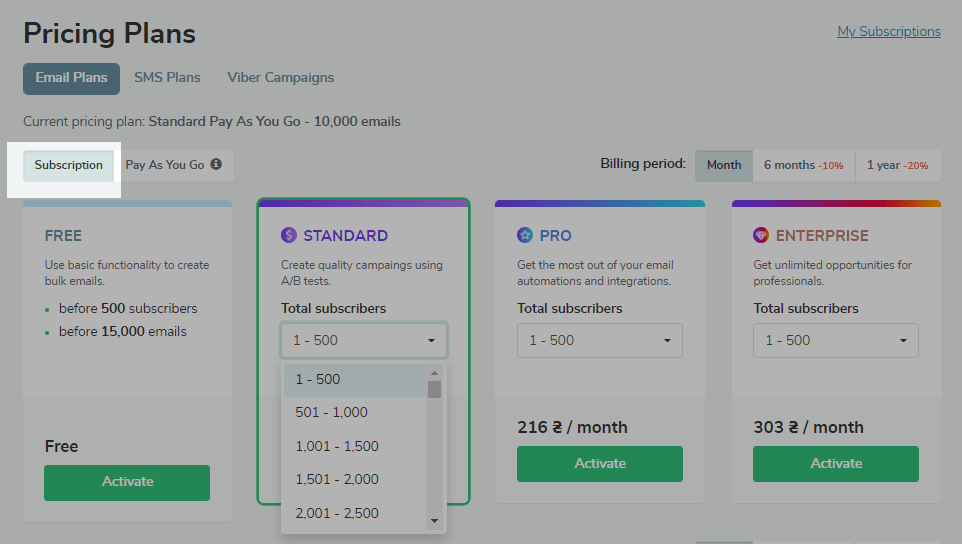 Emails - the package of emails that you can send to your subscribers within a year from the moment you activate a Pay as You Go pricing plan.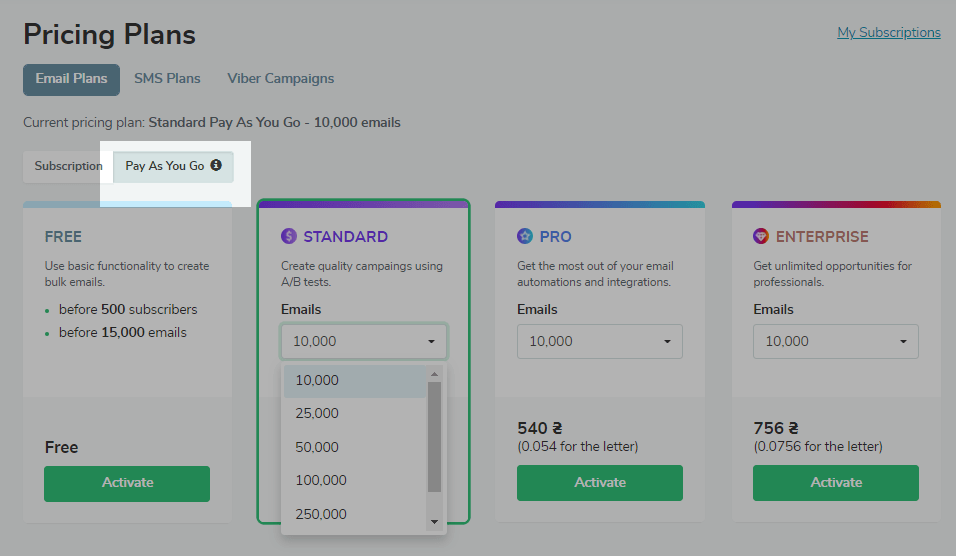 How to Activate a Pricing Plan
To change your pricing plan, determine the functionality you need and the size of your subscriber base, and then follow these steps:
1. Go to the "Email" section > the "Pricing plans" tab.
2. Select the tab of the "Subscription plan" (calculated by the size of unique subscribers per month) or "Pay as You Go plan" (calculated by a batch of letters for a year).
3. Select a Free, Standard, Pro, or Enterprise subscriber plan.
4. Select the size of your subscriber base (number of unique subscribers) or emails.
5. Click Activate.
If during the term of using the pricing plan you have increased or decreased the need for the size of your subscriber base or functionality, you can change your pricing plan.
Last Updated: 03.08.2023