Why Use Messenger Chatbots?
The bot won't substitute your team, but it can help you streamline a number of tasks. What a chatbot can do?
Reduce Your Workload for Everyday Tasks
Users are curious to know your product range, arrange consultations or check the schedule. Let the chatbot cover those tasks so that your customer support manager can deal with issues of higher priority.
Provide 24/7 Support
Users don't stop reaching out after your shift is over. Set up a chatbot to answer users' requests 24 hours a day.
Close Sales
Create a fully functional shop right in your messenger. The bot will generate a personalized offer after asking users just a few questions. Users will be shown product cards or even product catalogs leading to your website.
Build Your Messenger Marketing on Several Social Networks from a Single Platform
Set up a chatbot
How to Create a Chatbot Message Flow
1. Create a trigger
A trigger is a condition that causes an auto-reply or message flow to be sent in the chat. There are different triggers you can set up: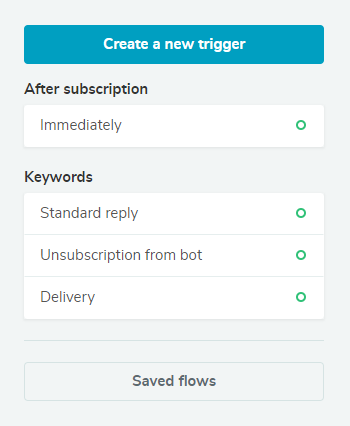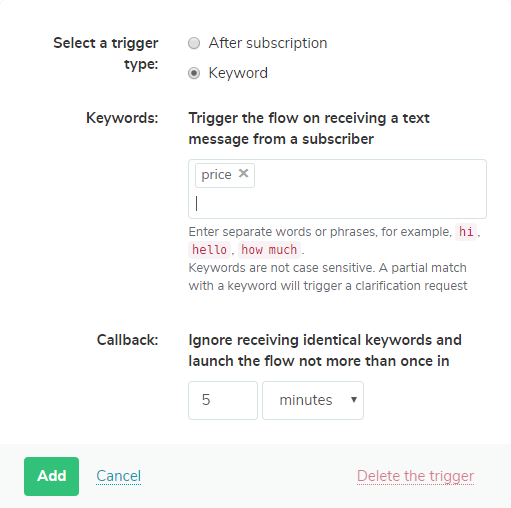 Subscription
Use this trigger to send a welcome message after a new subscription. Specify the delay for sending the welcome message in minutes, hours or days.
Keywords
Think about keywords your users are likely to use in your chat. For example,"price" and "delivery" are popular keywords. These words become the trigger for sending auto-replies to your chat.
Standard reply
Create a trigger that will send a universal answer in case the user sends a message that doesn't contain any of the trigger keywords.
Unsubscribe notification
Set up a trigger to send a message after a user sends an unsubscribe command.
2. Write an Auto-reply
Create quick and meaningful replies to move users down the sales pipeline efficiently.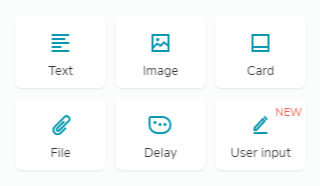 Add content
A message can consist of several text elements. You can add an image, file, and list. You can also add a product card to a chatbot's message in Facebook Messenger.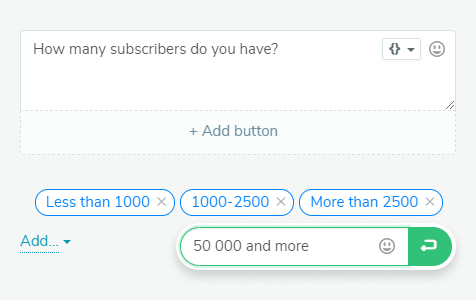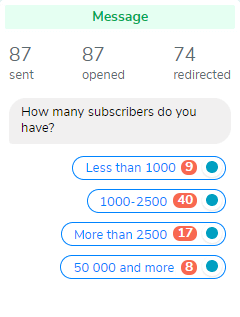 Attach quick replies
Use quick replies to prompt users when they are choosing their response. One message element can have up to 10 quick replies.
user-input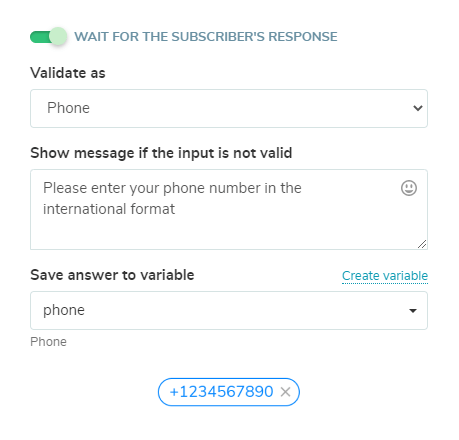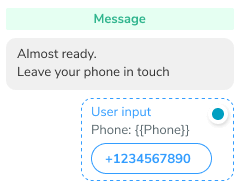 Add a user input element
Save the text a user typed in the chat using variables. You can use this data to personalize your future messages. With this element you can ask users to fill in application forms and questionnaires.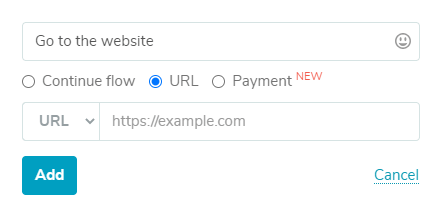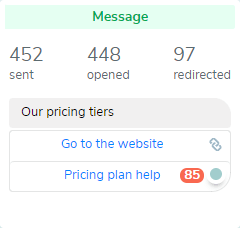 Insert buttons
Buttons can connect a message with the next one in a flow. You can also provide a URL link for buttons to redirect users to a page of your website.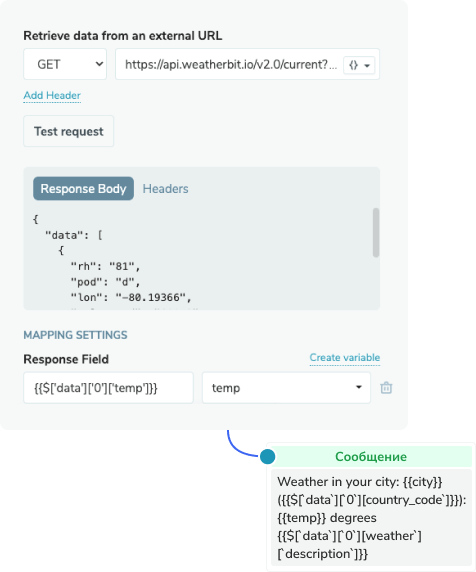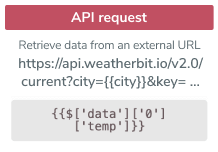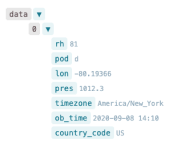 Receive information from external sources
Send requests to a third-party server, receive data, and add it to your chatbot replies. Save data as a variable or insert it directly into a message.
For example, with the name of your subscriber's city you can send the weather forecast, with the name of the product you can search and display the search results in a message, or use subscribers' data to register them for the event.
How it works?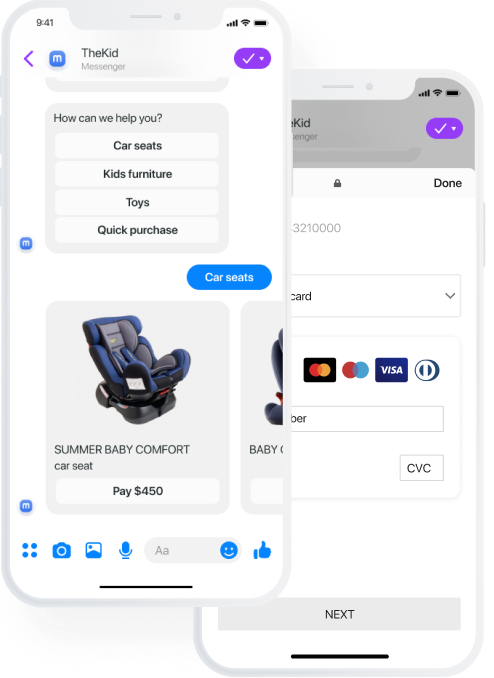 Accept payments
Let your chatbot become an effective sales channel for your business. Enable seamless online payments via chatbots for your customers by integrating payment systems to your chatbot and adding payment buttons to its flows.
Learn more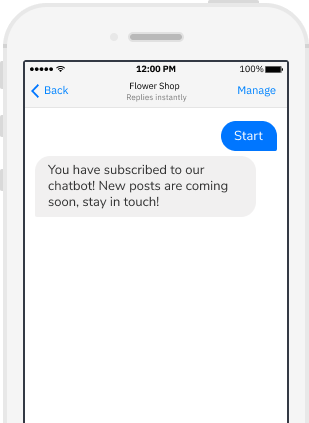 Set up a delay
The delay indicator is set so that the users see that an answer is being "typed." The typing indicator will be displayed for the amount of time that you indicated.
3. Create the Logic of The Bot
Messages in your flow will be sent based on which button or quick reply a user chooses. Develop the auto-reply flow using elements.
Message
Add a number of messages to your flow to create a fluid dialogue.
Flow
Redirect users to an existing flow so that you don't need to repeatedly create message blocks.
Action
Use this element to hand the chat over to your admin. With the help of this element you can assign tags to users or set up a variable to further segmenting your audience. You can also use the Action element to generate a webhook for sending data about events in a chatbot flow to your CRM or CMS.
Pause
Use pause so that your next message is sent after a specified amount of time. Indicate a pause time between several minutes and one day.
Randomizer
Use this element to branch your chatbot message script into different flows. This element will help you arrange quizzes and carry out A/B tests for different branches of your chatbot flows.
API request
Request data from third-party systems — your chatbot can get and read out the information and send back its updated version.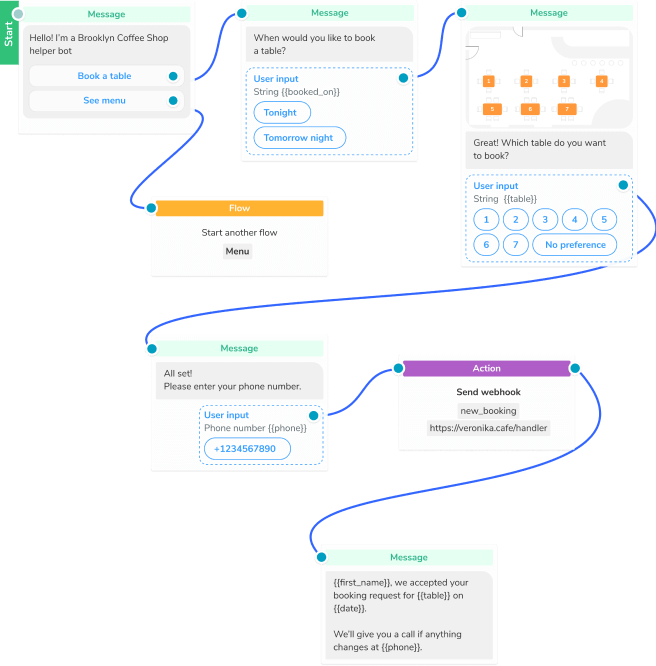 4. Test and Launch
You can test sending messages from each flow you create. To do this, save the new auto-reply flow and send it to yourself. Once you've finished testing, launch this flow to your subscribers.

Set up auto-replies