How to Do SMS Advertising
SMS advertising is a marketing channel for promoting products and services via mobile phones. It has a global reach, as five billion people have a mobile connection. SendPulse allows advertising via SMS, along with other marketing channels.
Step
1

: Create an SMS Campaign

Register or login to your SendPulse account. Use the "Send SMS" icon on any page in the right upper corner of the header.
Step
2

: Upload Your Contact List

Click "New mailing list" and create a name for it. Upload the contacts in CSV, XLS, XLSX format, or type in up to 10,000 contacts manually, one contact per line. Create variables like Name, Gender, Country, etc., that you will need for further personalization and segmentation.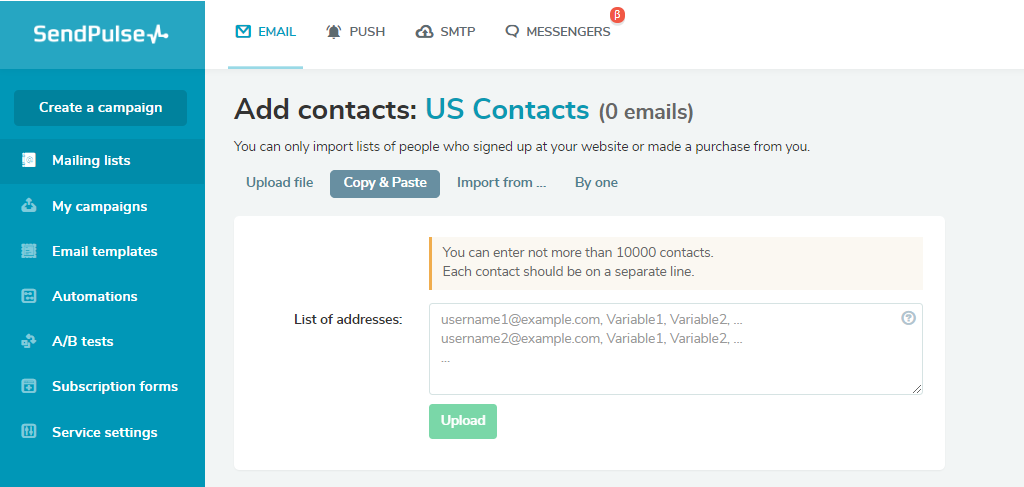 Step
3

: Add a Sender Name

Create an SMS campaign. Type in the sender's name. It can be up to eleven letters long, including spaces. Only Latin letters allowed. Some countries require Sender ID registration. Find out more in the Service settings of your account.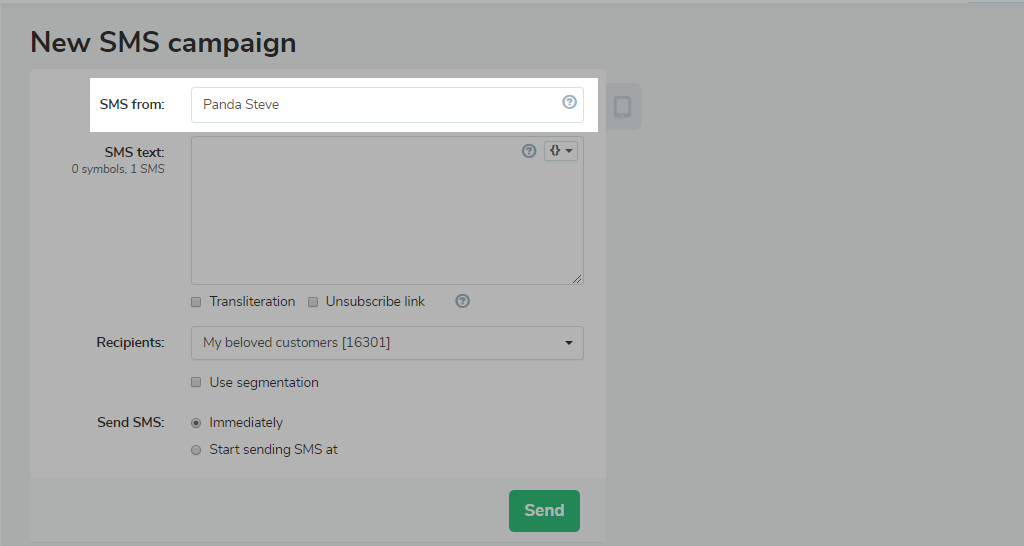 Step
4

: Insert the Text

Write the text with a maximum length of 160 symbols per SMS. Personalize your SMS advertising by using Name, Gender, and other variables. When your audience receives an SMS ad, they will see the word corresponding to a particular variable.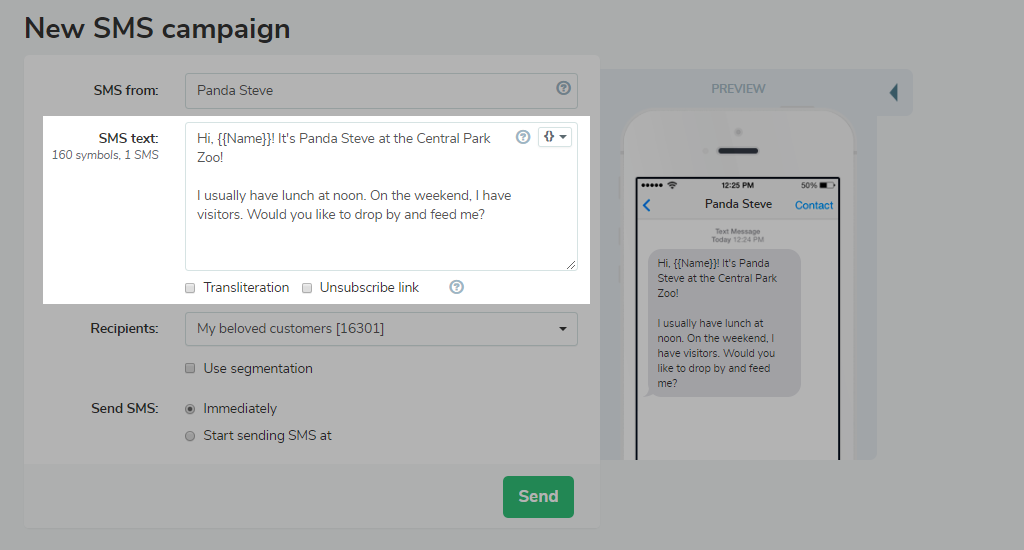 Step
5

: Choose the Recipients

Select one of your mailing lists. Use segmentation to tailor messages to more specific groups of people.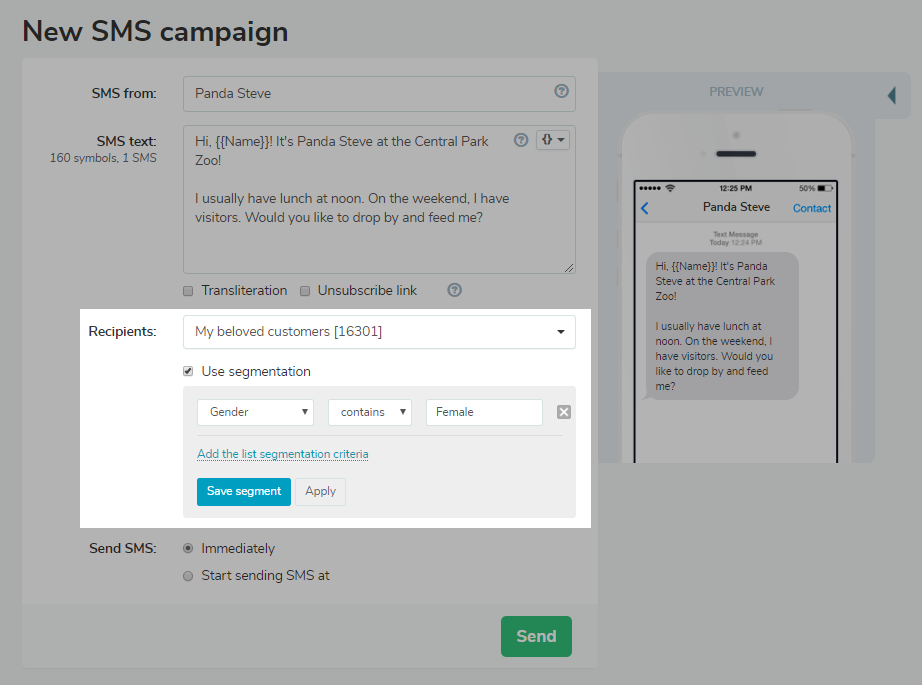 Step
6

: Add Recipients Manually

If you haven't uploaded a contact list, add phone numbers manually. Segmentation and personalization are not available in this case. Write one number per line. The maximum number of contacts is 500. Enter recipients' phone numbers in the international format.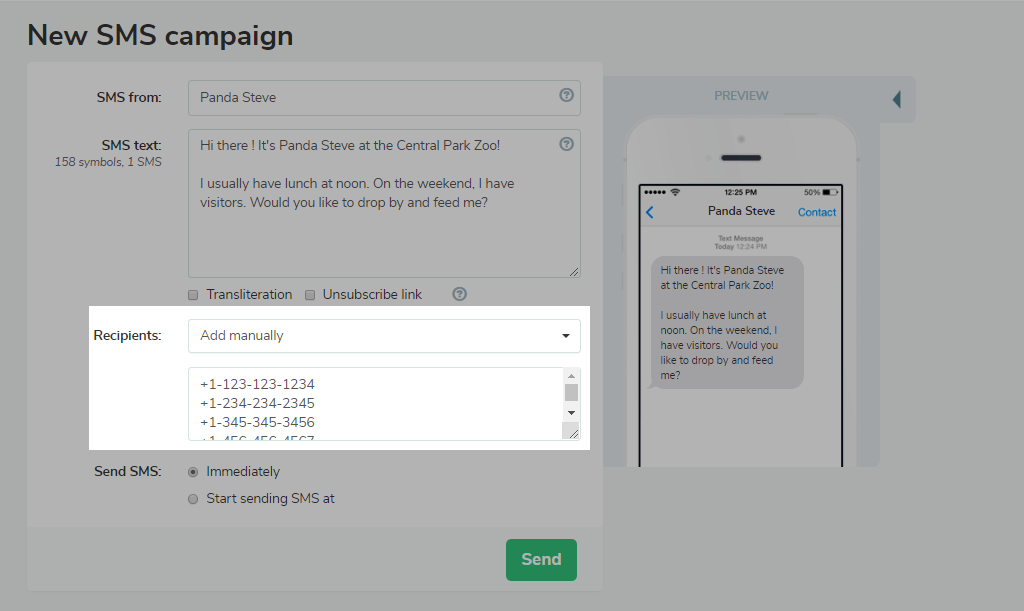 Step
7

: Launch the SMS Advertising Campaign

Send the message immediately or schedule it. Select the most convenient date and time. On the right-hand side, preview how your SMS will look on a mobile phone. Click "Send."
Last Updated: 22.02.2023