Abandoned Cart Email Best Practices
Abandoned cart email is an automated message sent to users who left the website without completing their purchase. It aims to drive people back to a shopping cart and increase sales. Abandoned cart emails are a way to remind users about your products before users decide to buy from competitors.
According to the Baymard Institute, 60-80% of customers leave their shopping cart abandoned. They do so for various reasons: something distracted them halfway, the checkout process is complicated, or they are simply short of time to fill in all necessary data at the checkout. Optinmonster claims that 55% of users leave because of unexpected costs like shipping, fees, and taxes.
Either way, if nearly every cart is left abandoned, you need to fill that gap. You can send abandoned cart emails using Automation 360 in SendPulse. Below is a list of best practices to help you increase sales, build more engaging relationships with the audience, and show that you care.
Create Converting Subject Lines
A subject line is the main factor determining the open rate, which is huge for abandoned cart emails, compared with other email campaigns — up to 45%. That's because users have already initiated the purchase flow, and they are very likely to convert into customers.
To achieve a high open-rate with abandoned cart emails, clarify that the point of the email is to drive users back to complete the purchase. Create subject lines like "You left something behind" or "Complete your purchase with two clicks." Personalize subject lines by adding the user's name, or mention the exact product that was abandoned: "Jason, we prepared your Adidas shoes for shipping. Are you in?" Use emojis if that fits your business style, for instance: "There is ★★★★★ lipstick in your cart."
Back up your subject line with preheader text, continuing the subject line's idea and adding a sense of urgency: "Note that your shopping cart gets empty in 5.. 4.. 3 days."
Include the Abandoned Product
Images are the first thing that draw reader's attention when they open an email. To remind the recipient about the value they are missing out on, add the product's image from an appealing angle.
Don't be afraid to get creative and funny: if you sell shoes, animate your product with the help of GIF, showing the same model in different colors. That might be a way to remind there is a variety of choices. Another important detail: add a link to your image when you create an email template, to allow moving towards the purchase without reading the text, in one click.

Write a Persuasive Copy
Abandoned cart emails help recover up to 36% of uncompleted purchases, so your message should make customers change their minds quickly. Touch the recipients with emotional text using humor to the point. Selling fresh berries, write something like this: "How big is the cake if there's a kilo of cherries on top? Let us transfer you back to your cart, so you could grab your fresh cherries and find out 🍒🍒🍒." Below the images and copy, remind the cost of each item, including the shipping cost. Provide the total.
The example below brings to mind all possible situations when being on a roll is subconsciously associated with drinking whiskey. It's humorous, creative, and builds a positive image of owning that bottle.

Make it Feel Time Sensitive
The fear of losing something exclusive is a powerful trigger that marketers often activate when dealing with abandoned cart emails. If you sell tours, tell something like "Barcelona tour. The offer expires in 7 days. Hurry up!" It is a way to use a feeling of time-sensitiveness for dramatizing the abandonment. You can also mention the number of Barcelona tour seats left or how many days the cart will wait before the proposal disappears.

Give a Discount
Giving away some of your profit is a hard decision to make, so perhaps you shouldn't give a discount in the first abandoned cart email. However, with enough resources at hand, you can renew your original proposal with extra value to drive customers back to their abandoned cart. Motivate recipients to come back and complete that purchase: if you sell works of art, offer a 10% discount for a painting, free shipping, or give away a catalog of the best selling young artists, like in the example below.

Use a Straightforward CTA
A call-to-action in an abandoned cart email should drive users back to your site to complete the purchase. Include a single CTA at the bottom of the message, since abandoned cart emails have a single obvious goal. Create a button that contrasts with the background color, big enough to catch the reader's eye. Write a brief and precise text in abandoned cart CTA like "Complete purchase," "Back to cart," etc.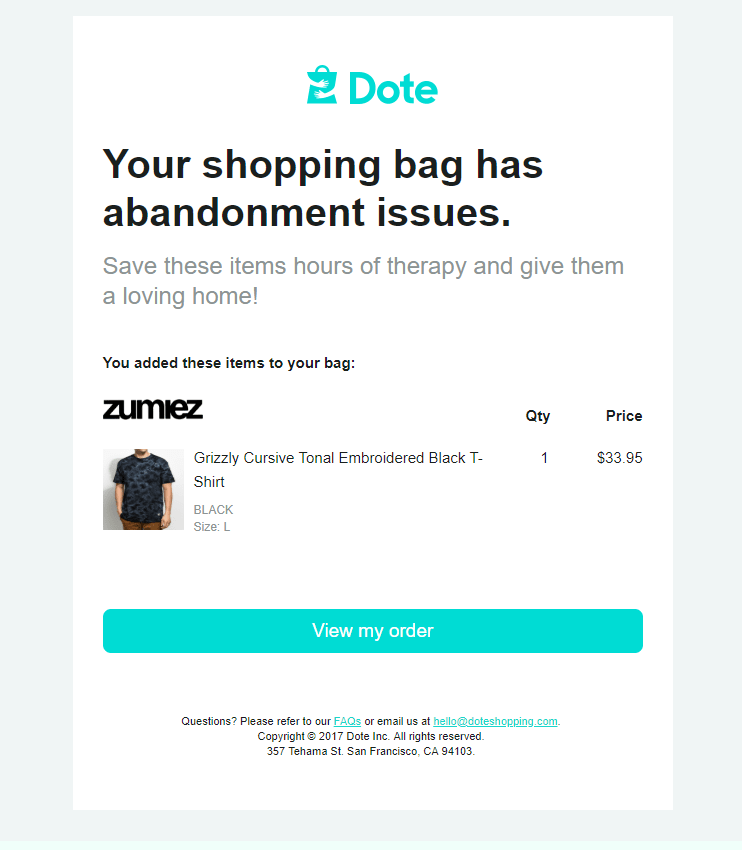 Create a Series of Abandoned Cart Emails
Ecommerce marketers that sent a sequence of abandoned cart emails noticed 69% more sales compared with a single email.
Tailor the first email to solve a specific problem, try to help, not to sell. At first, analyze what makes the user abandon the shopping cart: was it difficult to enter their address; were they surprised with the shipping price? Send trigger email with a solution within the first hour after the abandonment to be on the customer's radar.
Schedule the next email to be sent in 24 hours after the goods were added to the shopping cart. Add a sense of urgency to this one: let the recipient know that the cart won't be there forever.
You can try sending the next email in 48 hours, offering a discount or free shipping if that stays within your budget and resources allow you to do so.
Here's a guide on how to create an abandoned cart email. The sequence of abandoned cart emails in SendPulse looks as follows:
Last Updated: 04.08.2021