Holidays are usually meant to be happy and festive time for users. Yet for email marketers, constructing an engaging, valuable, and lucrative holiday email campaign can get a real pain in the neck. Because who wouldn't get puzzled over which holidays to choose and what to include in the email copy?
Since we've already covered the tricks of organizing an email marketing calendar, let's stop at some tips on how to create any holiday email marketing campaign at ease.

Why use holiday email marketing
Despite the rise of social media marketing, email significance rings true: its conversion rates still top any other traffic sources. According to Smart Insights, email ruled the Order Conversion Rate (OCR) on mobile during the Black Friday-Cyber Monday time frame.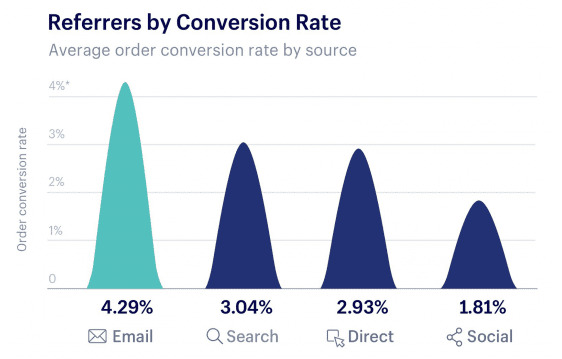 Apart from this, here are some other advantages of emails for your holiday marketing:
They are preferred by mobile users. Since 54% of emails are opened on mobile devices, making responsive emails is a priority nowadays. SendPulse, for example, allows you to create such emails and preview them before you hit send.
They are easily managed. Together with segmentation, automating your email routine can greatly contribute to the personalization of your emails. Pick the appealing segment, schedule sending emails to the picked users, and come up with up-to-date and relevant offers.
They show high ROI. Email marketing returns $44 for every $1 spent. So if you're planning to put forward some special holiday offers, emails will help you spend less and earn more.
They are popular with users. Reportedly 99% of consumers check their inbox every day, so sending them regular emails will help you spread your holiday offers and get seen.
Yet keep in mind that the bigger the holiday is, the busier the users' inboxes become. No matter which holidays you choose for your holiday email marketing, you'd better stick to certain rules to achieve your goals. Let's take a closer look at them.
How to prepare a holiday email campaign
Before we jump to some inspiring holiday email cases, let's get ready for a holiday email campaign first.
Plan in advance
Sending last-minute marketing offers is a well-tried technique to boost sales, whereas sending last-minute invented emails is a bad time management practice. Work on your email marketing calendar and make drafts of corresponding campaigns three months ahead of each event. This way, you'll have enough time to pick the right holidays, plan your budget, and last but not least, create compelling email copies.
Segment your audience
Segmented email campaigns bring 760% higher revenue. If you segment your database too, you can reach a higher level of personalization in your emails. For example, a segmented list can help you choose the holidays which are relevant for your database.
Focus on the customer
Once you know your key customer group, their gender, age, or hobbies, create emails which deliver not only your marketing offers but value for the users as well. Showcase your care by onboarding new customers, nurturing the loyal ones, and always responding to their feedback.
Create a catchy holiday email subject line
Even the juiciest emails might rest in peace together with other unread campaigns. So don't jeopardise the success of your holiday email marketing and think of a catchy subject line to get the reader's attention straight after they have opened their inbox.
Here are a few ways to do that:
1. Personalize the subject line. Once you've segmented subscribers according to their birth dates, gender, or preferences, use this data; or, alternatively, opt for the easy ride and write the user's name in the subject line to personalize it.

2. Add an emoji. Emoji in the subject line provenly increase the open rate, so consider using them in your campaigns like the brand below:

3. Put your offer in the center. Your subject line is a perfect place to uncover your special offers, grab the subscribers' attention, and get your email opened.
4. Have fun. Use various literary devices, breathe in some humor or mystery to your subject line by asking a question.

So now when you're all caught up with the holiday email marketing theory, take a look at our ideas and some good examples of the actual holiday emails.
Holiday email marketing inspirational ideas
Create an engaging CTA
Design your call-to-action in such a way that it is well distinguished in your email. Your users shouldn't look for it, so the CTA should stand out among your offers. Pay attention to its color, position, and copywriting.
Madewell, for example, took good care of the CTA in their Black Friday campaign. The company adds up to their special offers by creating a call-to-action in the corresponding color and using copywriting which motivates to take action.
Tap into emotions
As a marketer, you need to keep in mind there's a real person on the other side of your email. If you want to grab their attention in other ways than by catchy subject lines or discounts, try to build an emotional connection with your audience. Even if it seems your promotional emails can hardly link with users' feelings or influence their actions and loyalty, you may think about the content that will push the users toward positive emotions or tell them why they should care.
Chanel, for example, created a sweet animated email dedicated to Father's Day. The brand substitutes the real photos of the products with children's drawings and specifies that anything is a gift, even a warm wish and attention.
Email Monks, in their turn, share a touching Mother's Day story motivating the users to spend the day in the family circle.
Bring value
Think of adding some useful content rather than putting sales pitch and the CTA in the forefront of your holiday email. Provide valuable tips, send guides, to-do lists, holiday recipes, or activities. This way, your emails won't look too pushy and might come in handy at the same time as subscribers will use your tips outside their inbox.
New Balance, for example, sent some tips on how to spend Global Running Day. The users were also offered a special hashtag to mark the brand on social media and share their celebration.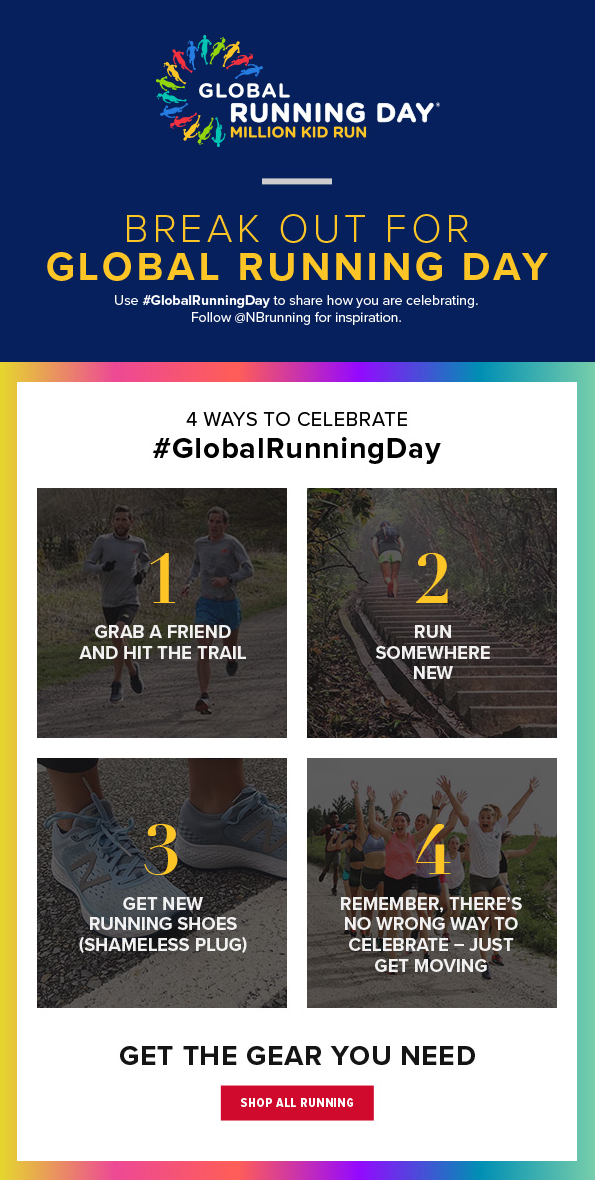 Go beyond a single festive day
The bigger the holiday is, the higher are the chances users may want to extend their celebration. Remember, 54% of consumers go on shopping after the actual holiday is over. So don't hesitate to come up with post-holiday campaigns, keep the festive vibe on, and make a little bank. Run a contest, start a loyalty program for your first-time buyers, or come up with month-long special offers.
Baggu, for example, turned the Earth day into a month, providing a sound reason for that decision in their holiday email — the company intended to donate their monthly revenue for environmental purposes.
Share a story
Not each and every holiday means purchasing. Sometimes it's just a good time to reflect on how much we appreciate the people around us or things we have. Let you audience think about life assets by offering them a story of a particular holiday, or dedicate a contest to a certain holiday and share an interview with the winner.
You can also share your team's personal stories, like Lucky Brand did in their Friendship Day email. The company shared the friendship story of their staff members, demonstrating that their company is more than promotion and marketing.
Send a survey
For most users, holiday emails equal discounts. You could go another way and stand out in their inboxes by offering a survey to complete in your holiday email. This way, you'll not only engage a bigger audience or gather some data about your subscribers' preferences, but will also drive more traffic to your website.
Email Monks dedicated one of their campaigns to the US Independence Day. The company asked what freedom meant to their subscribers, and after submitting their opinions, users were redirected to the website to see the results.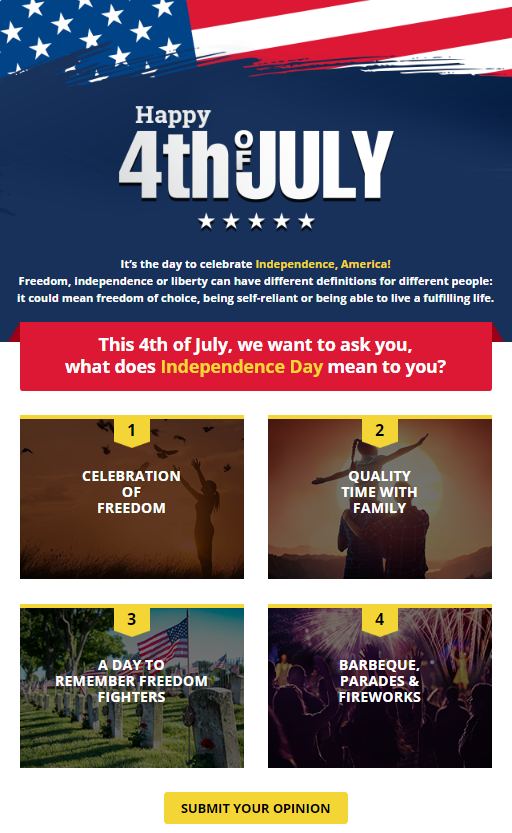 Go beyond public holidays
Keep in mind that the best holidays are always the ones related to us, so think about including users' birthdays or other milestones to your holiday marketing routine. What might seem nothing special to you may be a big deal for your subscribers — and who doesn't love a personalized approach? Milestone or birthday emails might reinforce customer loyalty, generate conversions, and even re-engage inactive users because of a high personalization level.
Chubbies, for example, offered to celebrate user's membership anniversary with a special code to input at checkout. Together with that, the company dropped a couple of sweet lines of gratitude for having the subscriber as a part of their audience.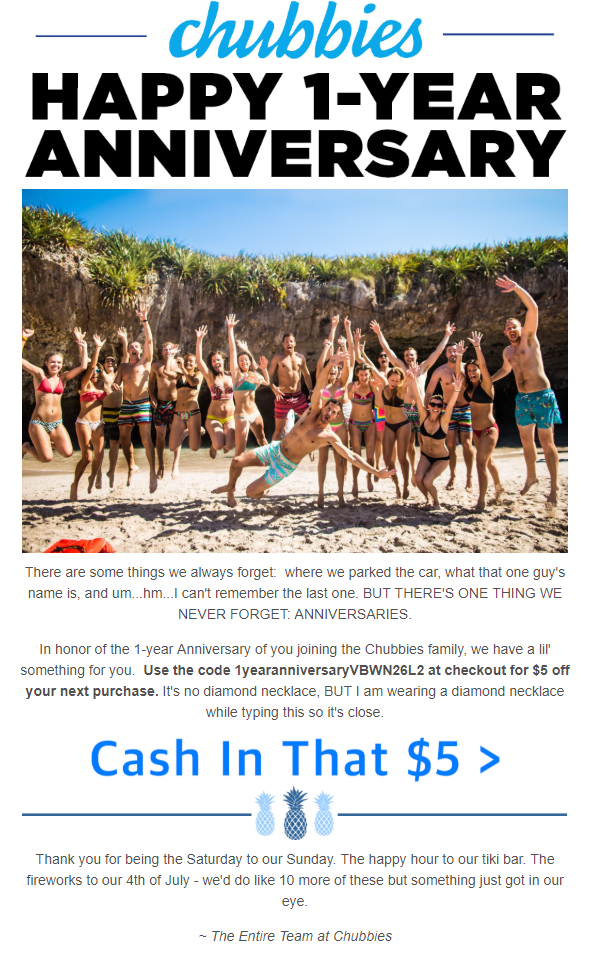 So, when it comes to planning for holidays, you need to take your time and get to know your audience, their preferences, and buying behavior. Use our tips to create an appealing holiday email template and rely on SendPulse to automate your holiday email marketing. See you! 🙂