While being excited about the holiday fuss of the Christmas season, people are prone to purchase more and are looking for big deals. Statistics show that sales volume during the winter holidays has increased every year since 2002. In 2020 alone, holiday retail sales in the United States reached about 777.3 billion U.S. dollars, which means that customers are the most eager to buy during this time of year.
In this blog post, we will bring you some inspirational ideas for Christmas emails to customers, share our tips on how to write Christmas email subject lines, explain how to create a holiday email flow in Automation 360, and find out when it's the best time to send your campaigns.
How to get ready for Christmas email campaigns
Statistics show that 62% of consumers prefer shopping online to avoid crowds, which is why you should start your holiday preparations early. You need to create stand-out Christmas email templates and think about the deals you're going to launch this holiday season. Coming to grips with thorough preparation is key, so make sure to indulge your Ghost of Christmas Future.

Analyze your past campaigns
Take a close look at your previous Сhristmas emails to customers. Analyze which tactics did well and which came up short. Make sure to monitor and compare your key metrics like open rate, click rate, ROI, conversion rate, and so on. Consider this data while creating your emails this holiday season to set your goals and KPIs.
Clean your mailing list
Cleaning your mailing list should be a regular practice to keep your list healthy. eCommerce companies need to get rid of inactive, out-of-date, or non-existing email addresses every three months. This is a must before any period of high shopping activity. By keeping only active subscribers on your list, you'll prevent your sender reputation from being damaged, which, in turn, leads to reduced deliverability of your Christmas emails. Bounce rates are no joke!
Catch up on how to categorize your bounce backs,
why your emails bounce
, and how to prevent it from happening again.
Segment your subscribers
Research from Optimove found that segmented email campaigns result in higher value per customer. Basically, the smaller and the more targeted your segments are, the larger the uplift for each customer. You can start small: divide your subscribers into active and less active segments. Send a discount to those who open every email you send and a re-engagement campaign to those who are less engaged.
Go over your CTA
Make sure that your link leads to a landing page and not to your website's main page. You risk losing lots of customers if they need to look for a particular product themselves. You don't want potential clients to work to buy something from you.
Here's what you need to watch out for when creating your Christmas email CTA:
make it visible and clear;
ensure that it leads to the right landing page;
develop your landing page in the same style as your email to avoid confusion.
Customize your Christmas email design
Apart from optimizing your email design for mobile devices, you need to highlight that this email or flow stands out, and the best way to do this is with your design. Create a cheery atmosphere by developing a creative and immersive Christmas email design. You can add some festive effects like falling snow, sprinkles, Santa hats, gift sacks, and anything that refers to Christmas.
Work on your offers
Consider offering last-minute deals, limited discounts, and gift lists in your Christmas emails to customers. Many consumers experience gift-giving anxiety before holidays, so you can give them a helping hand by providing some ideas of what to buy as a present. Don't forget to emphasize the value your products have and show why they are a perfect Christmas gift for that particular client.
Check and double-check
Ensure that your email is properly displayed for all email inbox providers — especially on mobile devices. Proofread your email copy to avoid any errors, and check all of the links. Carry out an A/B test to choose the best subject line and other elements of your Christmas email.
Make sure you have enough products in stock
All of this is great, but you should not forget that if you attain a sales increase, your most popular products might disappear from the warehouse shelves in the snap of a finger. You need to plan ahead of time and sometimes think beyond your Christmas email marketing to ensure that it's successful. Invest some extra time in planning your inventory, and highlight that some of your products are in limited quantities to close more sales.
How to write Christmas email subject lines
A subject either attracts or repels your recipient to your email. We are taught not to judge a book by its cover, but no one said that about emails. This means that you need to try your best at coming up with your Christmas email subject lines.
Now, we are not going to focus on general advice on how to write them — you probably already know that you should keep it short, go easy on emoji, avoid spam words, and all of that stuff. Instead, let's be more Christmas-specific.
Make it fun and catchy
The only thing that limits you here is your own imagination and creativity. Humor and timely jokes always open doors to people's hearts and create a festive atmosphere, which, in turn, can stimulate them to open your email and click through.
You can't go wrong with an entertaining and short riddle, a joke, or a pun in your Christmas email subject lines. It should be something like this:
No Chimney? No Problem! Get Santa's Gift Now ?
Yule love this | Up to 40% off
We're gonna need a bigger tree: 25% off EVERYTHING ❄️️
Don't be a rebel without a Clause
Keep it relatable
Intertextuality has been a thing for quite some time, and there's no reason you should not use this to your benefit. Think about movies, songs, novels, or even poems that evoke cheery and joyous associations you could allude to in your Christmas email subject lines. Your reference source should stimulate positive Christmas associations, correspond with your tone of voice, be widely known and recognizable, and not look ambiguous.
Have a look at some Christmas email subject lines with classic references:
Let it sale! Let it sale! Let it sale! ?
Yippee Ki-Yay, Merry Christmas!
To us, you are perfect | Choose your ideal gift ❤️️
Don't be a cotton-headed ninny muggins | Last-minute offers
Be specific
You can cut right to the chase and outline what it is that you offer in your Christmas email subject lines. Customers will appreciate your straightforwardness as they receive the necessary information before even opening your email. This way, you can evoke their enthusiasm and finish them off in your email body. For example:
Tis' the season — 30% off + free delivery
Spread Some Cheer This Holiday Season ?
50% Off Flash Sale: Happy Holidays!
After Christmas Clearance: Up to 60% off ?
Provide more value and generosity
If you offer discounts, coupons, or referral gifts, try to highlight them in your Christmas email subject lines so that it's not just marketing speak. In the end, Christmas is about benevolence, and you can spread it by providing your customers with additional benefits without asking for anything in return. Alternatively, you could do more good and also increase your brand exposure by sending a certain amount of your profit from each purchase to charities. For example:
The best gift you can give today
Your last chance to give in 2021
Create your own Christmas miracle
Even one purchase can do good
Evoke curiosity
With this kind of Christmas email subject lines, your customers will not be able to resist the temptation to open your emails. Try to grasp their attention by creating suspense and anticipation. Think about what you could say to a person if you wanted to catch them off guard and make them wait for what you have to say next. Take a look at these examples:
Don't panic! You still have 1 day left
P is for Personalized gifts…
We need to talk about your holiday party plans
Wanna know how much you can save this Christmas?
15 Christmas marketing ideas to inspire your emails
Now let's have a look at a list of ideas you can rely on while creating your Christmas email campaigns.
Christmas marketing idea #1 Launch your email campaign early
According to Statista, 43% of respondents start their rush for Christmas presents before October's end. So why not launch a pre-Christmas email campaign for those who don't want to search high and low for perfect presents at the last minute?
Topshop begins its email campaigns early. In its Christmas emails to customers, the company uses a typographic hierarchy to highlight that its prices are cut in half. There is a contrasting white call to action on a bright background. Animated stars and snowflakes supplement their Christmas email design and closely echo the CTA button.
Christmas marketing idea #2 Run a gift marathon
Cosmetics brand, Clinique, plunges its subscribers into a festive atmosphere with their email. The company initiates a 12-day email flow with a pleasant bonus for each day of the Christmas calendar. The company's marketing experts leveraged a sense of urgency, making every offer valid for just 24 hours. Emails like this excite subscribers and boost their anticipation for the next promotion, which is an excellent Christmas marketing idea.
Christmas marketing idea #3 Be creative with email copywriting
You can't go wrong with a few distinctive, mind-boggling, or entertaining twists in your copy. It can be fun, classy, mysterious, or any other way that fits both into your company's communication style and Christmas atmosphere. Once again, the sky and your imagination are the only limits for your Christmas email ideas.
Take a look at this Christmas email example from Zajno's team. They use positive messaging and joke about everything that happened during the past year, emphasizing that the brand and its customers can get through anything if they stick together.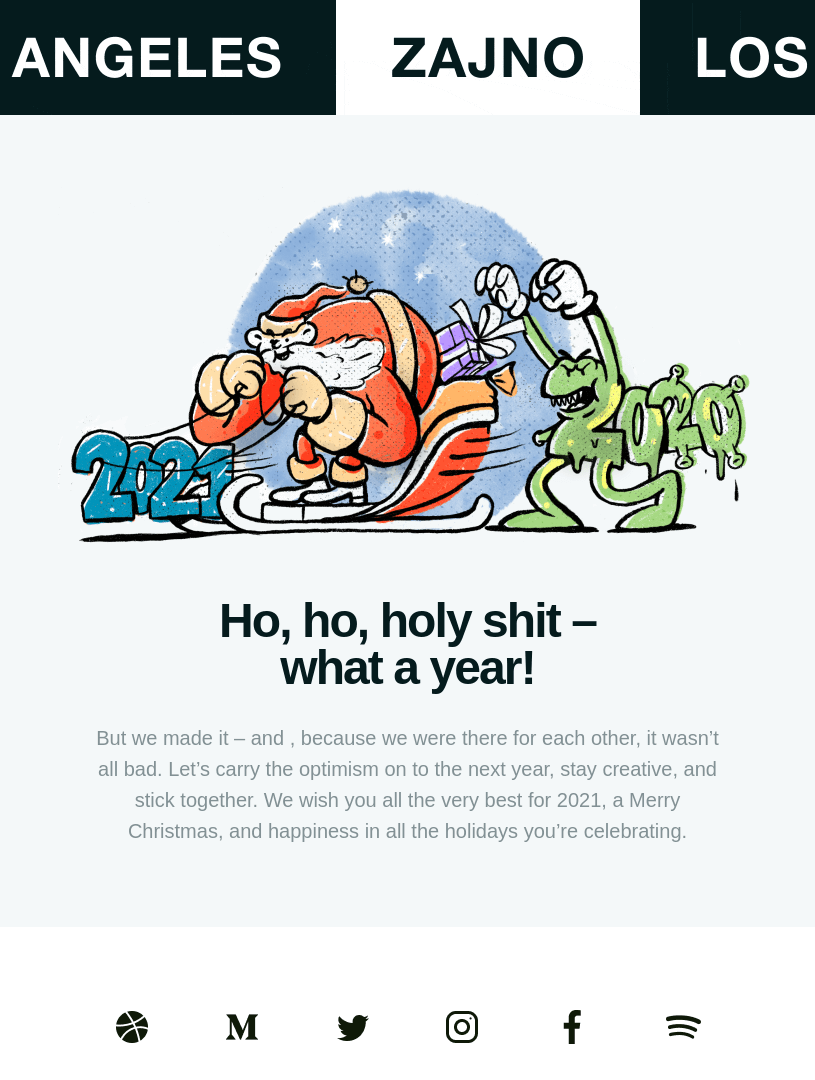 Christmas marketing idea #4 Unveil a new collection
If there is a new product ready to be launched, wait until the holidays. Make a big deal out of it and create a dedicated email campaign. Remember that consumers feel inspired to purchase this time of the year, so you can base lots of your Christmas email ideas on that. Maybe a sweater with a gingerbread man designed by Pull&Bear is number one on a subscriber's wish list.
Christmas marketing idea #5 Share Christmas tips and ideas
Animoto, a platform for creating videos, shares ideas on what to fill your holiday videos with and how to use them. This email is genuinely Christmas-themed. The email's content is divided into blocks, each accompanied by a jolly illustration, which is one of the greatest Christmas email ideas. The main CTA is a visual accent. Additional CTAs are represented as text, the color of which resonates with the central picture.
Christmas marketing idea #6 Inspire a festive atmosphere
Another excellent Christmas marketing idea is to promote your products that are useful if you sell them during the holidays.Anthropologie provides subscribers with decorating ideas for their homes and Christmas trees. This Christmas email design is full of warm, cozy, and atmospheric photos that inspire and bring in the Christmas mood.

Christmas marketing idea #7 Make product bundles
A well-planned item bundle can bring lots of benefits both to businesses and customers and is a great Christmas marketing idea. Product bundles allow consumers to save money and time choosing a perfect present for their loved ones. It makes a client buy more and decide faster since it's a ready-made gift. You could create thematic and customized product pairs to meet the needs of every segment of your target audience, for example, home fragrances, scented candles, and essential oils.
Take a look at one of the greatest Christmas email examples for this strategy from Ugmonk. They offer their minimalistic bundles as a holiday gift and let their customers save some money.
Christmas marketing idea #8 Provide your customers with gift ideas
As with any other type of email, the purpose of Christmas emails is to sell or promote your brand and bring more value. What could be more useful for a confused customer than a gift guide? Anthropologie's team reaches out with beautiful GIFs and an invitation to shop their gift guide that is divided into categories, making it into the list of excellent Christmas email ideas.
Christmas marketing idea #9 Create your Christmas packaging
You have probably seen unboxing videos on social media. Ever wondered why people are so excited about unwrapping their gifts and packages? It's not just about the product but the experience that comes with it.
Your customers will definitely appreciate a festive wrapping service, especially if it's free. Mentioning this additional benefit in your Christmas emails will not just allow you to increase your sales but enhance your word-of-mouth promotion. Demonstrating that you care for your clients and share your festive mood with them can be a great Christmas marketing idea.
Allbirds goes even further and invites clients to decorate their boxes themselves. The company offers its customers to go more eco-friendly and get creative with their Christmas packaging.

Christmas marketing idea #10 Update and redesign your visuals
While you're on that creative edge after decorating your Christmas tree, giving your imagery some extra touch of care might also be an excellent idea. This includes not just your Christmas email design but all of your promotional visuals that can catch customers' eyes — we're talking landing pages, website, registration forms, product cards, and everything your email links lead to.
Step up your Christmas email marketing by using festive graphics, updating your GIFs and images, adding holiday-themed emojis, and other ideas that would make your emails memorable and recognizable. Prada's website can be an excellent example to inspire you here.
The brand includes high-quality pictures of their products covered in snow, attracting new customers and creating a festive atmosphere.
Christmas marketing idea #11 Collaborate with other businesses
Christmas, with its neighborly and amicable atmosphere, is the best time to connect with other companies and creators to increase your brand exposure. You can partner up with other businesses to hold a local charity or create a campaign together to share each other's audiences. For example, if you own a tech store that sells TVs, laptops, or tablets, collaborating with a streaming service to compile your Christmas movie watchlist and emailing it to your customers could be beneficial for both sides. This way, you can increase your engagement and conversion rates and expand your audience.
Have a look at one of the perfect Christmas email examples that features the collaboration of Starbucks and Uber Eats. The two companies do not compete, so this partnership can bring more profit and brand exposure to both of them.
Christmas marketing idea #12 Add some Christmas cheer to your product descriptions
Think beyond Christmas emails: what happens after a subscriber clicks on your CTA? Ensure that you don't lose them on their way to a purchase by extending your email's Christmas atmosphere. You can do this with the help of your product descriptions — mention why they can become a perfect holiday gift and show the value and meaning behind them.
Preserving the same aesthetic and communication style at every stage can help you achieve your Christmas email marketing KPIs. This is exactly what Happy Socks' team does — have a look at the product descriptions they have put on their website. It evokes a cheery Christmas atmosphere, which could be the perfect addition to your Christmas email marketing.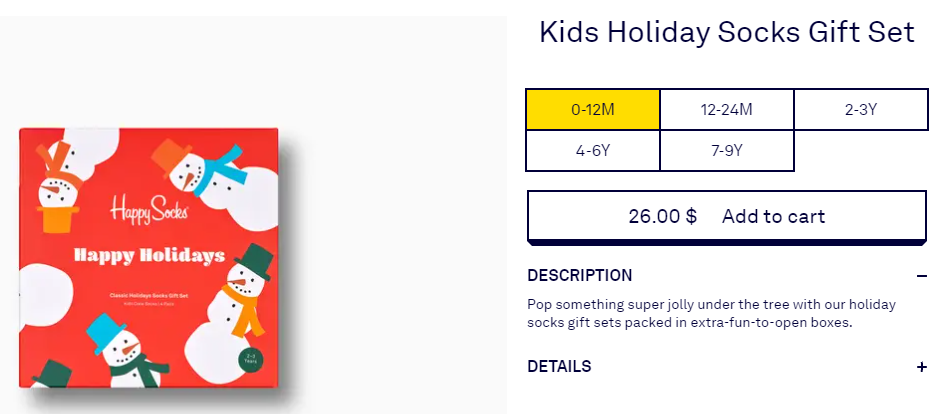 Christmas marketing idea #13 Offer free shipping
Yeah, yeah, we know. But customers still prefer this option because it creates an impression of money well saved. Besides, lots of consumers shop compulsively and at the last minute, so a free delivery option could be an extra incentive for them. You can offer discounted shipping instead of totally free shipping or add some of the delivery cost to your products' price if that feels safer.
Try to gain more inspiration from some Christmas email examples, like this one from Victoria's Secret. The company offers free express shipping for orders from $150, encouraging customers to spend more not to pay for delivery.
Christmas marketing idea #14 Think outside of sales
Christmas Eve is the best time to thank and congratulate your subscribers. There is no need to sell or promote. One more great Christmas marketing idea is to turn off your inner marketer and say just a few kind words.
In its Christmas emails to customers, Ralph Lauren's team simply sends some warm holiday wishes to their subscribers. The email is complemented by the vivid photography of the smiling fashion icon himself and his dog. So cozy and homey — the feelings associated with Christmas.
Christmas marketing idea #15 Don't forget about a post-Christmas campaign
Don't even think about closing your email campaign at the end of December. So what if the Christmas festivities are coming to a close? Customers continue their shopping activities after the holidays to take advantage of discounts and shop for the current and ongoing festive season.
When to send Christmas emails
On Christmas Day, duh. But not so fast: email open rates are actually the lowest on December 25th, which makes sense since people are not so eager to read marketing messages while spending time with their family and loved ones. This means that you have to pick your dates and battles.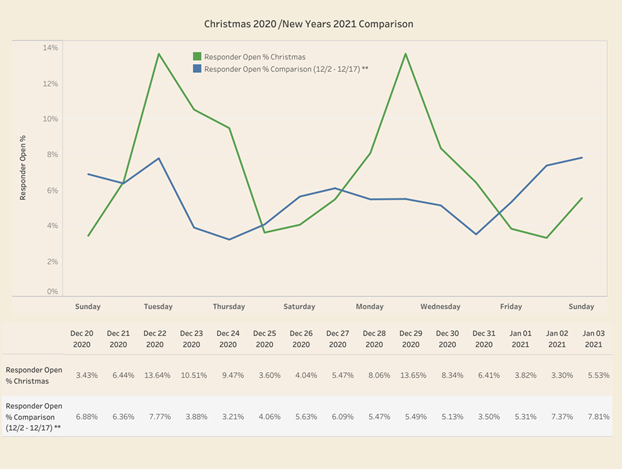 According to DMD, the days that present the highest open rates are December 22 and 28. Based on this data, you should probably schedule your Christmas emails early and remember to send a post-holiday campaign to seal your marketing success.
How to create a Christmas email flow
Let's look at a use case for SendPulse's Automation 360. With its help, we'll create an automated Christmas email flow that will start when a mass campaign gets opened and stop after a user makes a purchase from the email.

Create an automated flow based on three emails
A holiday campaign isn't just a single email that you send to subscribers during the Christmas season. Instead, it should be an email flow. Your Christmas email flow can consist of the following emails:
A mass email with a Christmas sale preview
Craft an email with a sneak peek of your upcoming Christmas sale and send it to all of your subscribers. Since 25% of users start their Christmas shopping already before Thanksgiving, send this email accordingly. Everyone who opens it will receive the next email of the Christmas flow.
Email #1. Christmas sale
Schedule this message two days after the mass email. Tell your subscribers what is on sale and how they will benefit by ordering from you, be it a special offer or complimentary holiday wrapping.
Email #2. Gift guide
Provide your subscribers with some inspiration in case they have trouble choosing Christmas presents. Break your gift ideas into categories, such as under $10 gifts, gifts for moms, and so on.
Email #3. Discount
Schedule the email a few days prior to Christmas so that your subscribers have enough time to receive the items they ordered before the holidays.
You can create templates for all three emails in our visual email template builder and then edit them.
Define your start and stop events
The start event works as follows: you launch a mass email campaign, and those of your subscribers who open it will receive an automated Christmas email flow. You can use a contact webhook option for this.
The contact webhook is used to:
start an automated email flow;
set the event that will stop the flow;
count the conversion rate of your email campaign.
As you can see in the image below, the flow will start once the contact webhook is triggered, in our case — when the mass email campaign gets opened. Then, link a mailing list to the webhook so that it will be automatically edited according to your subscribers' actions. The flow will stop as soon as the predefined event occurs. We'll use the "Purchase" event for our example Christmas email campaign.
Don't forget to click "Save and launch" to save and launch the automation. Afterward, open the "Email" section and click "Create a campaign."
Indicate the sending time, compose a Christmas email subject line, and choose a template for each email.
After you add all of the necessary emails to the flow, drag over the "Goal" element and connect it with the last email of the automated flow. Contacts who don't make a purchase will automatically be moved to another mailing list. You'll be able to use it for another email flow.
Here's how a Christmas email flow might look in Automation 360:
The bottom line
Get inspired by these ideas and boost your subscribers' festive mood with your Christmas email campaigns. In our gallery, Santa's little helpers, aka the SendPulse team, have prepared free Christmas email templates for you.
And for you to rock this Christmas season, here is an extra tip — leverage the power of multichannel marketing. Choose the communication channels that your audience uses the most, like email, chatbots, or SMS.
Good luck and Merry Christmas ??