Customer satisfaction always takes one of the most important places while running a business. Even if your commerce skyrockets daily, we bet that sometimes you wish for more. And here is where sales promotion enters the chat.
Basically, the goal of sales promotion is to stimulate demand and increase sales in the short term. In this post, we will outline the definition of sales promotion, its ways, and types, and provide some promotional ideas to increase sales.
What is a sales promotion?
Let's begin with the definition of sales promotion. It's a marketing strategy in which a company uses temporary activities to achieve its marketing goals. It's not a brand-new technique, as the first promotional products, commemorative buttons, date back to 1789. Nowadays, this type of advertising hasn't lost its relevance either.
There can be different reasons why a brand might want to implement a promo, but the most common are:
to strengthen brand awareness;
to improve product or services sales;
to increase company profits.
All in all, about 82% of customers have a more favorable impression of a brand after receiving a freebie. Therefore, it's essential to know a couple of sales promotion activities you can use to gain these benefits. Reviewing and choosing ways to promote your brand is usually the primary step. But not every way to promote can be suitable for every business. Let's have a look at several existing types.

Types of sales promotion
In marketing, it's possible to differentiate numerous types of sales promotion. They offer different approaches to connect with the audience and ultimately boost sales.
Adding a discount to a service or an item is probably one of the most frequently used sales promotion techniques. Using it sporadically can create a sense of urgency around some products and entice your audience to catch a lucky break. You can also sell products as bundles for a lower price or offer free shipping and return.
Check out some psychological hacks you can use to make your emails more effective!
A gift with a purchase is a pleasant bonus to the main order when a customer gets an item for free. It's regularly implemented in subscription schemes. At the same time, a gift doesn't necessarily need to be a physical item. Many brands use coupons and vouchers to attract new customers and encourage a loyal customer base.
Sales promotion examples and ideas to win more customers
Having discussed some of the most popular sales promotion techniques, let's have a look at some real-life examples of sales promotions.
BOGO deals
BOGO stands for "buy one, get one free" and is commonly used to clear inventory and sell products from old collections, for example. This tactic creates a sense of urgency, as it normally lasts till items are out of stock or within a specified time interval.
Among "buy one, get one free" examples is Ajio's special offer, where a customer can get a second item for free.
Other possibilities may include different variations of BOGO, for example, "buy two, get the third free." This kind of promotion is also a robust way to increase your brand awareness, as your customer may share or even cooperate with others while making a purchase.
Free product samples
If you're wondering what product sampling in marketing is, here is the answer. It's a way to spread information and build awareness around a brand by letting consumers try a product before buying it. A prospect usually needs to fill out a form with shipping details to get free product samples, just like Kilian asks.
Product sampling minimizes the customer's risk of being disappointed after an online purchase. With free samples, potential customers have an opportunity to try a product and make a purchase in the future. Moreover, by asking to fill out a form, you will have contacts of your prospects, which eases the process of getting in touch with them afterward.
Discover how to create a high-converting lead capture form!
Product discounts for new customers
When people are searching for a product, they check a myriad of websites. And surely, one of the first things that instantly lingers in mind is the online store that offers more beneficial conditions. Just free shipping might not be enough at this point, but an additional discount will be.
Note how Adidas displays a website pop-up message for newly landed customers and offers a win-win deal. A person joins the club and gets a 15% discount for their goods.
You can seamlessly add a pop-up to your website using our subscription form builder. It allows you to set up a pop-up scenario, for example, to show a window if a customer visits your site for the first time and offer them some percent off.
Loyalty programs
A loyalty program is a strategy when a company offers some perks to inspire customer loyalty and retain its client base. You can invite a person to sign up for a loyalty program and give them discounts for being a loyal customer. This way, it can give a buyer an incentive to consistently purchase from your company.
For example, a lingerie company Hunkemoller created three stages in their loyalty program, meaning more purchases and better sales. To collect new members, the brand utilizes subscription pop-ups on their website and keeps in touch via email campaigns.
Coupons and promo codes
Online retailers implement digital coupons both for current and prospective customers. Typically, they offer promo codes in exchange for a subscription, use coupons to recover potential customers who've already abandoned their carts or are just about to leave. The Copper Closet shows an email subscription pop-up when a user's mouse hovers on an exit button and offers 20% off everything in the cart.
Deal of the day
A deal of the day, also called a flash sale, is a promotion available only for a limited period. Sometimes companies add a countdown, as Ryanair did, to enhance a sense of urgency.
With flash sales, a quantity of an offer is typically limited. That's why discounts and offers are more significant. The time limit provokes impulsive buying and FOMO. Once you launch your deal of the day, it is worth promoting it further, for example, on social media to ensure a wide reach.
Find out how to make a persuasive and effective limited time offer.
Lifestyle discounts
Lifestyle marketing is somewhat different from other strategies, as it targets a particular audience. For example, it can apply to a particular profession, age group, or demographic. Lifestyle discounts work best when you analyze your business strength, personalize your strategy, and apply it to a specific group.
Here is an example of a special offer for students and tutors from Apple. At times when education became impossible without a gadget, Apple steps in and offers its products for competitive pricing.
Bundles
One more outstanding marketing technique is bundling. In its essence, you offer an item together with your most popular or closely related goods or services. Bundles typically go hand in hand with reduced pricing to stimulate demand and lift revenues.
The two most common bundle techniques are mixed and pure bundling. With mixed bundling, you can sell your products either separately or as a set, as in the example below. Amazon offers to buy a Kindle eBook for a reduced price together with a cover and a power adapter.
If it's pure bundling, individual components that make up a bundle are not available for purchase separately, meaning that a customer can only buy products as a set. An example of such an offer can be Microsoft Corp.'s Office 365 software, where clients can't pick a single program they want to pay for but get a full package instead.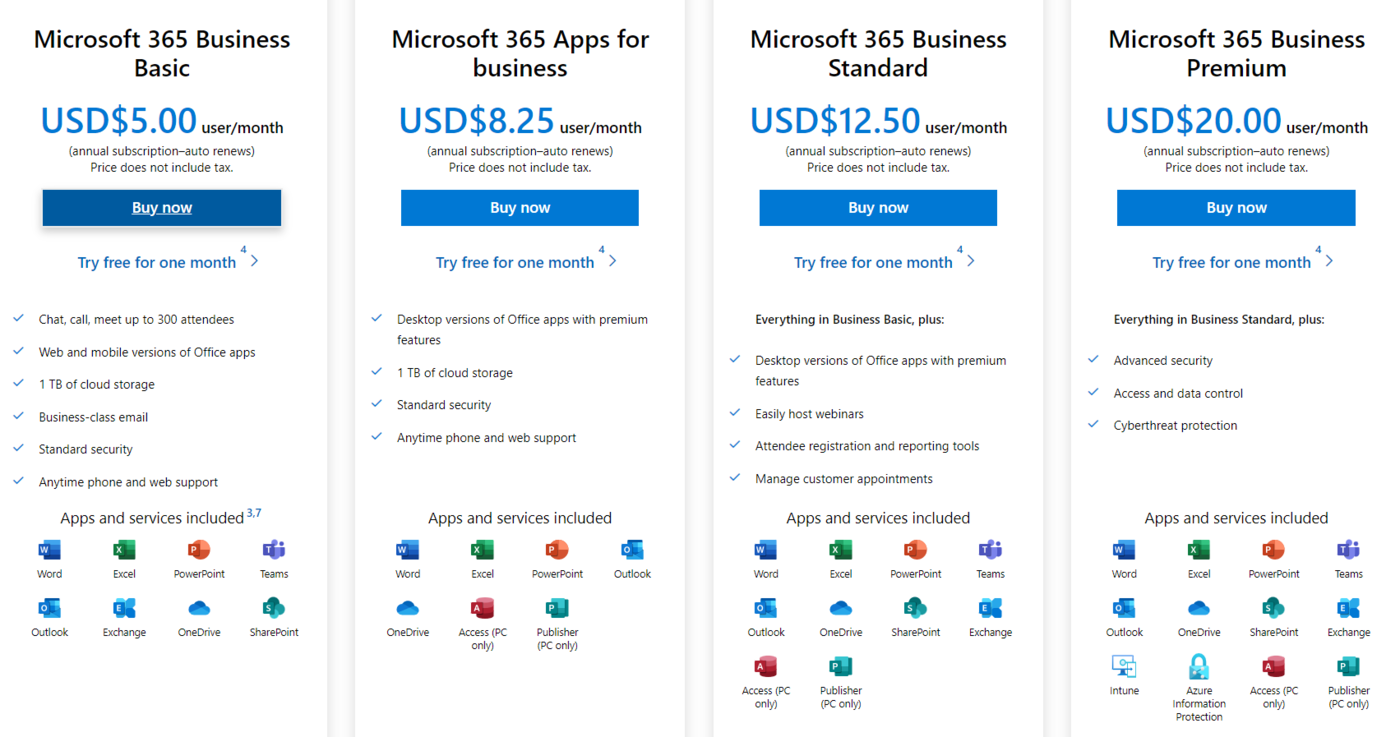 Charity and sustainability
A company with additional values and concerns besides its own always attracts more attention, introducing unique promotional ideas. Cox Business Consumer Pulse report revealed that 71% of respondents are willing to spend more money if a company supports a social or environmental cause. Supposing some share of a profit goes to an NGO, charity, or will positively impact the planet, your customers will feel better about their purchase.
Nike launched a sustainability campaign having environmental issues in mind. Right now, the brand promotes the idea of donating worn-out shoes and creates brand-new footwear with 20% or 50% recycled content.
Gifts with purchase
"A gift with a purchase" technique is pretty straightforward: you offer a free item when a customer purchases for a specified sum of money. There can be various ways to inform an audience, including displaying timed pop-ups or placing an offer on a website homepage.
Discover some stunning eCommerce marketing strategies you should give a try!
Nordstrom's offer is one of the great eCommerce promotion ideas. A person buys an item and gets something complimentary on top of it.
To make this promotional activity work, you should think about a proper pricing threshold and the value of a gift. Supposing customers get something to their liking, they can return to buy your products again.
Facebook chatbot
Adding a social media strategy to your business will make it complete. Right now, you can integrate your website with social media platforms in no time and enjoy high-yielding results straight away. A worthwhile alternative for a simple website chatbot could be connecting it to other messengers, like Facebook Messenger, WhatsApp, or Telegram.
Get inspired by the best chatbots Telegram can offer!
RaroTattoo, in the example below, provides a Facebook Messenger bot to help their customers with FAQs. To start a conversation, a prospect needs to sign up with a Facebook account. It spares time for your visitors to fill out the form before asking a chatbot some questions and ensures that you have your leads' contacts at the end of their sessions.
Using our chatbot builder, you can also set up a conversational bot on Instagram, Telegram, WhatsApp, and Facebook without any programming skills.
Facebook ad campaigns
According to the latest stats, Facebook is the third most-visited website, after Google and YouTube. What does it mean for marketing? If you're considering a platform to run advertisements, you shouldn't overlook Facebook. The platform allows you to place sponsored ads in Feed and re-engage with your customers in Messenger bots.
Discover some examples of Facebook chatbots businesses use to engage with their customers.
Here is an example of The New Yorker's ad on Facebook for people who have already interacted with their website. The ad redirects customers to the publisher's main website.
Spin-the-wheel promotion
If your main focus is to boost user engagement, gamification elements on a website might be the answer. Coupons, contests, and sampling are examples of sales promotion activities. Generally, people love the interaction because it breaks a usual routine and adds excitement. No wonder gamification took roots in marketing, and many companies resort to quizzes, games, and tests to generate leads.
Have a look at the Megabite's decision to distribute some small rewards. A company uses a lucky wheel on its website that needs only an email address to launch. This promotional idea kills two birds with one stone. It's super easy to take part in, for once. And a customer gets a valuable prize in no time and can use it instantly for the next order.
End-of-season sale
What's the best time of the year? Right, a seasonal sale-off. Since it's usually a rather big event for any business, think about raising awareness of your customers sometime before that. You can use email campaigns, pop-ups, social media ads, SMS marketing, or other strategies that will do as sales promotion ads. Also, don't forget to display it clearly on your website's main page, as Asos does.
Social media giveaways
Social media can be an example of brand promotion because they easily create buzz around your company. Before launching a giveaway, set a clear objective for it. Do you want to grow your mailing list, increase a followers' amount, drive engagement, or do anything else?
In the case of a Crystal Clear Skincare giveaway, the brand aims to increase followers' number and their awareness about them as a cosmetics retailer.
Compose a plan on how you're going to run your campaign, choose winners, and announce them. To run a successful social media giveaway, you need to pick a prize that will be worth "fighting for" and spending time on meeting the conditions.

Free shipping or free returns
According to the UPS customer experience study, six out of ten customers placed additional items to their cart to qualify for free shipping. In other words, buyers are encouraged to buy more if free delivery is an option. For example, intimissimi placed a minimum limit of 75 euros per order to deliver their products free of charge.
One more important thing here are free returns. There are no fitting rooms in online stores, so there's always a tiny possibility that an item won't fit as it was thought to. A return with a refund could become a pivot point while deciding where to place an order.
Holiday promotions
The majority of holidays mean that probably a vast number of people will shop on their occasion. Valentine's Day, like any other holiday, is a perfect opportunity to let your prospects snag some discounts. For that, you might want to add some interesting visuals and slogans that will serve as eye-catchers.
Kapten&Son, for one, doesn't use any gaudy colors but sticks to its corporate shades instead. Although, the message about Valentine's specials is hard to miss, as it offers some gift ideas and a bottle of perfume for free.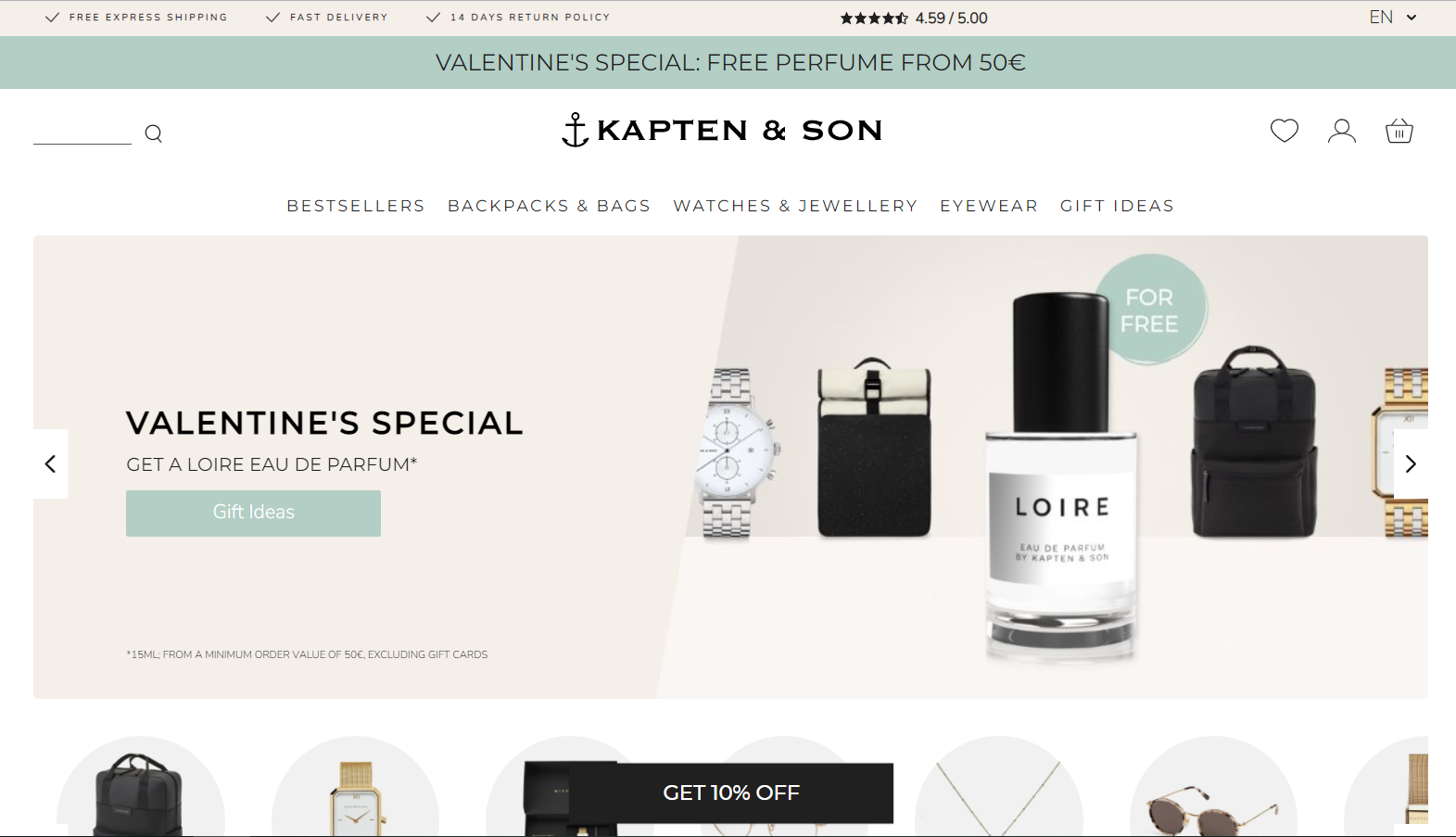 Birthday sale
A birthday sale is another variant of a holiday promotion. The main difference is that it doesn't apply to a big number of people at once. You create a personalized approach for every customer by providing a birthday discount. Email campaigns marvelously meet the challenge here. In fact, birthday emails generate almost five times higher transaction rates in comparison to regular promotional campaigns.

Ask your prospects to indicate their birthday while filling out a sign-up pop-up. Alternatively, you can send an email, as in the New Balance case, and clarify some additional details. This option works best if your pop-up already has about three input fields, as bulky forms are one of the core mistakes that interfere with their effectiveness.
Gift card promotional deal
How many times have you racked your brains about what to get someone as a present? It's a common headache, and for that reason, people invented gift cards. As a business retailer, offering gift certificates can boost your sales enormously. A study by Blackhawk Network states that 95% of all American households have either bought or received gift cards, with the average consumer purchasing about five gift cards annually.
Already mentioned, Ryanair utilizes its email campaigns to inform subscribers about the possibility of presenting a gift certificate for air tickets. Note that the company rewards purchasers themselves too, and it can become an additional incentive to decide for it.
Subscriptions
A subscription means an arrangement to receive something regularly by paying in advance. This strategy is vastly practiced in entertainment and education. A subscription model can help businesses achieve sustainable growth over time. To motivate your clients to settle on it, you can offer discounts for advanced payments or gifts, as in the example of The New Yorker. The publisher offers print and digital access to their press and a shopper bag as a gift.
You can also provide special offers to your subscription plans and inform visitors via pop-ups. For example, that's how The New Yorker invites users to subscribe and get an additional month free of charge with a limited-time offer ad.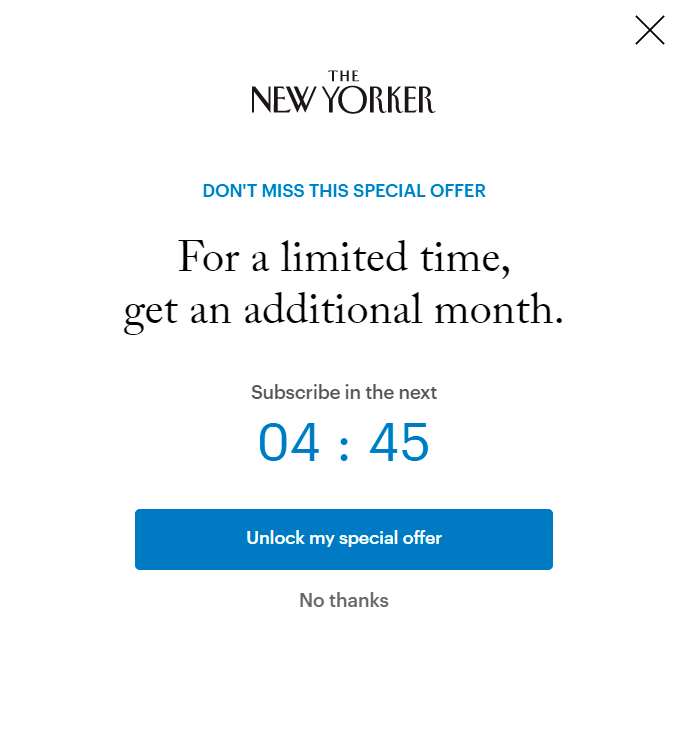 Bottom line
In this post, we've looked into what sales promotion is as well as different ways to launch them. While some sales promotion ideas are closely linked to specific days and can appear only sporadically, the other ones leave room for imagination and creativity. To implement some of these promotional ideas, consider using automation tools like SendPulse to shape your offers more efficiently.