Email scrubbing is a process aimed at keeping your mailing list healthy by removing inactive contacts. It helps marketers keep their email deliverability and sender reputation high, decrease the bounce rate of campaigns, and improve customer engagement.
In this video, the marketer tells about the reasons you need email scrubbing. Check it out to learn more about this process.
Why should you scrub your email list?
According to HubSpot's statistics, 35% of marketers send their customers 3 to 5 emails per week. Nevertheless, you can never be sure that the people on your list want to receive those 3 to 5 messages. That is why your email list likely already includes inactive subscribers. Email scrubbing helps you delete contacts who never interact with your emails and leave only those who are looking forward to hearing from you.
Here are the main reasons it is necessary to scrub your email list. This process helps you:
contact only active subscribers;
increase your open and click-through rates;
decrease your email bounce rate and number of emails marked as spam;
improve your conversion rate and lead quality.
These are the points you need to consider when thinking about using an email list cleaner. Next, we'll walk you through the main advantages of email list scrubbing.
Benefits of Email Scrubbing
Higher deliverability
Fewer spam complaints
Higher open and click-through rates
Fewer bounces
A good list cleanup is one of the components of a healthy mailing list. To dig deeper, let's take a closer look at each of the advantages of email scrubbing for your business.
Higher deliverability
Emails going to the spam folder or email bounces hurt your sender reputation and deliverability. Sometimes you can't reach your subscribers inboxes if your list contains too many inactive users. Email list scrubbing will help you identify such addresses and remove them to improve deliverability.
Fewer spam complaints
The content of your emails should bring value to your subscribers. However, remember that some users joined your mailing list just to get a discount or a freebie. Over time people on your list may realize that they are no longer interested in your emails and even may find them intrusive.
To prevent your emails from being marked as spam, you should use an unsubscribe link. This link is placed in the email footer and allows users to opt-out of your marketing emails.
Here is a good example of an unsubscribe link in an email from Art.com. The company adds a visible and easy-to-tap link to the footer of every email, making it easy for users to unsubscribe.
Higher open and click-through rates
You might have wondered why your click-through and open rates constantly decrease. The answer is simple: inactive subscribers who remain on your list influence these metrics.
The open rate tells you how many of the delivered emails were opened by a user. The click-through rate indicates the number of clicks registered in a successfully delivered campaign. After scrubbing your list, you will only email people who are interested in your business. This, in turn, will improve your metrics.
Below you can see SendPulse's report on campaign statistics that includes the number of emails sent and delivered. Here you can find out subscriber's activity such as the number of opens and clicks, unsubscribed users, and emails marked as spam.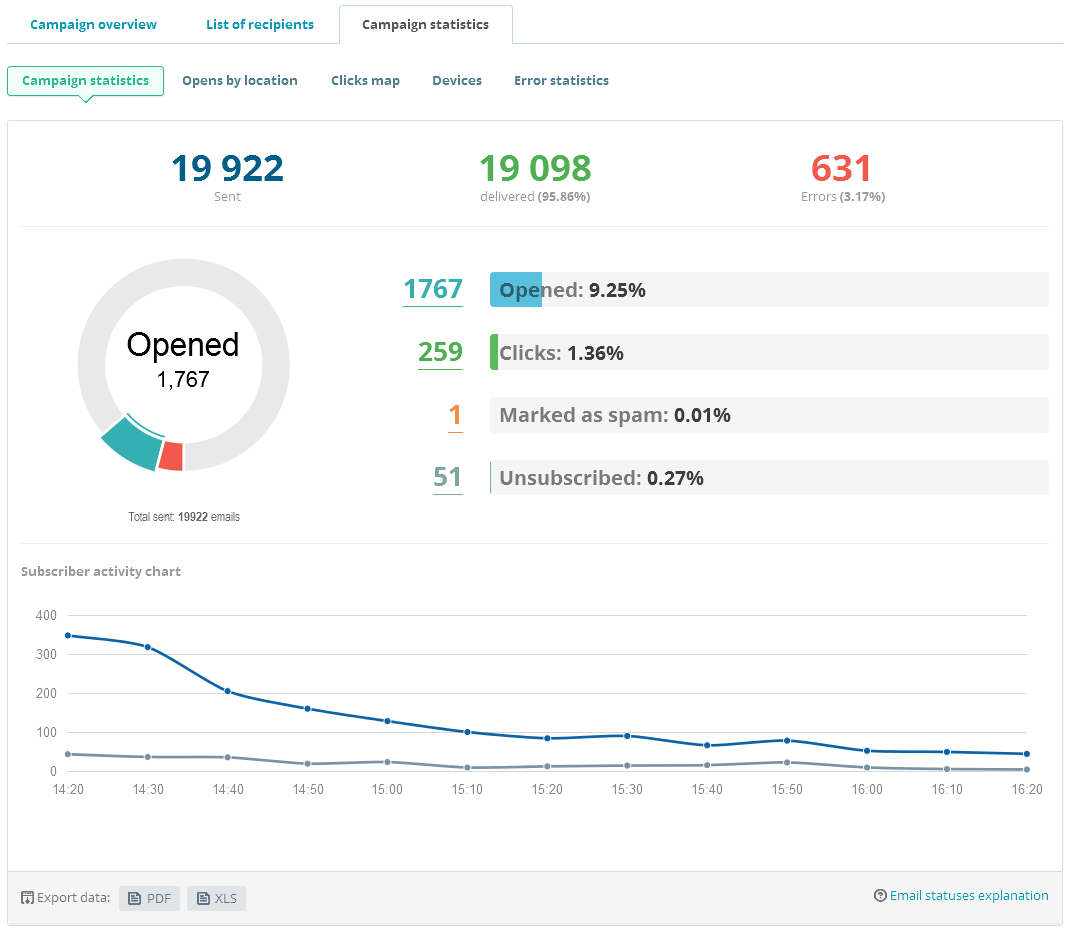 Fewer bounces
Changed email addresses, full inboxes, or some technical errors can cause email bounces. This means that campaigns you send will never reach their recipients as their servers bounce them back. Bounces will harm your campaign performance. That's why it is necessary to exclude such contacts from your list.
Now that you know about the main advantages of cleaning the list, you should also find the right time to do it.
When should you scrub your email list?
There are several warning signs that indicate its time to scrub your mailing list.
A drop in open and click-through rates. The first thing you should pay attention to is email metrics. If there is a decline in your open rates and they don't reach an average rate of 15-25%, it means that you should give a thought to email scrubbing. The same is true for your click-through rate that shows subscribers who followed a link in your email. If the rate is low, it means that you should look at your mailing list's quality. All in all, keep a tab on these rates because any decline can negatively affect your reputation.
An increase in spam complaints. To find spam complaints, you should monitor your campaign statistics. An increased number of complaints suggests that you are sending irrelevant emails, have involuntary subscriptions, spam content, or created unjustified expectations for users after reading your subject line. One of the ways to deal with all of this is to clean your mailing list regularly.
A higher number of unsubscribed users. An increased number of unsubscribes on your mailing list indicates that the content is irrelevant or contains spam, emails are not tailored to readers' preferences, or you send too many emails. These users influence your email metrics and sender reputation.
Clean your mailing list every six months because an increase in spam complaints and unsubscribes, or a decrease in open and click rates influences deliverability and sender reputation.
5 Steps to Scrub Your List
Identify unengaged subscribers
Segment inactive contacts
Verify your email list
Send a re-engagement email
Remove unengaged subscribers
Now that you know why you need to clean your list, we'll walk you through the email list scrubbing process.
1. Identify unengaged subscribers
The first and most important step is to find people who show no interest and don't interact with your emails. If you send emails to your audience quite often and some users who joined your mailing list haven't shown any activity for 3 to 6 months, they can be marked as inactive.
2. Segment inactive contacts
Once you identify unengaged users, you should segment them from the active ones on your list. With SendPulse, you don't need to manually segment your list as the service provides ready-to-use segments.
To manage your inactive contacts, navigate to the Email section. Then, go to the Mailing lists tab and click the Inactive contacts button. Click on the Update lists tab to select the mailing list and search criteria.
To find out more, follow this guide on how to manage your inactive contacts. It will help you do it easily.
3. Verify your email list
SendPulse's email verifier is an outreach tool that allows marketers to verify users' emails. It helps you keep a healthy list, maintain a good reputation, and prevent your campaigns from going into the spam folder. With an email verifier, you can easily remove misspelled and non-existing addresses from your list.
Sometimes users change their email provider, create a new account, or their domain is out of service. An email verifier removes duplicate emails automatically when you upload your mailing list. After that, it analyzes all of the email addresses on the list and checks them their syntax. It also checks whether the domains and servers of these addresses work properly.
Here you can see the email verification process with SendPulse.
After the verification, there will be a list with valid, invalid, and unconfirmed email addresses.
4. Send a re-engagement email
A re-engagement email is a personalized, targeted email sent to a subscriber who hasn't interacted with your company for a while. To win back some of the inactive contacts, simply remind them about the value of your business. By sending a re-engagement email, you give your audience several options: they can continue to receive campaigns from you or unsubscribe. You can let your subscribers set preferences so that they can control the email sending frequency. As a result, users who joined your list will be eagerly waiting for your emails.
Here is an excellent example of a re-engagement email from Animoto. The company suggests updating email preferences to clarify which types of emails a subscriber would like to receive.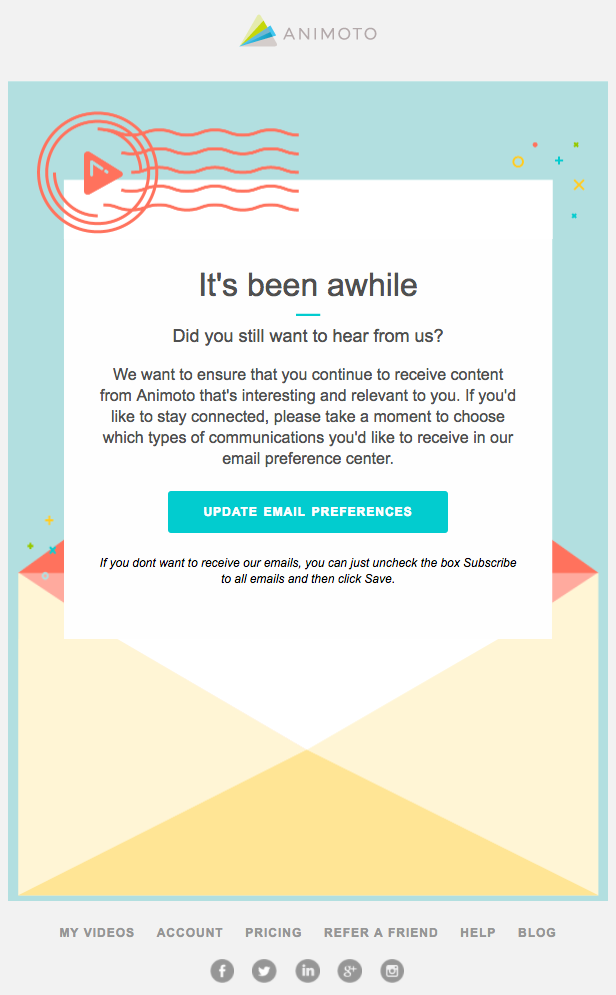 You can design a series of re-engagement emails to reconnect with your readers. In a reminder email, tell subscribers that you miss them as they haven't opened your emails for a while. Motivate them to stay with the brand by offering the top article. This will show that your company cares about its customers.
Conduct a survey in your second re-engagement email. It will help you find out more about customers' interests and preferences. As a result, you will send relevant campaigns to your clients.
The third email is the last chance to re-engage subscribers as they didn't find the previous campaigns interesting enough. Motivate them to stay with you by providing a discount on the product they like, free shipping, or a gift.
For example, Skillshare provides an exclusive offer for those who haven't visited the website for a while. By offering a special price for the first month, they try to re-engage the audience.
5. Remove unengaged subscribers
The last step is to delete or move the inactive subscribers. By clicking the Delete button, you can delete all inactive contacts and by clicking the Move button you move all subscribers with selected status from the current mailing list to another.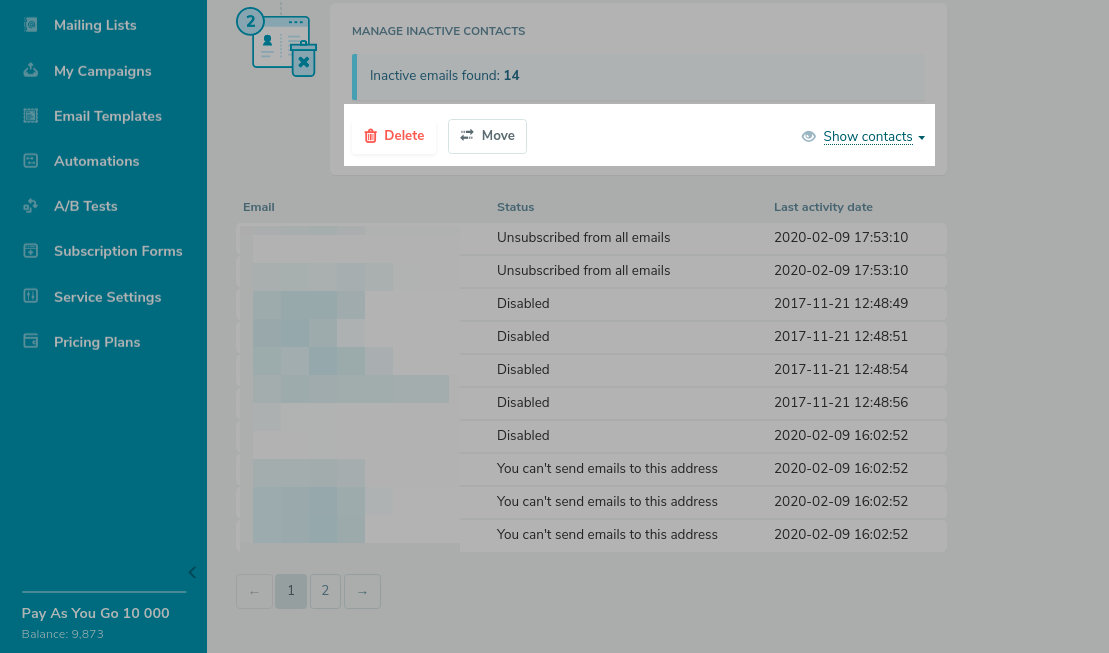 Although you won't need inactive contacts for this campaign anymore, it is better to save their data just in case you need it. You can keep it using a platform or a database, a spreadsheet, for example.
You can have a great email campaign with wonderful offers but, normally, some subscribers will lose interest in your emails. Some of them are no longer interested because they don't need your products, or they subscribed only to get a special discount. So, it is essential to follow the best practices to avoid emails getting into the spam folder.
References
The article "Everything You Need to Know About Email Scrubbing" on Sleeknote blog defines the purpose and benefits of email scrubbing as well as describes this process.
The article "Email Scrubbing: Why and How to Clean Your Email List (Step by Step)" on Optinmonster blog provides readers with warning signs for email scrubbing, benefits of this process, and a guide.
The article "5 Simple Steps To Scrub Your Email List (Remove Spam Traps In 1 Hr)" on Sumo blog suggests 5 steps to cleaning the list.
Last Updated: 22.03.2023