Along with the new strategies applied to reach out to new audiences, email marketing remains one of the most efficient options to drive more conversions to your eCommerce site. In most cases, emails are used to promote new products, inform customers about sales, deals, and seasonal events, or remind them about their abandoned carts.
However, one more type of email can help you make the most of your marketing strategy — free shipping emails.
Compared to other options, free shipping emails are extremely popular among marketers, and you can hardly find an online store that is not using them today. The potential of free shipping shouldn't be underestimated today, as it plays a vital role in the general impression of service quality, especially for first-time shoppers.
A recent study by Shopify confirms that free shipping influences purchase behavior for 75% of global shoppers. Thanks to industry leaders, more and more people today expect to get fast, free, and on-time delivery of the products ordered online. And, though free shipping emails have no impact on speeding up the delivery service, they still can hugely impact your business performance.
In this post, we will explain what a free shipping email is and how to create an efficient copy for such campaign. Additionally, we'll review some of the best working examples of free shipping emails and introduce the service that can help you automate your email marketing routine.
What is a free shipping email?
Over 49% of cart abandonment cases occur due to the extra costs — shipping, taxes, and fees — showing up in the total price section. This means that every second customer leaves during the checkout after discovering the hidden costs added to the total order price.
However, when you lose potential customers, there's still a chance to get them back to finish the checkout process, and that's where a free shipping email comes into play. Being provided with a free-of-charge shipping offer, over 79% of shoppers are likely to purchase the product, and informing your customers through email is the most time- and cost-efficient method.
Well-structured free shipping emails help your potential client reconsider cart abandonment and use the chance of ordering products from your website with all delivery fees covered. Knowing that, different large and mid-sized businesses started gradually implementing free shipping offers into their emails. With the right email platform, such as SendPulse, business owners can automate their email marketing campaigns and save up more costs, time, and resources for other eCommerce optimizations.

How to write and design shipping emails
To encourage your audience to make use of free shipping, it's not just enough to mention this option somewhere in your email. A properly structured free shipping email can maximize the efficiency of your campaign and ensure people actually notice it.
Whether you've decided to create a charge-free delivery email from scratch or use a professional-like email builder, there are still some hacks that will help improve your email's CTR and enhance its overall efficiency. So let's now review some actionable tricks that are widely used in free shipping emails today.
Make your offer personal
In times of extremely high competition in eCommerce, it's crucial to make sure your offer stands out from hundreds of others. That is why most businesses try to diversify the content of their shipping emails to capture different audience segments.
For instance, a potential customer added many products to their cart but occasionally forgot to complete the checkout. eCommerce platforms can send a friendly reminder about the products motivating leads to purchase by granting a free shipping service. This method can be easily utilized by small- to mid-size enterprises that have insights into their target consumers and look for quick ways to enhance their business performance.
Mention free shipping in your subject line
Another proven way to ensure your shipping offer stands out among hundreds of other eCommerce sites is to mention this advantage in the email's subject line. This trick can help make your offer more attractive to consumers, encouraging them to purchase immediately.
Here are some great examples of free shipping email subject lines:
Today's Specialty: All Orders Ship FREE!
Get Your FREE Delivery on Orders!
Free Delivery Until Midnight — Don't Miss Your Chance!
Just for You: Free Shipping Granted on Your Order!
Don't Forget Your FREE Shipping!
To make your subject line more catchy, you can also add some emoji or set up time limitations — don't hesitate to turn on your creativity.
Provide details about shipping conditions
According to HubSpot's study, shoppers don't like to feel misled. However, they do experience this when they uncover additional conditions required for a charge-free delivery. So, if you can't cover free shipping for all the orders, be honest with your customers. Outlining the requirements for granted delivery can reduce the bounce rate and help generate only high-quality leads.
Inform about add-on delivery features
When adding a free delivery to your email, it's also good to show your recipients why they need to try it. For instance, introduce the packing specifics, shipping time, or courier delivery that make your offer stand out from hundreds of similar coming daily.
In other words, introduce unique features of your free delivery, showing it in the best light possible. At the same time, you'll stay sure to form the right expectations about the service for your customers, which can also increase their loyalty.
Give product recommendations
Free shipping is often used as an add-on option to the main offer, thus allowing you to hook prospects and convert them. That is why you can often meet cart abandonment notifications, special deals, or product recommendations along with free shipping to push recipients to make an order immediately.
This marketing trick is one of the most efficient ways to showcase how the free shipping option can actually help in fulfilling the current client's needs. Probably, your shoppers have accidentally missed some really nice deals or finally decided to buy the product they have recently given up. So, it's the right time to encourage them to purchase by granting free shipping for their next order.
Even if you're not going to make it a permanent option, implementing product recommendations is surely worth it. For example, it can provide some insights into how clients can use their free delivery.
Examples of free shipping emails for businesses
Let's analyze some real-case examples of free shipping emails and what strategies eCommerce companies use to enhance their conversions.
Free shipping presented as a one-off offer
Not every retail business can cover free shipping regularly. Your margins might not be high enough to cover it, especially if you own a small- to mid-size business and try to win the competition by offering products at the lowest price.
However, it doesn't mean there's no chance of using shipping emails at all: even the one-off incentive can become a great chance to drive new clients to order from your business.
For example, you can make a time-limited free shipping offer. This way, you'll add more urgency to the email's tone of voice and introduce a compelling reason to purchase your product immediately. Below you can find an excellent email example from Topshop offering one-time limited shipping to their customers.
Free shipping offered as an add-on incentive
There are different ways of building shipping emails, each aiming to drive more leads and conversions. While some eCommerce businesses start with charge-free offers, others use free shipping as a finishing touch to their standard emails.

In fact, it's a versatile option that can be applied to
different types of emails
, including special deals, promotions, cart abandonment reminders, personalized offers, and many more.
Still doubting? Here's an excellent example of how Loeffler Randall reconsidered free shipping emails and combined them efficiently with their Thanksgiving deal.
Free shipping granted for a certain action
Make sure to clear out the free shipping policy if there are any specific requirements or conditions for its granting. For example, when you can only guarantee free shipping for orders above a fixed minimum cost or only upon the email subscription.
In addition, we suggest wrapping the conditions for your charge-free shipping offer with a strong CTA to make it attractive for recipients. To hook customers interested in getting delivery for free, you can also provide a link with the shipping policy so that they can find out more about the offer directly from your website.
Here's an email from United By Blue — the company guarantees customers free delivery for orders above $150.
Free shipping introduced to new customers
Free shipping emails can also be effectively used with other strategies to help your eCommerce business increase the engagement of new clients. For this reason, many businesses today highly prioritize personalized experiences, and that's where charge-free delivery can help. This option can add to your business competitiveness, improve its development, and help you make the right impression on your target audience.
According to McKinsey, nearly 71% of customers expect companies to deliver a personalized experience. However, to encourage people to share their personal information, subscribe on social media, or simply fill in a registration form, it's important to grant something in exchange.
Here's how Tory Burch thanks its customers for registering on the company's website — with a pleasant discount and free shipping within the U.S.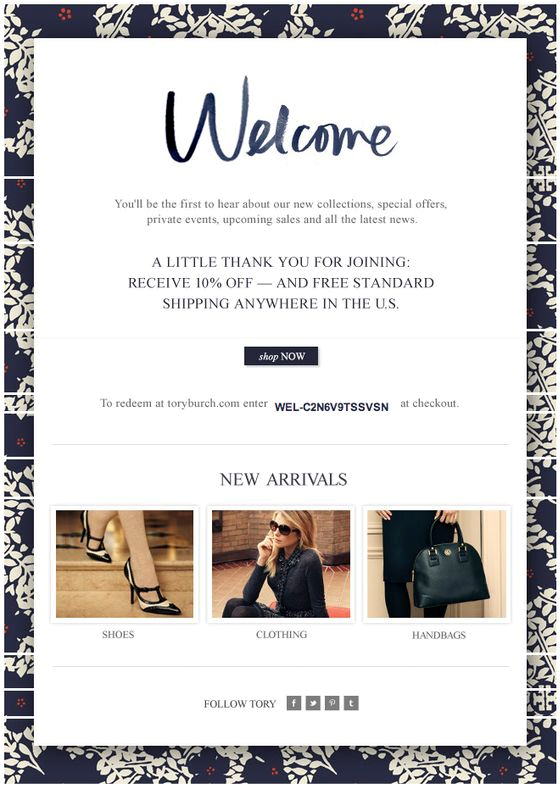 Free shipping mentioned in the subject line or above the fold
Alternatively, you can place a free shipping option above the rest of the email content or in the subject line specifically. This works exceptionally well for businesses with only a few offers or a long pause between special promotions, holiday deals, or other marketing-based events. Similarly, it is used by online stores, which need to boost revenues through the target customer base quickly.
Pottery Barn's free shipping offer is an excellent example of this concept. Here, the company made a charge-free shipment the key focus of their email.
Wrapping up
Free shipping emails can help you get your clients hooked, increase conversions, and boost the competitiveness of your business regardless of its target niche. Having realized the potential of free shipping emails and some of the lucrative benefits those can deliver to your business today, it's the right time to get them onboard.
With the Email Service from SendPulse, you can easily build promotional, shipping, or any other specific emails. Our email builder features plenty of tools for creating personalized, professional-looking campaigns that ideally work for your business and are sure to increase your eCommerce conversions from day one.
So, if you're searching for a reliable email platform for the long-term run, feel free to give SendPulse a try!