Messengers have become a routine part of our lives — we use them more often than any other communication channel, sending and receiving quick messages from friends, family, and colleagues.
WhatsApp has become a widespread choice in many countries. The messenger has two billion monthly active users and, therefore, grants access to a huge audience. This and other facts make businesses interested in it as a possible communication channel. WhatsApp answered this interest with a feature-rich WhatsApp business app, and it is now used by five million companies worldwide for different purposes.
In this post, we'll focus on WhatsApp as a tool for customer service. Find out why businesses choose WhatsApp for customer service and learn the six most popular ways to utilize this messenger for improving audience satisfaction.
Benefits of using WhatsApp for customer service
It is quite a challenge for businesses to manage many communication channels. However, they are still ready to go a long way to incorporate WhatsApp into their communication strategy.
Why? It is not only the access to a big audience but numerous other benefits that make this messenger attractive. Let's take a closer look at how using WhatsApp for customer service can help your business.

Team inbox
WhatsApp did a great job with its messenger's business version — it has handy features, team inbox being one of them. It allows an entire customer service team to access all customer messages from a single interface. As a result, any team member can find all queries from each customer to fully understand their request.
More personal communication
WhatsApp is usually a channel used for exchanges with friends and family. As a result, every communication there feels friendly and very personal. If businesses contact customers via WhatsApp, it also feels like talking to a friend, transforming a faceless business into a person behind it.
Easy chatbot integration
WhatsApp chatbots are saviors of modern communication between customers and businesses: consumers can get answers in under a second, companies can serve numerous customers at once in multiple languages, and all of it is available 24/7. You can easily build a chatbot for WhatsApp and create a fun and satisfyingly fast experience for customers.
Get a bag of tricks that will encourage customers to start using your chatbot!
Connection with other business tools
WhatsApp Business has its own API, allowing companies to connect with third-party tools they use. For example, you can create an integration with a preferred CRM solution. Thus, you can store all customer-related information in one system and easily track your customer support KPIs.

Customer preference
WhatsApp allows customers to get fast responses within their beloved app. Messaging is supposed to be quick, unlike emails or customer service contact forms on a website. They also don't have to go to any other communication channel and can do everything within the channel that they are used to.
How to use WhatsApp for customer service
WhatsApp hides another benefit: it can be used for numerous purposes and combine functions of many communication channels and even apps. Here are six use cases of WhatsApp for customer service purposes.
Answer common questions
Although most businesses have an FAQ section on their websites, customers still prefer to get answers directly from a company. WhatsApp can be helpful here, especially if you create a WhatsApp chatbot for this purpose. Users can ask questions about a particular product or service, delivery, payment options, etc.
Just make sure to enrich your chatbot script with frequently asked questions and update it when a new popular question emerges. It is also important to give customers an easy way to opt for responses from human customer service agents.
Standard Bank actively uses WhatsApp for customer service purposes. They have a chatbot that answers questions about internet banking, payments, and debit cards. Customers of Standard Bank can also request to speak to a human agent via WhatsApp. Just after the Covid started, the bank was among the first to use WhatsApp for safety policy updates and collecting debt relief applications.
Collect feedback
Collecting feedback is an essential part of business growth and development. WhatsApp chatbots can be used as an interactive feedback form and review-sharing place. The most popular approaches include:
asking for feedback after a customer received your product or service;
sending general surveys about your chatbot quality or how helpful a customer service agent was.
Goibibo is a travel company and they actively use WhatsApp as a feedback platform. Two days after a customer checks out of the hotel, the company automatically sends a feedback form asking to rate the hotel with a word or emoji. Customers are also free to share their comprehensive review of their journey and even add photos afterward. The company claims that they experienced a 15 % uptick in review conversion percentage and received full-length reviews with photos much more often as well.
Send status updates
Customers like to know what is happening to their orders, and sending notifications via messenger is the easiest way to keep people updated. You don't have to visit a website or download an app to check the status: you can just receive timely notifications within the app you already use every day.
Yebo Fresh is a startup for food delivery that effectively uses WhatsApp and the full span of its use cases. You can ask questions, learn more about products, place an order, and track your delivery status. They decided not to develop another app for this but use already available tools. As a result, they got all the same functionality with less effort for Yebo Fresh and its customers.
Educate customers about your product or service
You can utilize WhatsApp to send out educational content on using your product or service for the best results. With a 99% average open rate, distributing such content via WhatsApp would significantly reduce the number of customers' requests concerning the correct product usage.
Take a closer look at top WhatsApp marketing tools!
Just do not overuse it because you can otherwise disrupt regular messaging for customers. In any case, make sure that it is easy to unsubscribe from your messages.

Send reminders
You can use WhatsApp as your notification system. Just send reminders about upcoming events, trips or appointments, medication intakes, invoice payments, need to refill products, etc. Such reminders are easy to set up for you and hard to miss for customers.
Simplify your booking process
It is also possible to set up a booking system within WhatsApp for concert tickets, restaurant reservations, doctor appointments, etc. One can also place an order for delivery within the messenger. It helps people who are too nervous or busy to make an appointment via a phone call or cannot bother to find the website or download the app.
BookMyShow is an Indian company that sells movie tickets, and they were among the first to try the WhatsApp business suite. Customers enjoyed the possibility to order tickets via their favorite messenger to such an extent that the company made WhatsApp a default order confirmation channel. The company also introduced an in-app feature that allows customers to use group chats to plan their movie night together with their family or friends.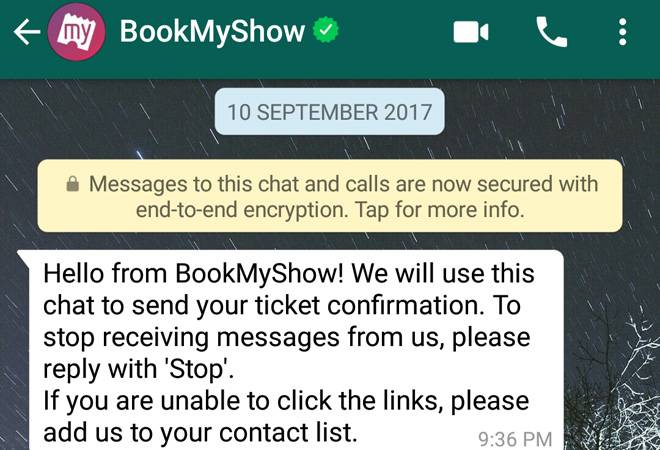 Final thoughts about using WhatsApp for customer service
WhatsApp Business is a powerful tool for any company. Companies can launch strong WhatsApp marketing campaigns and leverage the power of WhatsApp for customer service by providing clients with quick order updates and answers to common questions. To use WhatsApp effectively, you have to let as many customers as possible know about your activity on the messenger and combine it with any CRM tool. Don't forget to constantly update your WhatsApp chatbot scripts and add an option to contact a human agent via the app.
Are you ready to start using WhatsApp for customer service and more? Then, try the WhatsApp Business Solution from SendPulse. Using it, you can add a WhatsApp widget to your website, set up auto-replies, organize the conversational logic of your chatbot, integrate the WhatsApp channel into any CRM, and get access to the extensive customer support analytics.