It's no secret that eCommerce is one of the fastest-growing market sectors in the global economy. The total market is expected to be a massive $4.9 trillion in 2021, up from just $1.4 trillion in 2014. So you want to get in on this, right?
Starting a business of any kind takes start-up capital, but sometimes you have an idea that is great but you haven't won the lottery recently. Fear not, you can start an online business even if you have a small budget. It is important to use your resources effectively and place emphasis on the things that matter like branding and marketing. There are plenty of parts of the process that you cannot just throw money at to solve, so roll up your sleeves and let's take a look at some actionable advice for opening an eCommerce business with a small budget.

What are the benefits of eCommerce?
The numbers speak for themselves. In 2019 the US Department of Commerce found that eCommerce sales increased by nearly 15% in the US alone. Yes, these numbers are staggering. But, there are plenty of other merits to starting an online store, especially if you are low on funds.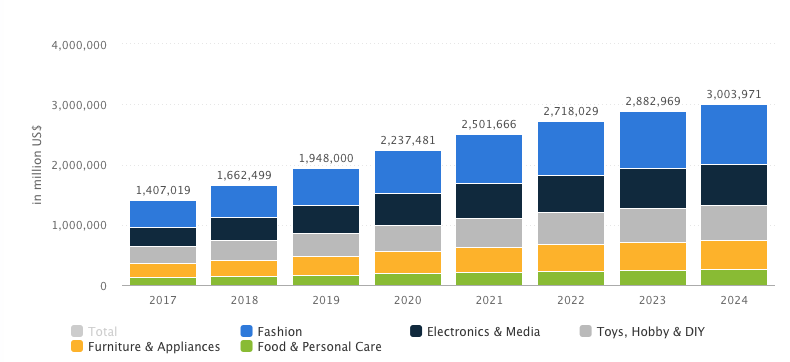 Unlike opening a physical store, the initial investment to get up and running is relatively small, and eCommerce stores scale extremely well. When you start an online business you are able to start really really small and build up your stock, marketing efforts, and brand image as you grow.
It is important to understand the distinction between small and "low quality." It is totally possible to be a small store with great products and killer marketing, all while building a customer base and your brand's image. If you're on a tight budget you should aim to be a small, but meaningful online store.
How is eCommerce similar to traditional brick and mortar stores?
Both online and physical stores follow a lot of the fundamentals of selling anything. You need to provide high-quality customer service, sell products that people want, and use marketing to boost your reach and improve sales. But, there are some more nuanced similarities and differences too.
In a physical store product displays and product placement take advantage of human psychology to improve the likelihood of making a sale. While you certainly won't be reorganizing your shelves every few weeks, you can display your items with high quality images and make use of white space to become more appealing, even for a "digital" audience.
Just like physical stores, you will have competitors. It is important to keep an eye on your competition and be sure to keep up with market trends. Fortunately, you won't have to drive to a store to spy on your competitors. It's even easier, visit their pages and take a look. Looking at others will present some of your weaknesses and show what you are doing better than the crowd. Build on these findings to refine your store and make it the best it can be.
8 steps for opening an online business
Now we're ready to dive into some of the moving parts of your journey to open an online store. Since we're approaching this through the lens of having a tight budget, we'll keep your wallet's health in mind in every step.
Naturally, you will want to sell a product or service, it's a commerce site… duh! But, if you are on a tight budget, you will be somewhat limited in the number of products that you will be able to sell. You're probably not going to be able to open a Rolex store, but you still have lots of options. That's why we need to get started with the research phase to start an eCommerce business.
Step 1. Come up with your business idea
First, you need an idea. Unfortunately, there is no life hack for creating the next AirPods that we are aware of, but if you're here you probably already know what you want to sell on your up and coming eCommerce store. If you still need a little inspiration, you can think of problems that you would like to have a product or service solve, and see how you and your store can solve them. Dreaming up your next big idea is a great shower thought exercise, so don't give up if you're still stumped.
Step 2. Assess the need for your product
Great, now that you have your idea, it is time to ask some hard questions. But, while the questions can be difficult, they will save you tons of time and money in the long run. The most important question is: is there a need for my product? It's a simple question, but critically important moving forward. We all buy products that solve problems, do something useful, or because they are unique. You want to be sure that your product falls into one of these buckets and that you have a way to show it's value to your prospective customers.
Google Trends allows you to see popular searches with a ton of different filters. You can use this tool to see if people are searching for keywords related to your product. It's a good idea to look at the similar queries at the bottom too, it will give you a better idea about what people are really asking that is connected to your product.
If you want to produce an eBook for dogs, you might have to wait until we discover the language of our canine friends. Be sure that your product is something that people want to use. When your budget is limited, you don't have time or money to take a huge risk on a product that may flop. Whether you are producing your own product or reselling other's products, make sure that the market wants this and capitalize on it.
Step 3. Understand your competitors and your unique selling proposition
Now we are ready to look at others that are working in the same space as you. If your idea is to produce tissues, you might be a little late to the game, Kleenex beat you to it. Take some time and search for others selling similar products and see if your efforts to enter this market justify your investment. This is not to say that you have missed the boat, the opposite is true in many cases. But, you do need to see if there are any big names in the same sector that are well established and will make your entry much more difficult.
A more likely scenario is that, yes, there is some competition, but it is not as steep as going up against Kleenex. In this case, what you need to worry about is what makes your proposition unique. This concept is aptly named your unique sales proposition. So even if you are not the only store on the block, what does your store have or do that the other stores don't? Sometimes you get lucky and your product alone is unique in its own right. However, it is more likely that you will have to get a little creative with your USP.
Generating a USP takes a lot of thought, but let's simplify the process a bit. Look at your competitors' sites as if you were a consumer. What would bother you? What are their weaknesses? Read reviews and pay attention to what people are asking for. This will give you an idea of what you can do to have a unique offering that people really want to take advantage of. Be it in the form of your product, your site or social pages, your policies, or sales, the sky really is the limit for your USP. Make sure that you are doing something novel along the way, and your customers will be happy.
Step 4. Register your company
Naturally, this process varies greatly based on your region, but if you want your business to be legit, and you should, you will need to get this step out of the way. You can find useful information on opening a business in the US in this US Small Business Administration Guide and in the European Union on the official EU website. Check your government's official site for details about opening a business in your region.
Step 5. Get a website
You are going to need a website, this is an e store after all. There are a ton of website domain sellers, hosts, and more. That process is pretty simple, but be sure to do some research about domains and hosts as each service provides different features. Fortunately, you can do this pretty cheaply in 2020, we were even able to buy a domain and host a site for less than $65 a year, but your mileage may vary.
Step 6. Come up with a name and branding
It's time to decide what content you will use to fill in your site and how you will introduce your brand. What do you need, you ask? Of course a name and logo for your brand at a minimum. You can also play with some style choices like having distinct brand colors and using them for your web pages. Coming up with a name for your store can be fun for some and daunting for others, that's why Shopify made a tool to help you generate a name that checks against existing trademarks.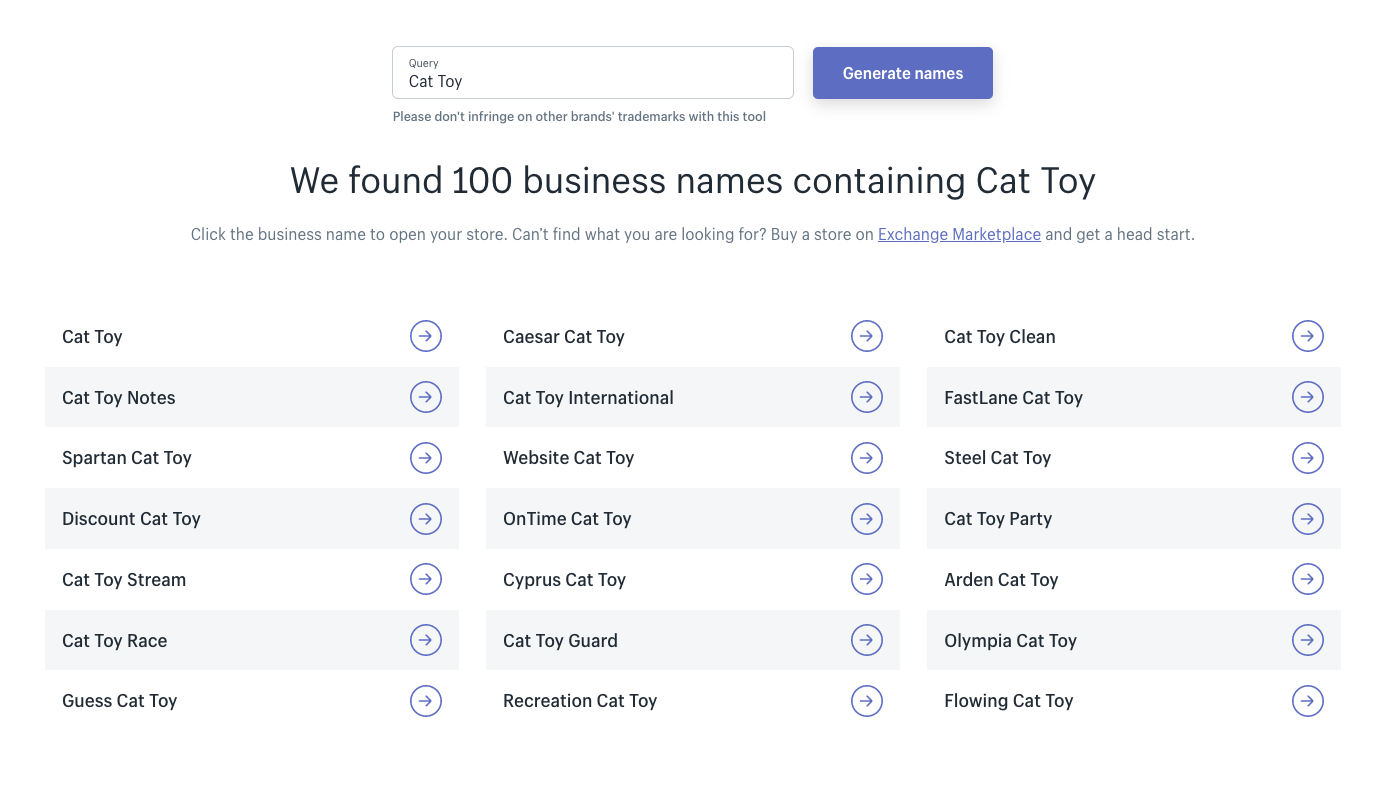 But, come on, if you can get a little creative you should, it will help you tell a story about your brand in the future, and people love stories.
Next, you need a logo. Slip-on your industrial-organizational psychologist hat and do a little brainstorming. Here are a few general tips for logo design, but this is not an exact science:
Use a readable font. If your logo includes text, stay away from complex fonts, sans-serif fonts are the most common and there are plenty to choose from.
Don't make it too busy. Some of the most recognizable logos are also the most simple. Think of Apple, McDonalds, and Nike, we recognize them instantly and they are all one shape.
Make drafts. Design a logo and step away from it for a little while. When you revisit it you will have a clear mind and not make any hasty decisions. Branding is critically important, so it's best not to rush it.
When it comes to turning your concept into a reality you have lots of options. If you're a little creative and tech-savvy, there are lots of free tools like GIMP that you can use to create your logo for free. Also, you can use logo design services like Logogenie.
Of course, free is the best price, but there are plenty of low-cost options available too. There are many professional logo services like Logaster and even some free ones with less functionality. With Logaster, you can get a high quality logo to use online for $20.
Lastly, you can hire a freelancer from sites like Fiverr or Upwork to work with you to design a logo, but this can be the most expensive option depending on your design needs.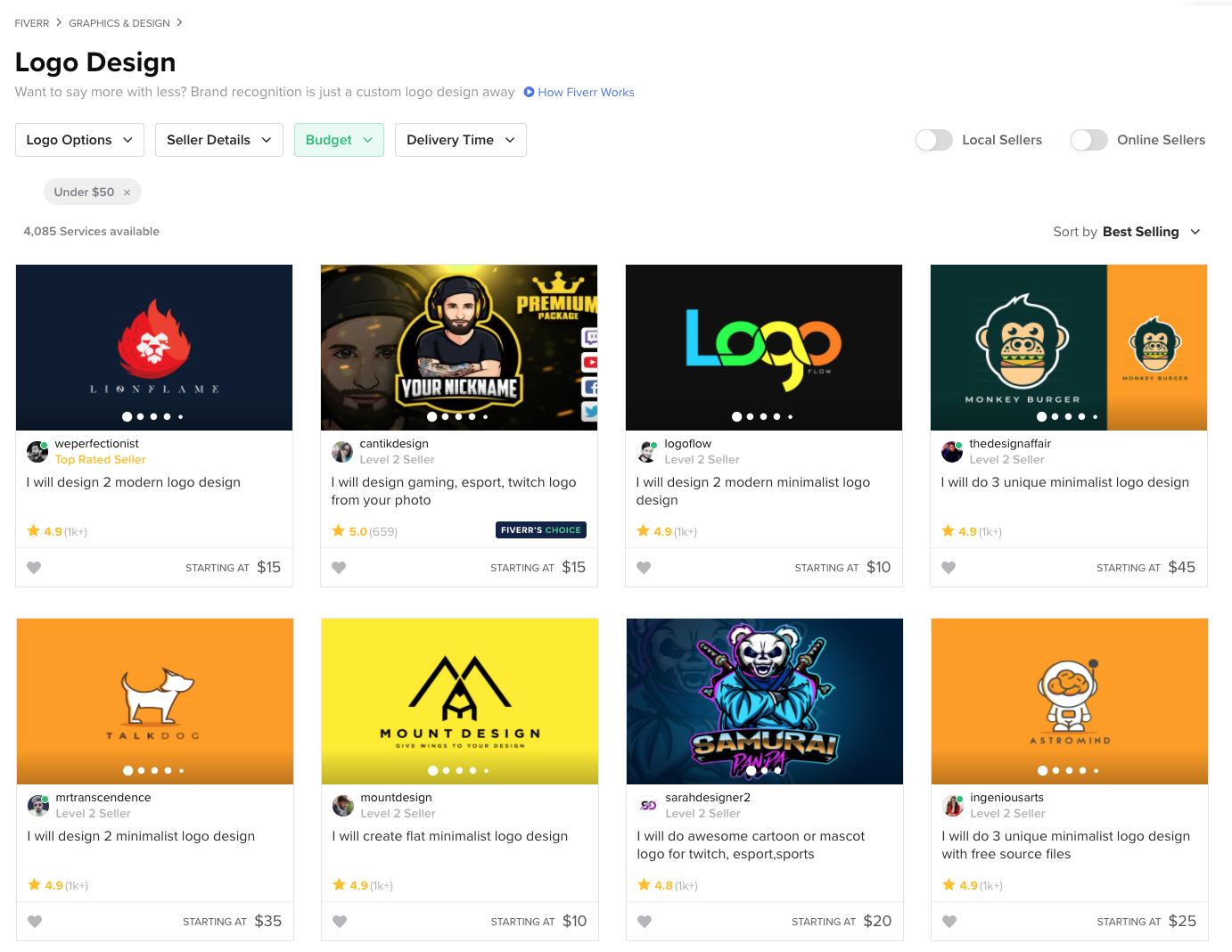 Step 7. Design your website
After you have your domain and branding ideas you are ready to build, design, and refine your website. There are a lot of options for website building platforms, so check out our list of website builders to get an idea of some popular offerings. And, we've got some good news for you. Most of these site builders are free and intuitive to use, so keep your piggy bank sealed for this part.
Website design is a super popular topic all over the internet, and there lots of great resources to help you get going. Here are a few best practices to keep in mind:
Use simple site navigation. Stick to simple pages and clear buttons. You should have a "Shop" page and include only a few categories of items. Make sure that your website CTA buttons are big and have clear text like, "Add to cart" and "Checkout." It might be tempting to have tons of menus and search options, but you're just getting started and it will make your design process more tedious and create a more complicated user experience.
Use images. The last thing you need is for your site to look like an encyclopedia, they are never fun. Use product images liberally, and when possible include multiple product photos from different angles or use cases. Make it clear to your customers what the product looks like and how to use it. The key is doing just that without using text.
Use Search Engine Optimization. Sometimes SEO seems like a dark science that doesn't make sense to mere mortals, but there are a lot of simple things you can do to improve your search engine ranking. Using SEO tools will help you boost your site visits and sales, and it's easier than it sounds.
Step 8. Get a checkout and payment platform
You're ready to make some money, but first you need a way to get that money into your pocket while providing your users with a straightforward checkout process.This step will take a bit of research to find a provider that meets your needs and accepts the payment gateways that you need. A payment gateway is a fancy way to say the method of payment, like PayPal, debit or credit cards, or even cryptocurrencies. There are a lot of different gateways and each service provides support for different ones.
Fortunately, there are a lot of options that will provide both a cart system for your users and payment processing, some are even free. Most platforms also help integrate shipping services to streamline the process. When you are just getting started, free open source checkout providers are the way to go. Make sure that you read reviews and stay vigilant about security and customer support options to avoid any crises in the future.
Also, take a look at our guide for sending abandoned cart emails to keep reminding your customers to complete their purchase. They are easy to set up, and will bring your customers back to their lonely carts.
So if you have completed all of these steps, congratulations! Your store is ready and maybe even open for business. But, you are missing a critically important aspect of owning an eCommerce store. You need to market your business and we have good news, you can do it extremely inexpensively, or for free if you have a small audience for now.
Marketing your eCommerce business on the cheap
In 2020, it does not cost much to do extremely effective ROI-driven marketing across many channels. As your business grows, the number of channels that you use will grow with you. For now, we will look at some of the foundational channels that you can use to get you up and running with marketing after starting an online store.
Email marketing for growing an online business
We have covered this in detail in our tips for eCommerce email marketing post, but let's take a minute to look at some things to keep in mind for your marketing efforts. Right off the bat, especially if you are new to this, you will want to familiarize yourself with some email marketing best practices.
Make sure that you have a double opt-in mailing list or that your subscribers have given clear consent to receive your emails if you collect their contact information in-person. It is best to add a subscription form to your website and any landing pages that you have in addition to asking users to subscribe at the checkout. You will also definitely want to avoid using any spammy content.
Email marketing gives you a ton of flexibility in terms of the types of emails that you can send to your customers. Common emails include welcome emails, promo emails, order confirmation, and feedback requests. But, there are a lot more options, especially when you get into working with email automation more and more. But, don't be overwhelmed, we will look at some examples and simple email ideas to get the ball rolling.

This email is a simple welcome email, but it does a lot of things well. It has a nice design and has great product pictures and a CTA button to take the recipient right to the store. This email also includes an offer for free shipping on orders over $99. It is a good idea to include some value like Wine Enthusiast did with this shipping offer, but you want to remember that your goal is to make your new subscriber feel welcome, they are just entering the sales funnel. Be sure that any offers you include are not too noisy.
This email does a great job of highlighting the discount available to a user to create a little FOMO and includes pictures of their product "in action." Unlike a welcome email, promotional emails should include an obvious offer. Their goal is to offer value and entice a user to move to the bottom of the sales funnel or even expedite the process. Timing is important with promotional emails. Sending one right after you send a welcome email is a bad idea, you may easily come off as pushy. Stick to sending promotional emails after someone has been on your mailing list for a little while or on major retail holidays.
This only scratches the surface of what email marketing can do when you start an online business. A huge way to level up your marketing email efforts is to use automation. Check out our guide for automating your email marketing to learn more about how to send automated emails for free.

Social media marketing for starting an online store
Social media marketing is a must for eCommerce, without it you are simply leaving money on the table. There are seemingly a billion social media platforms, but let's focus on the most popular ones.
You really need to understand your audience to be able to effectively use SMM. If you are selling to a younger audience consider channels like Instagram. Generally, Facebook is always a great place to start for almost any audience, and consider platforms like LinkedIn if you are selling a business solution or something aimed at professionals.
Note: Recognize the region of your target customers and switch your platforms to cater to that milieu.
Zappos is an eCommerce giant and it seems that they have perfected the simple, ultra-low cost SMM strategy with this post. This is a "video" of pictures spliced together of a shoe spinning, incredibly simple, but wildly effective at getting your attention, right? This goes to show that including short funny posts with an eye catching image or video is all you need to do effective SMM. No fancy camera or studio rental required.
It's always a good idea to show your product. Over the years YETI has become something of a lifestyle brand and it is due in part to effective marketing like this. Again, this is inexpensive to do, you can use the phone in your pocket to take a high quality photo and edit if a little at no cost. Moving up to professional photography can get expensive, so if you're on a tight budget snap a few pictures and get your SMM underway.
Things to keep in mind after you start an online business
We all know the motto "the customer is always right" while this idea can be a thorn in the side of many business owners, it can feel more true than ever for eCommerce stores. It is critically important to provide high quality customer service and manage your reputation closely. This is a make or break concept for new eCommerce brands, being vigilant takes a lot of time and resources, but it will only help you over time.
Customer service
Being available to answer customer's questions at any time requires an enormous amount of resources. In addition, in 2020 we expect to have our questions answered as quickly as possible. This can be a huge burden for small eCommerce businesses. Using chatbots will reduce the number of resources that you need to allocate to answering questions, chatbots can answer FAQs and refer customers to information pages on your website. You can set up chatbots to elevate any question that the bot can't answer to a real person. Check out more information about using chatbots for customer service, and marketing on our blog.
This bot not only fields basic questions about products and orders, but also allows users to provide feedback right from the chat. By allowing people to choose from a list of FAQs in the form of quick reply buttons, the user experience is simple and can divert users from contacting your customer support team.

Reputation management
If you're like me, you almost never make a purchase without reading what other people have to say about it. You should assume that the majority of your customers are the same way, which means that you need to carefully manage your reputation. Give customers a page to write reviews of their experiences on your website. It is important to respond to both positive and especially negative reviews. It is not uncommon for brands to be shamed on the internet for providing poor customer service in response to users' complaints. Steer clear of anything of the sort by being there to rectify any situation that you can.
CloudLinux includes reviews from their customers to show new users that their product is trusted by many users all over the world. In addition to reading and responding to reviews, you can use them as social proof. You can include reviews on your site so newcomers can see your street cred.
Wrapping it up
In 2020, it is easier than ever to open an online store with very little startup capital. There are many resources at your disposal and tons of ways to build your brand at low or no cost. Let's run through some of the steps of the process where you can save a buck without sacrificing quality:
Come up with a product idea and research your competitors
Design your own branding
Use a free open source checkout client
Take advantage of free website builders
Market your band on social media
Use SendPulse for your email and chatbot marketing
We hope you learned how to open an eCommerce business without spending an arm and a leg. Remember, with SendPulse you can send 15,000 emails to up to 500 subscribers each month for free. Get started marketing your eCommerce business today!