One proven strategy to improve sales and motivate subscribers is to make use of a countdown timer for email. We have picked out five countdown timer tools, tested their features, and are ready to share our experience.
What is a countdown timer?
A countdown timer is a virtual clock that counts down from a certain date or time. It's usually used to show how much time is left until the start or end of an event.
You can add this feature to both your email and landing page — there are lots of free HTML countdown timers and free email countdown timers available on the web.
In an email, you can use a countdown timer to:
promote a limited-time sale;
remind subscribers that your offer is about to expire;
remind users that the trial period of your product will end soon;
announce the date of a contest or giveaway;
remind recipients that a webinar or a course starts soon.
Why do you need an email countdown timer?
In marketing and sales, countdown timers are not only used to inform your audience; their aim primarily is to call prospects to act immediately.
Here are some psychological explanations on why email countdown timers are so effective:
They create a sense of urgency. Deadlines make people act immediately. Moreover, timers are specific as they can help you show how much time is left exactly instead of using vague formulas such as "a limited-time offer" or "last chance to buy.''
They create fear of missing out. Timers can create a feeling that the advertised product is scarce. A limited quantity item instantly becomes more desirable for potential customers.
They command attention. Numbers on the timer change non-stop and catch the eye of every recipient. Timers are so effective because initially, the aim of some parts of our brain was to notice danger in the environment. So we give more attention to moving objects.
These are the main reasons that countdown timers help you increase engagement, conversions, and sales: in some cases, it's possible to reach up to a 171% higher click-to-open rate and a 400% higher conversion rate.

Best countdown timers to try
We've searched for countdown timer software and have chosen five partially free countdown timers to test. Below you'll find detailed descriptions of every tool and a comparative chart for each service we've tested.
This service is a tool specifically for creating countdown timers. It only takes a few seconds to register with the platform. Sign up using your name, last name, and email address — that's all the information required.
Pricing
There is a free plan; $10/mo for Bootstrap, $60/mo for Startup, $200/mo for Enterprise. You can save up to 20% if you pay for an annual plan.
Service details
Users of the free plan have 20,000 credits per month. One credit is defined as one use of the embedded timer, simply — one opening of an email that includes a timer.
Remaining credits will disappear at the end of the month if you are on a Free or a Bootstrap plan. However, credits roll over to the next month if you are on a Startup or an Enterprise plan. If all credits are used, there is an additional fee for uses above the limit. This function is only available for users on premium plans. The price for one credit varies from $0.0001 to $0.000085.
MotionMail's branding is displayed under the counter for free plan users, but the background and text can be adjusted in such a manner to make it barely visible. Users of premium plans can turn the branding off.
If you are using a free plan, you can only choose one language for your whole mailing list. For users on premium plans, the timer's language is automatically changed based on the language of the subscriber's browser.
What's inside?
The interface is user-friendly, and there are four design options available.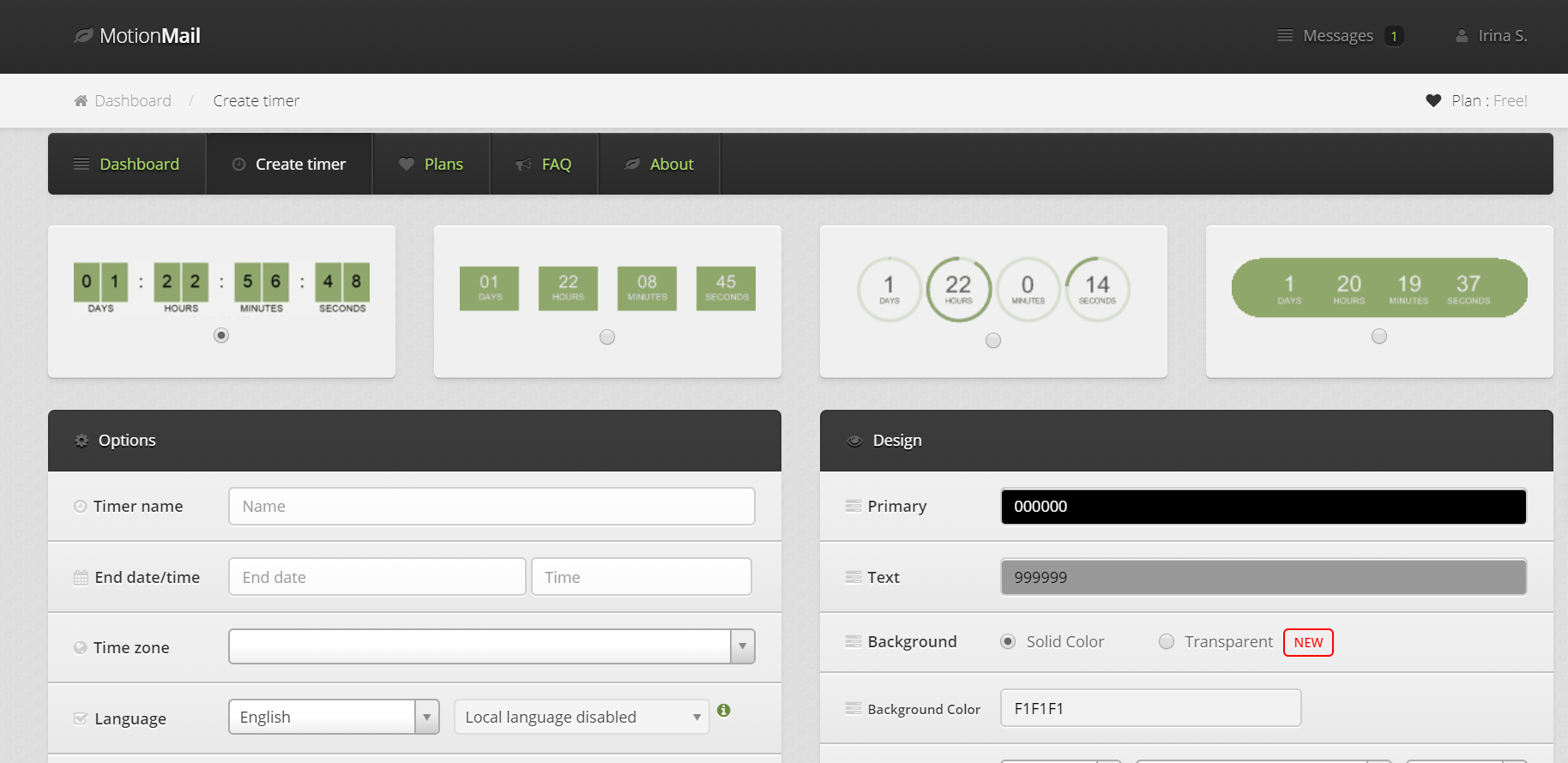 The timer is customizable: you can choose the background color or make it transparent, change color and size of the fonts, or select a matte color that matches the background of your email to smooth the edges of your timer.
You can preview the created counter.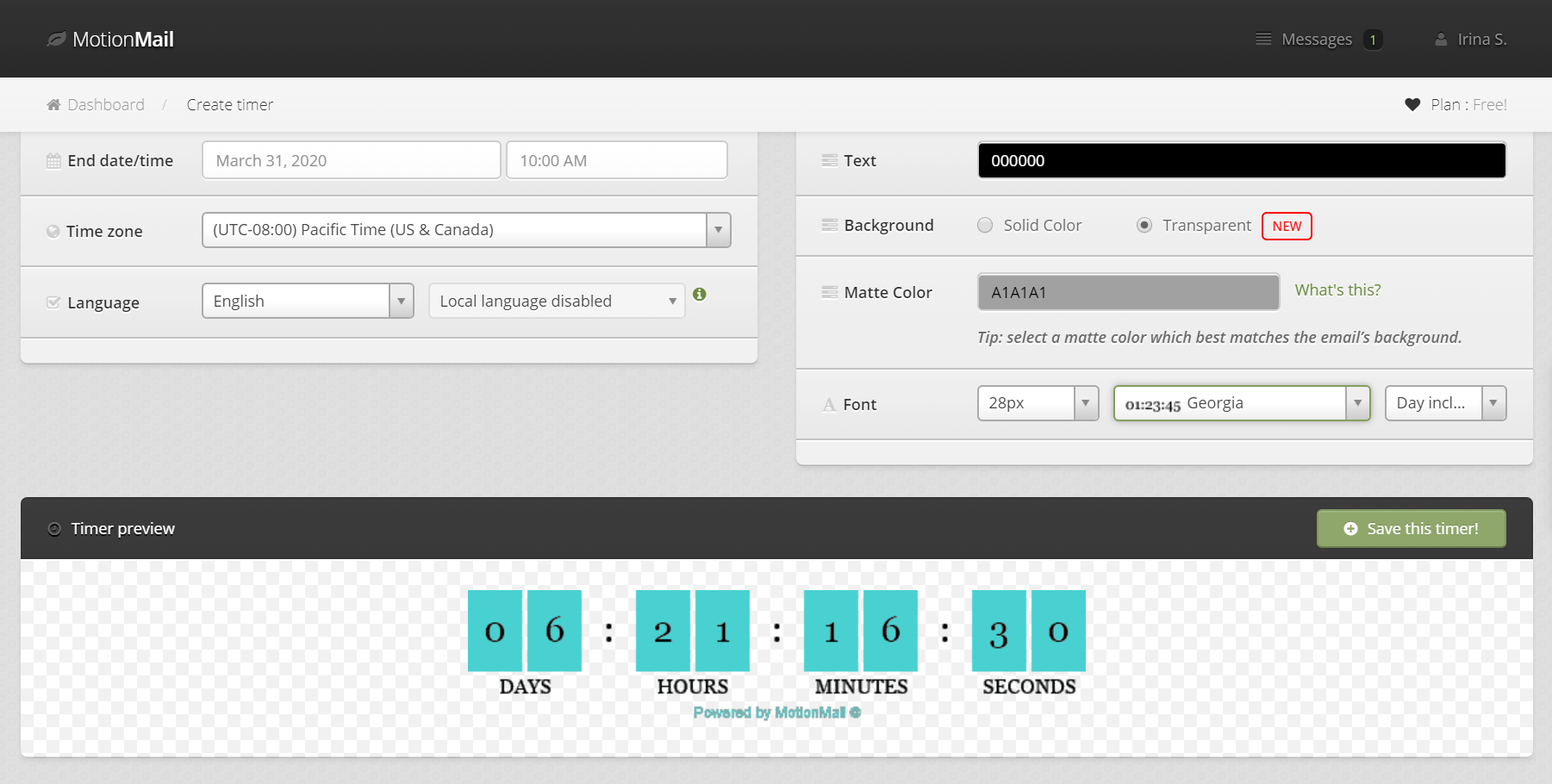 As soon as you've entered the required parameters, MotionMail generates the code. You can embed it into your email template.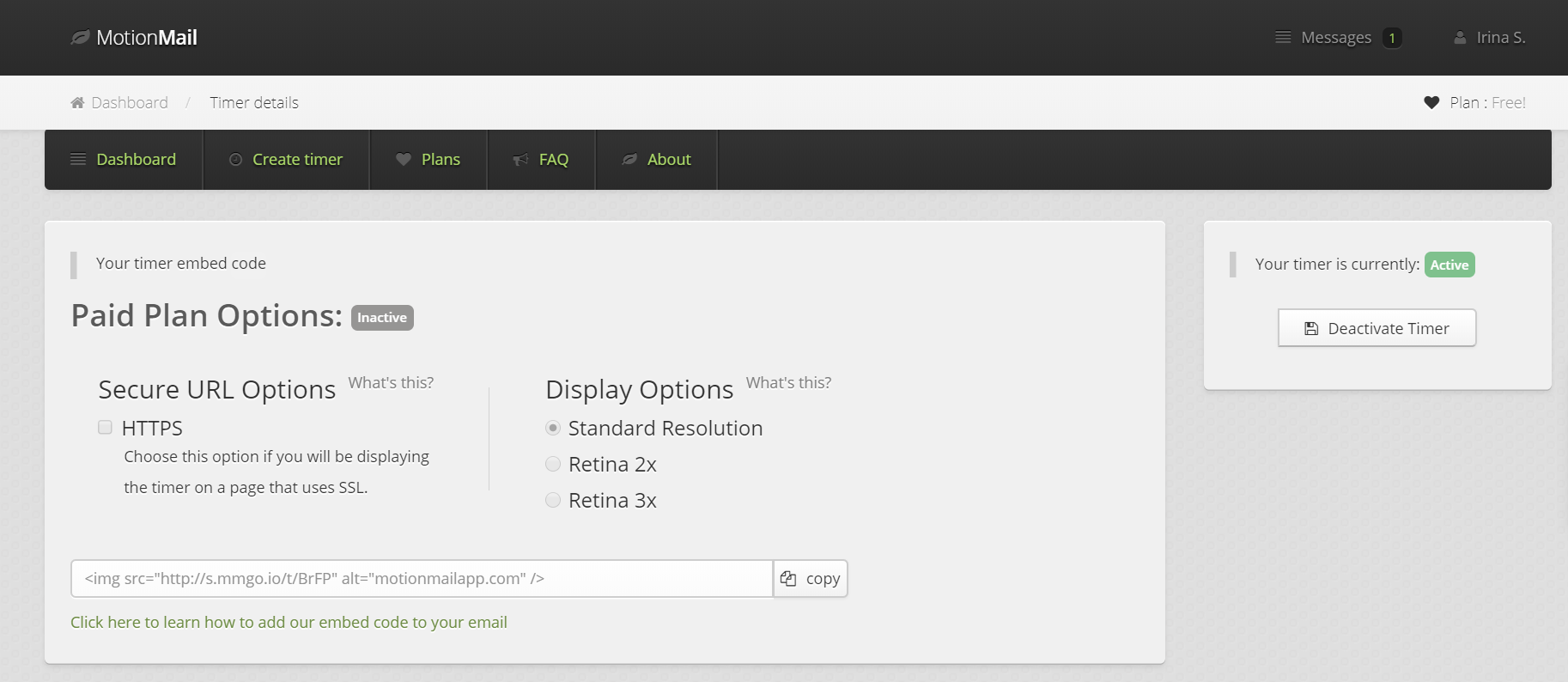 If you need to deactivate the timer for any reason, you can do so by tapping a single one button.
All MotionMail users have access to statistics on the email countdown timer's performance. If you are on a free plan, you get a 15-day impressions summary where you can see the number of impressions in general and the day when you've got the maximum number of impressions.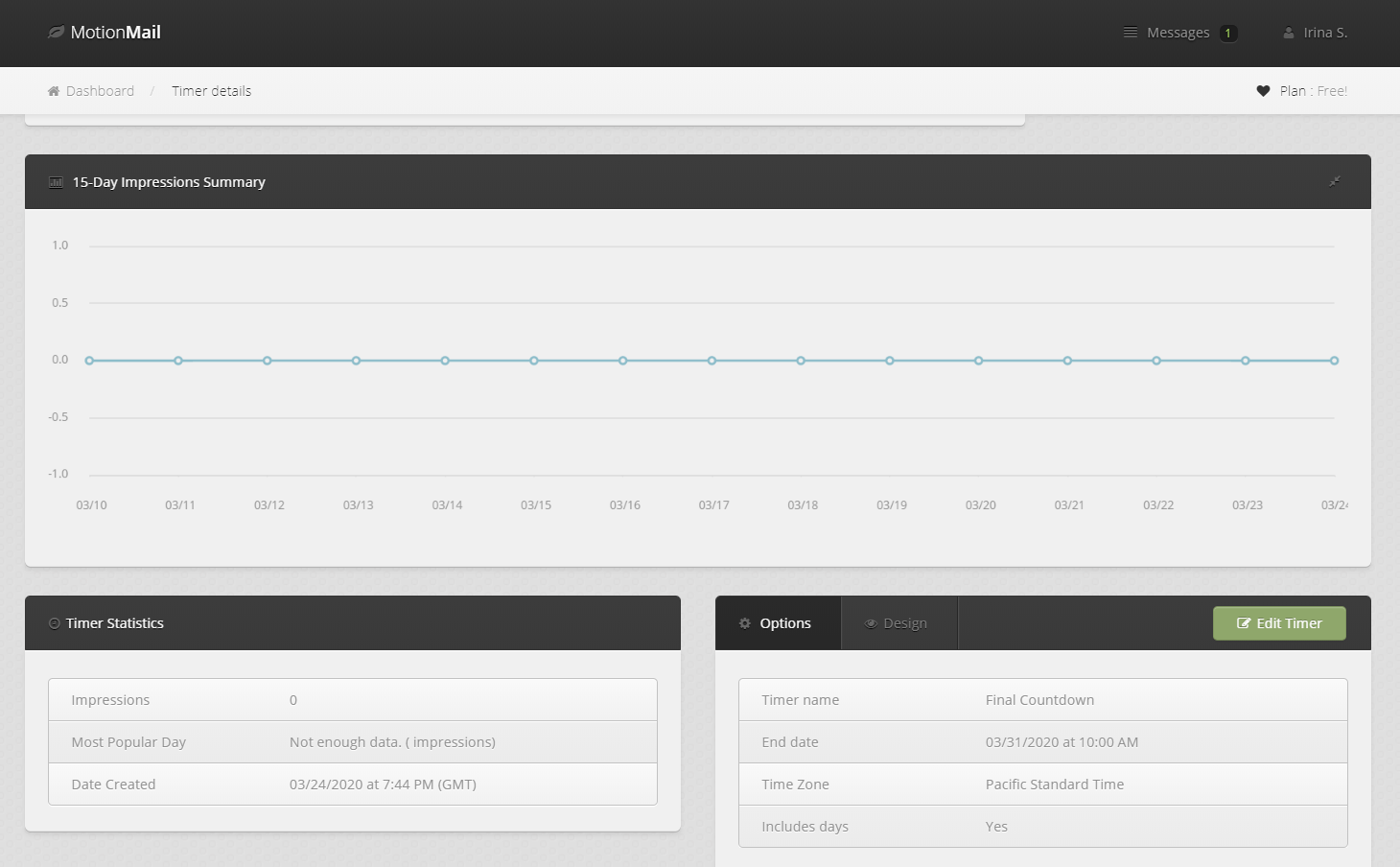 Unfortunately, not all of the design options provide high-resolution countdown timers: in some cases, all of the pixels are clearly visible regardless of the counter's size. It is even more noticeable when you paste the code into your email template.
Sendtric is a partially free countdown timer tool with an easy-to-use interface, intuitive settings, and a wide range of customization options.
Pricing
Sendtric is also free to use with limited functionality. Also, there is a Pro Edition with three paid plans: you pay $9/mo for Micro, $29/mo for Standard, and $49/mo for Power.
Service details
Plans differ, first, by the allotted number of views. A view is defined as loading a countdown that occurs when a subscriber opens your email. On the Micro plan, users are limited to 150,000 views, 1,000,000 on Standard plans, and 5,000,000 on Power plans.
The second difference between plans is based on the availability of transparent backgrounds, starting from the Standard plan, transparent backgrounds are available. With the Power plan, you can create dynamic timers — with the timestamp in the URL. Thus, you can change the time on your email platform or application. Dynamic timers are useful if you create a timer for specific customers based on when the email is sent.
What's inside?
There are two options for using Sendtric for free, but you are limited to basic functions.
If you don't register, you still need to enter your email address in the form on their homepage. Then you can create your countdown timer on the same page.
Choose a time zone and set an event deadline. You can set the timer to any date within 30 days. The timer is available in more than 20 languages. There are basic customization options: you can change the background color, labels, and digits. A preview of your timer for different devices — desktop and mobile — is available on the same page. When the timer is ready, you can embed the HTML code into your email template.
If you sign up, you get more functionality. You need only an email address and a password — no credit card information to create an account.
For registered visitors, an easy-to-use dashboard is available. Though everything is intuitive and friendly, Sendtric provides users with hints and hacks on using the tool more effectively.
In the dashboard, you can see all the timers you've created — active and archived ones. Basic statistics on performance — views and actions.

You can create timer templates. When you need a new email countdown timer, you only need to change the deadline.
The first step of using this countdown timer software is giving your timer a name, choosing its size from "X-Small" to "X-Large," and setting the language. Then you can customize your timer by setting the display in terms of days, hours, minutes, and seconds left. There are also several hundred fonts to choose from.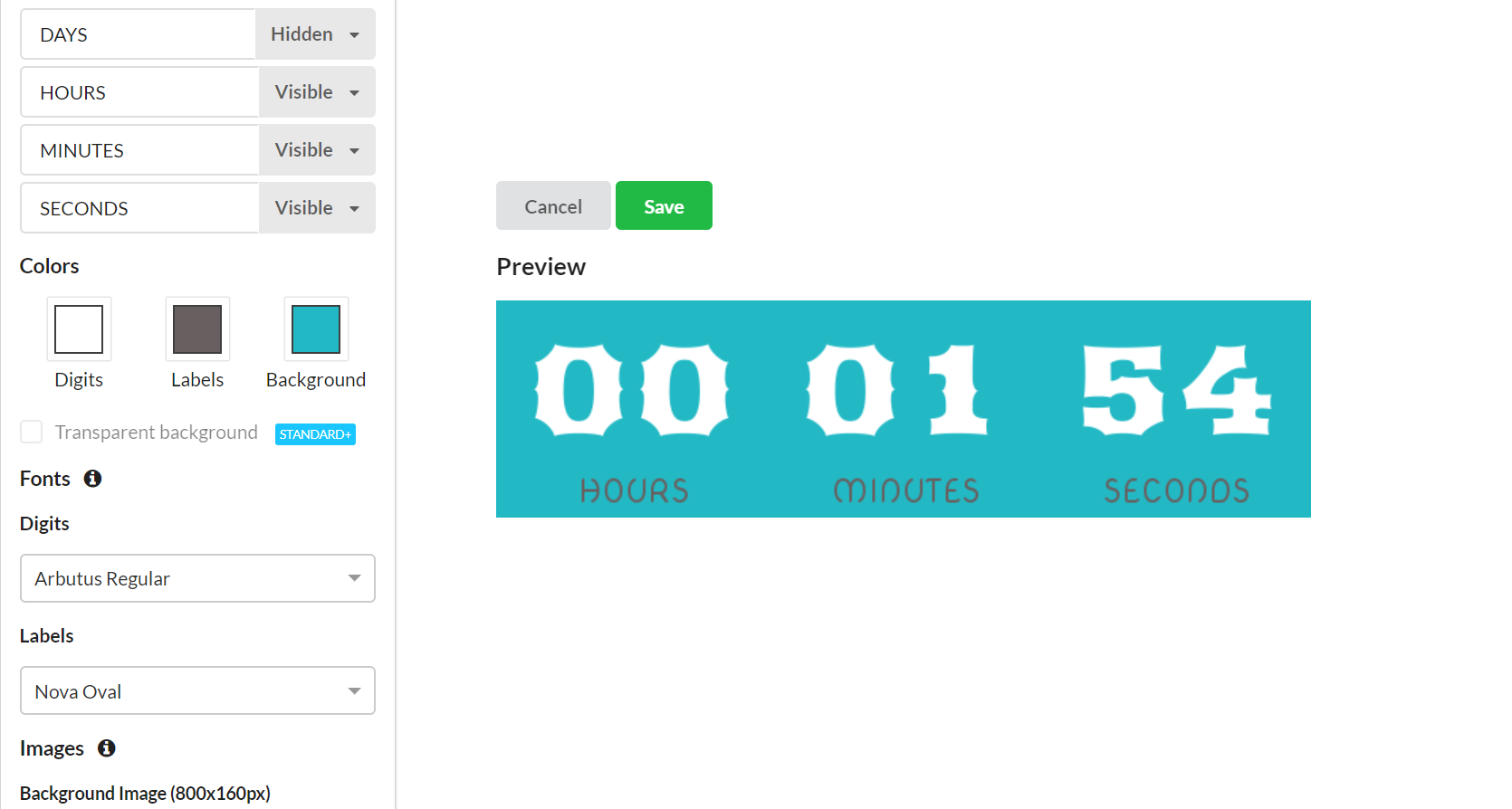 You can also choose the color of the digits, labels, and background. It's possible to add a background image and expiration image — the image that will be shown when the time is over. The image should be of 800*160 px or at least of the same ratio; otherwise, it will be displayed with distortion. Starting with the Standard plan, you can set a transparent background.
Niftyimages is a platform devoted to email personalization. A countdown timer tool is just one of the features the service offers.
Pricing
To use Niftyimages, you pay $20/mo for Starter, $80/mo for Pro, $250/mo for Enterprise, $750/mo for Enterprise Plus. If you pay for an annual plan, you can save 20%. A free trial is available.
Service details
All the plans include countdown timers, personalized images, custom fonts, and API access. Plans differ based on the number of opens allotted per month — from 50,000 to 5,000,000 — and the available add-ons such as rule sets, click tracking, and so on.
What's inside?
With the trial mode, you get access to a dashboard with six countdown timer design options: you can customize one of three provided templates, use two premade timers created via Photoshop, or upload your own Photoshop timer.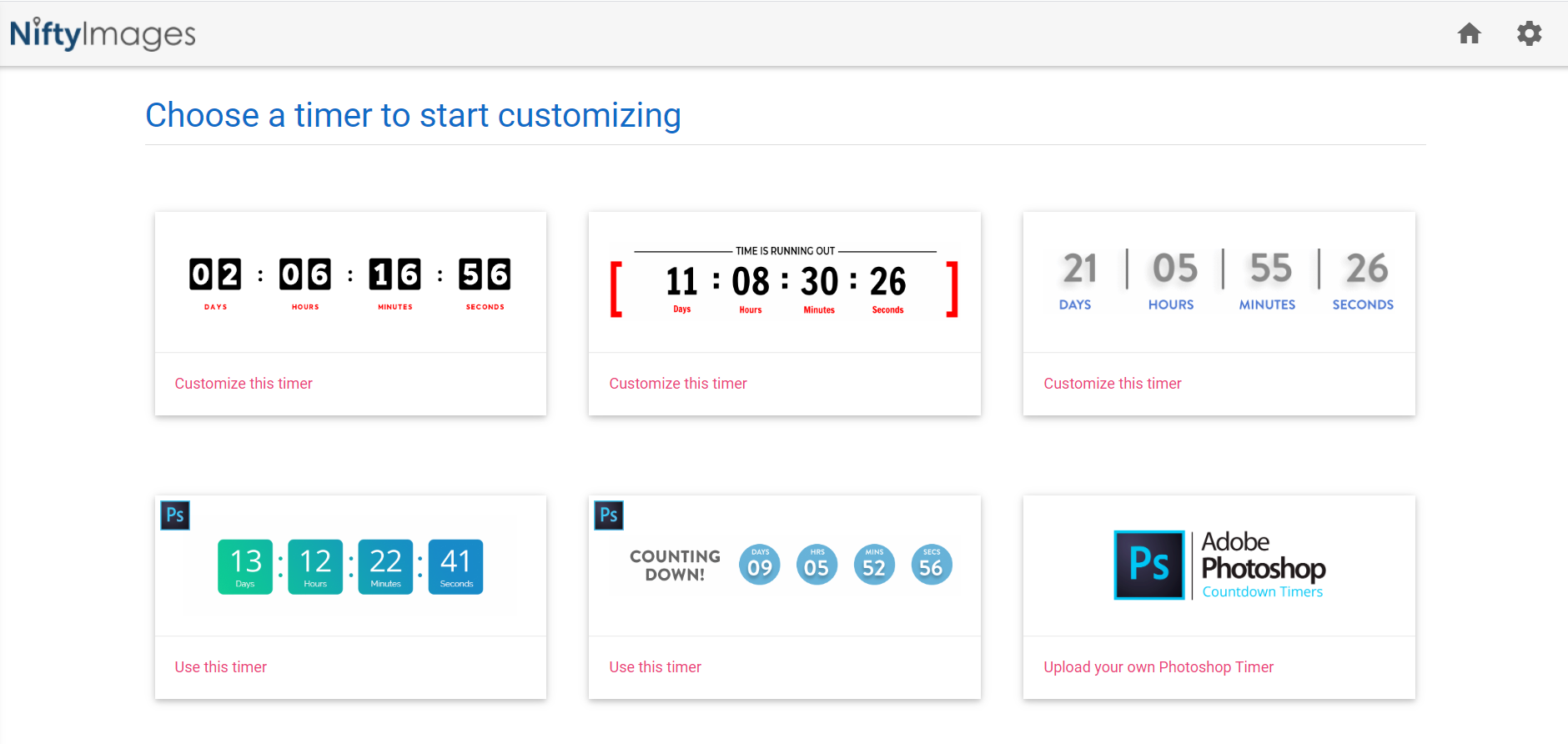 If you choose premade Photoshop timers, you can only change the time zone and deadline. To change an image or something else, you need to upgrade your plan.
If you choose a template, there are several ways to customize it: you can change fonts, colors, add stroke, and add or remove a drop shadow. There are about 50 fonts available, and you can change the font's size and color. If you add a "Drop shadow," you can adjust the shadow's distance and intensity. You can add your own color for the number of days, hours, and so on. It's also possible to add a background image. To sum it up, you have everything you need to create a high-quality design with the email countdown timer from Niftyimages.

The service provides more than 40 languages.
After you finish tweaking it and save the timer, you will get the HTML code to embed into your email. You can also add an expiration image and link. A live preview of the timer is available. As extra options, you can adjust the timer to the local time zone and use the subscriber's local language — based on their IP address.
This tool provides countdown timers for websites and email.
Pricing
You can pay monthly or make a one time purchase for a software license. Monthly pricing starts from $28/mo for the Startup plan, $56/month for the Business plan, and $112/month for the Enterprise plan.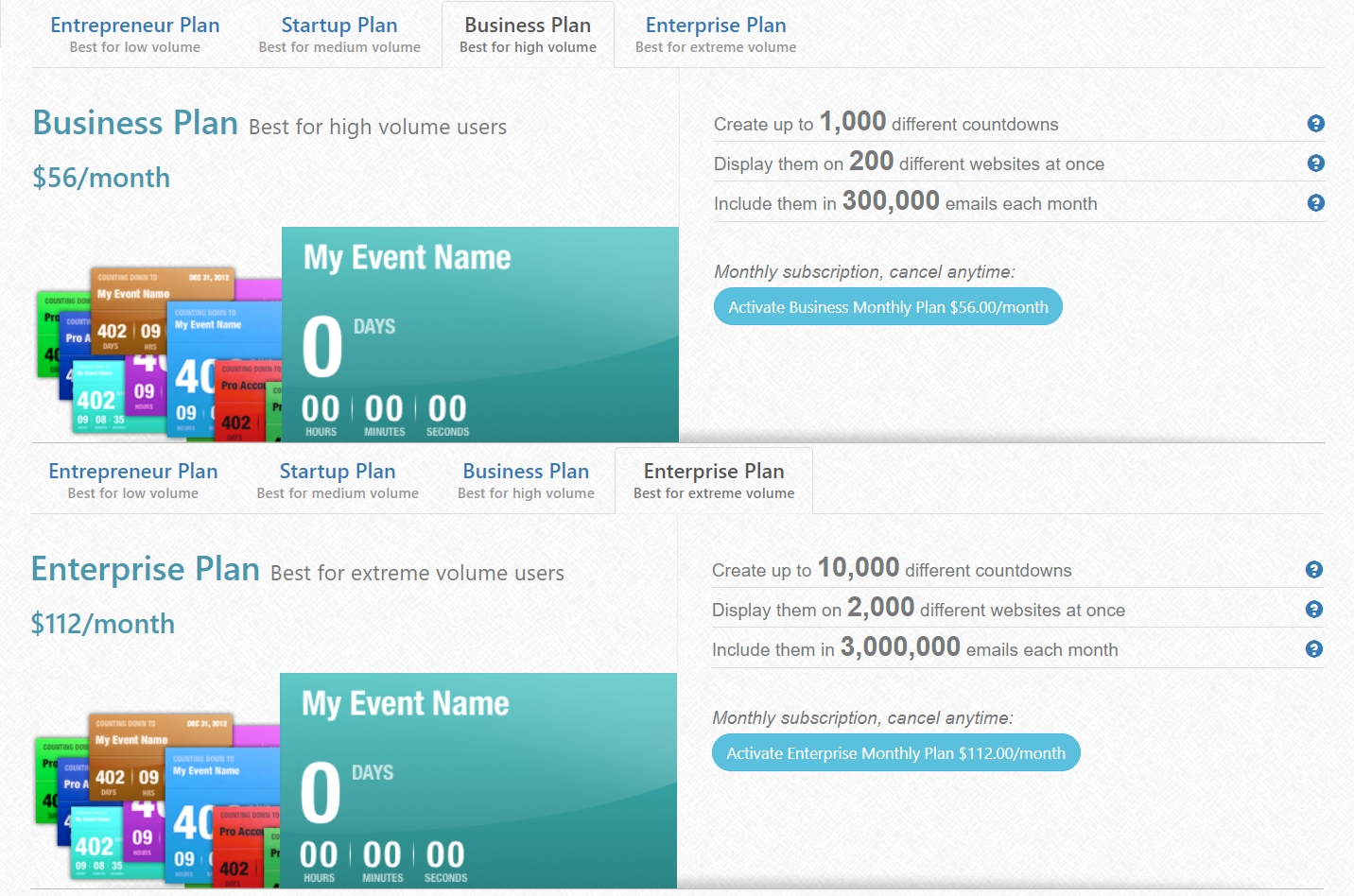 For Entrepreneur and Startup plans, lifetime licenses are available for $69 and $139 respectively.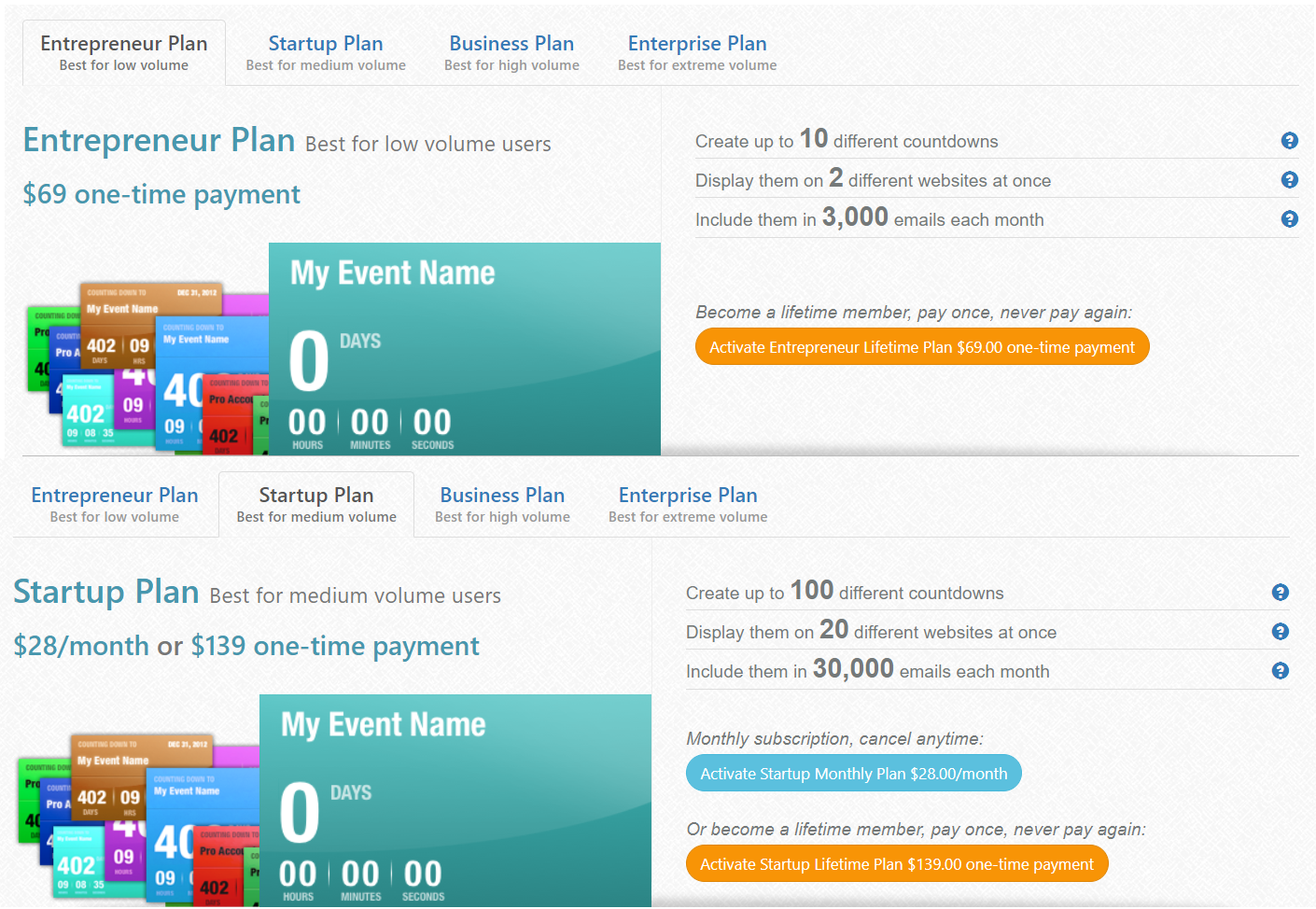 Service details
Plans differ based on the number of countdowns you can create, the number of websites where you can display them, and the number of emails that can include these countdown timers per month.
What's inside?
To create an email countdown timer, you don't need to sign up — you can do it right on the homepage. But in this case, you'll have branding on your timer. Moreover, the homepage is very slow.
Registered or unregistered, you can set the timer's deadline, time zone, and choose from about 50 languages. You can also modify the design of your timer: choose the size of the banner, colors of your background and text, a font from seven options, and text alignment. When everything is ready, you will get the timer's HTML code to embed the timer into your email.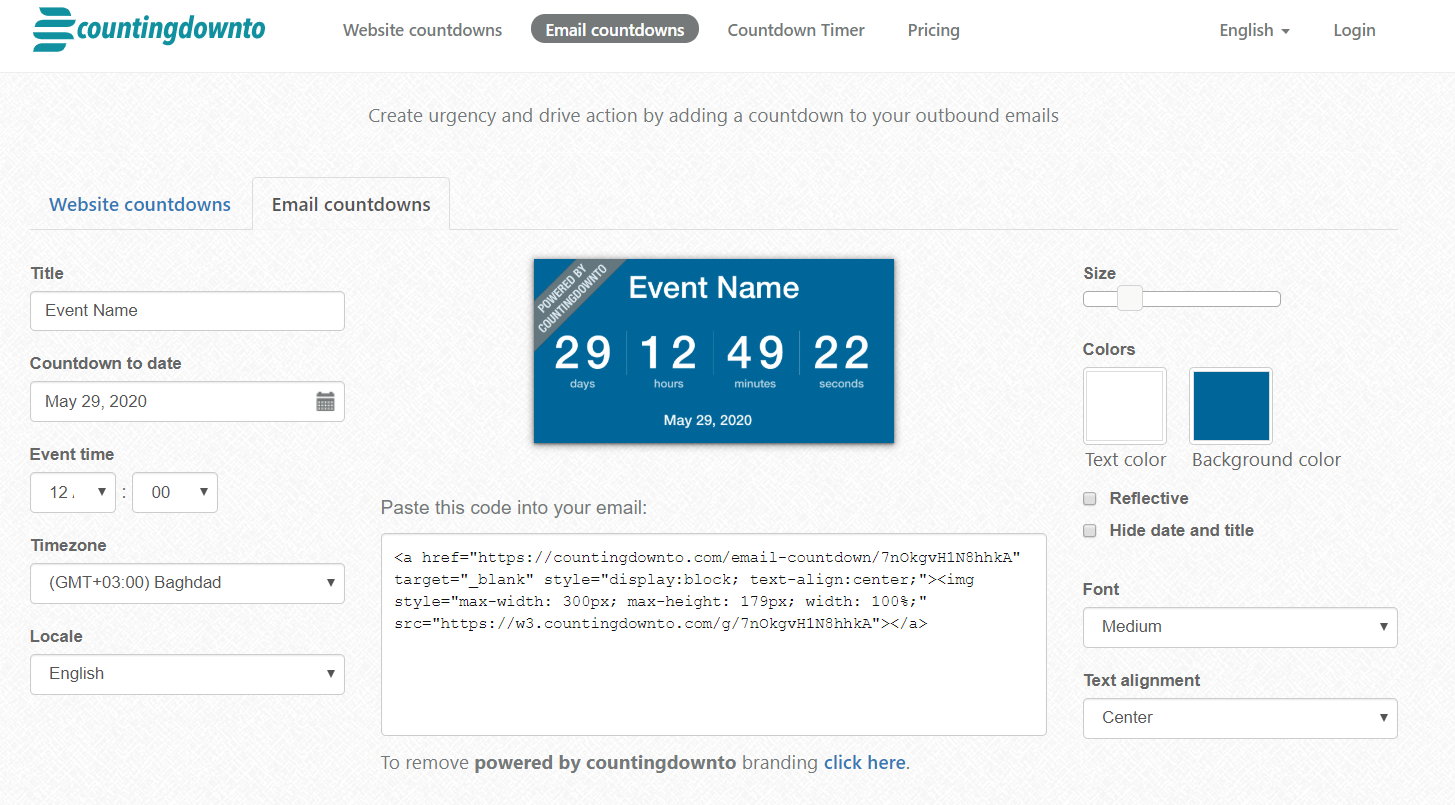 If you sign up, you get all of the options listed above, but without the branding.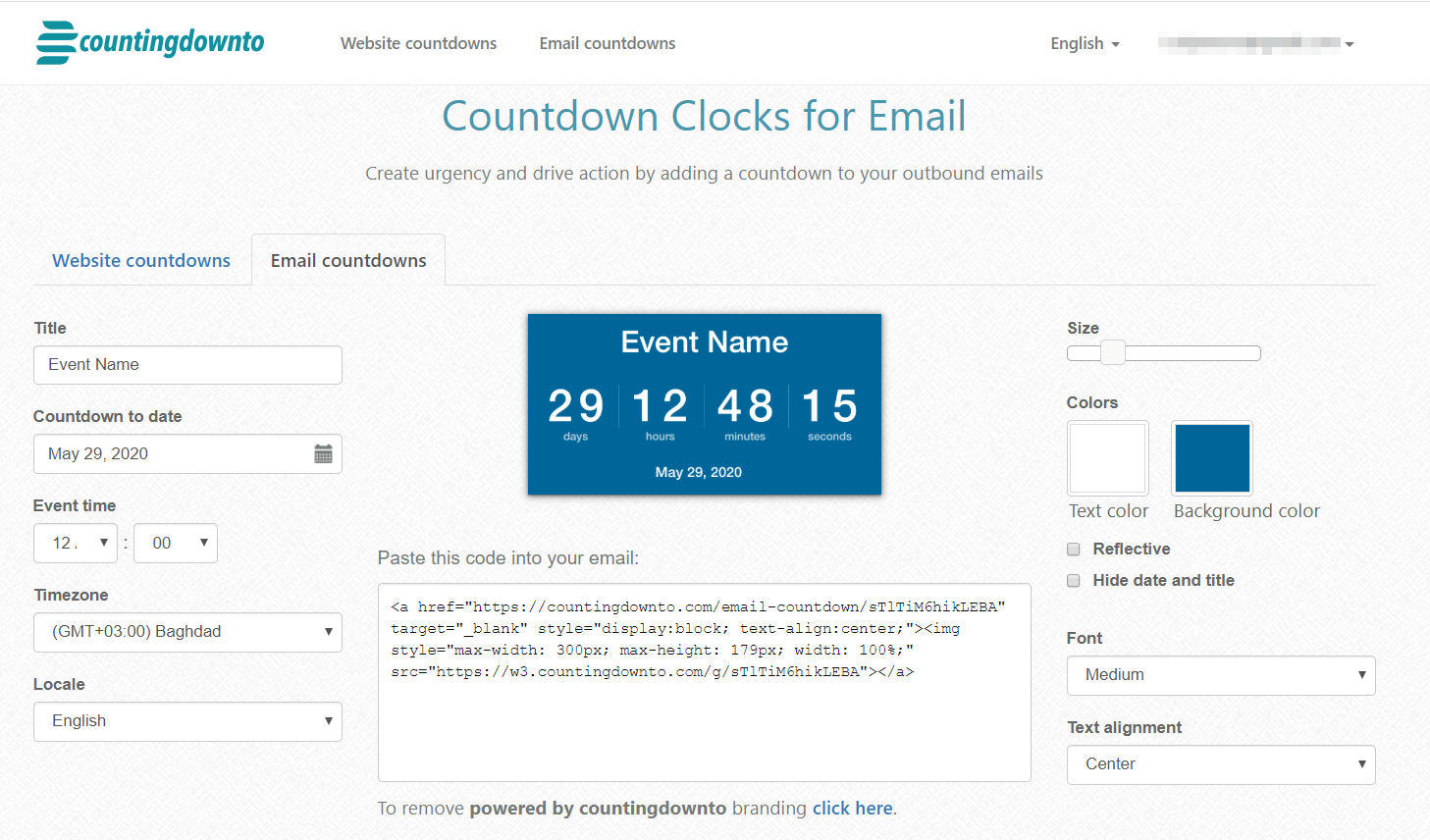 For website countdown timers, more design options are available like, transparent backgrounds and text effects.
The user panel with Countingdownto is not very informative: you can see the timers you've created and your subscription status.
MailTimers is a platform devoted to creating countdown timers for emails. It claims to be a high-performing and easy-to-manage email countdown timer tool.
Pricing
Mailtimers plans cost $7.99/mo for Startup, $49.99/mo for Business, $79.99/mo for Corporation. Paying annually, you can save up to 20%. The tool also has a free version.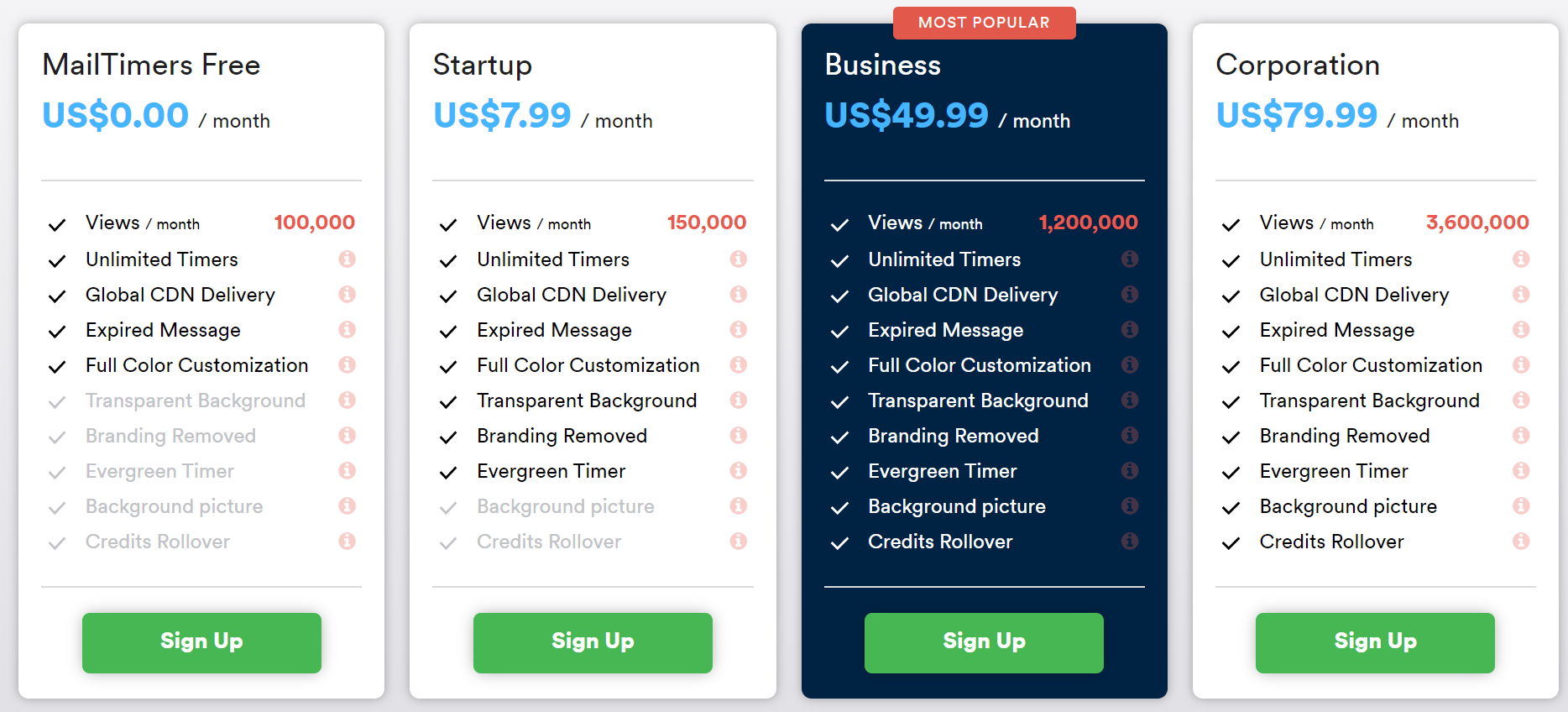 Service details
The more you pay, the more views per month and design possibilities you get. With the Startup plan, you get 150,000 timer views per month, 1,200,000 with Business, and 3,600,000 with Corporation. Starting with the Startup plan, the branding is removed, and you can set a transparent background. Starting with the Business plan, you can add a background image and roll the credits over if there are unused views left at the end of the month.
What's inside?
You can sign up for free with your Facebook or Google account. After that, you gain access to a colorful dashboard where you can track the number of credits left, timers created, and the number of impressions.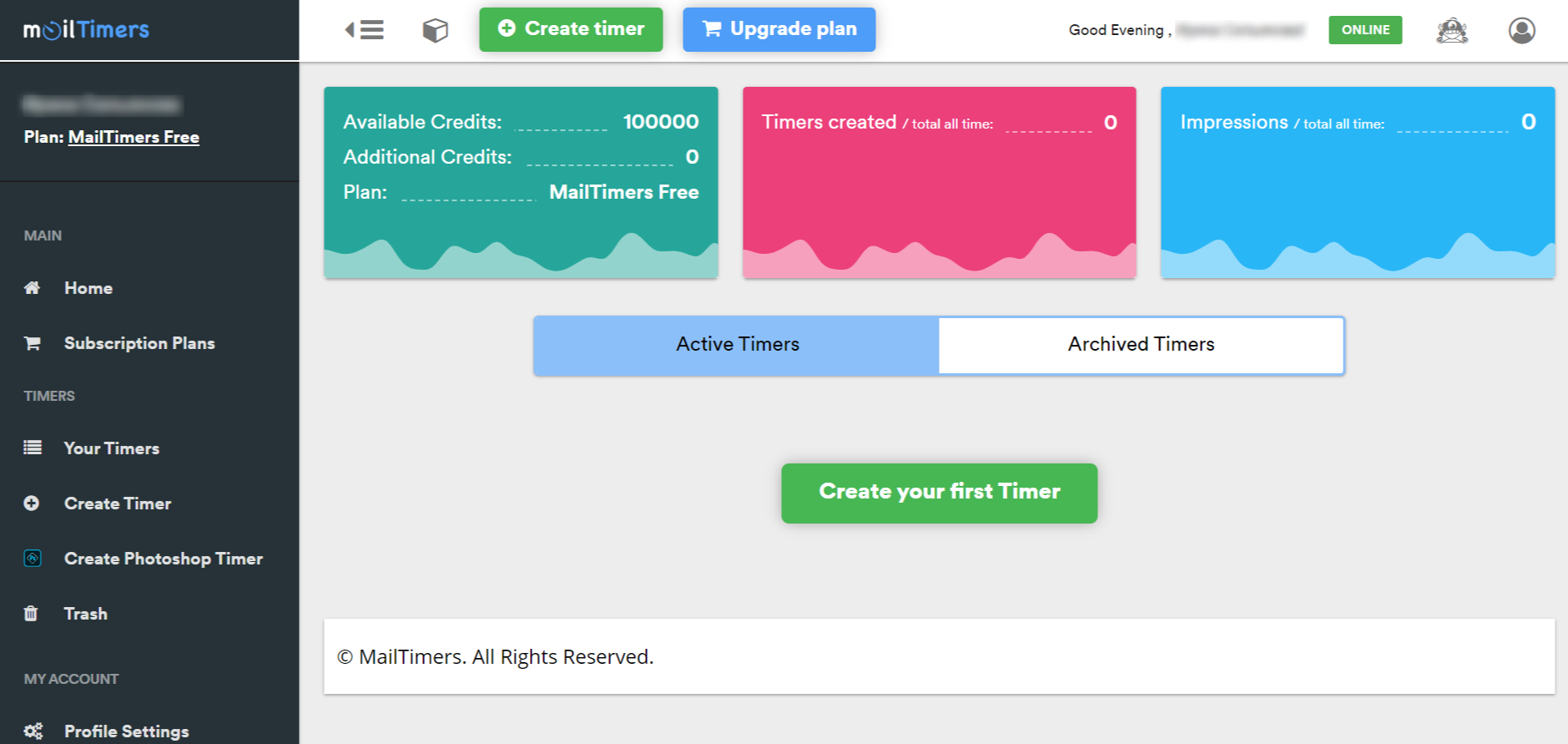 To create a timer, choose a template from 12 available options and customize it. You set a deadline for a maximum of 30 days for a free plan or make an evergreen timer that counts down to a time within some days, hours, and minutes of a subscriber seeing it.
You can also set a time zone, choose one of 37 languages, and set the font size and style — there are more than 80 options. Then you can select colors for text, labels, and background. On paid accounts, you can set a transparent background. There are some advanced settings available: for example, you can add a background image or an expiration message.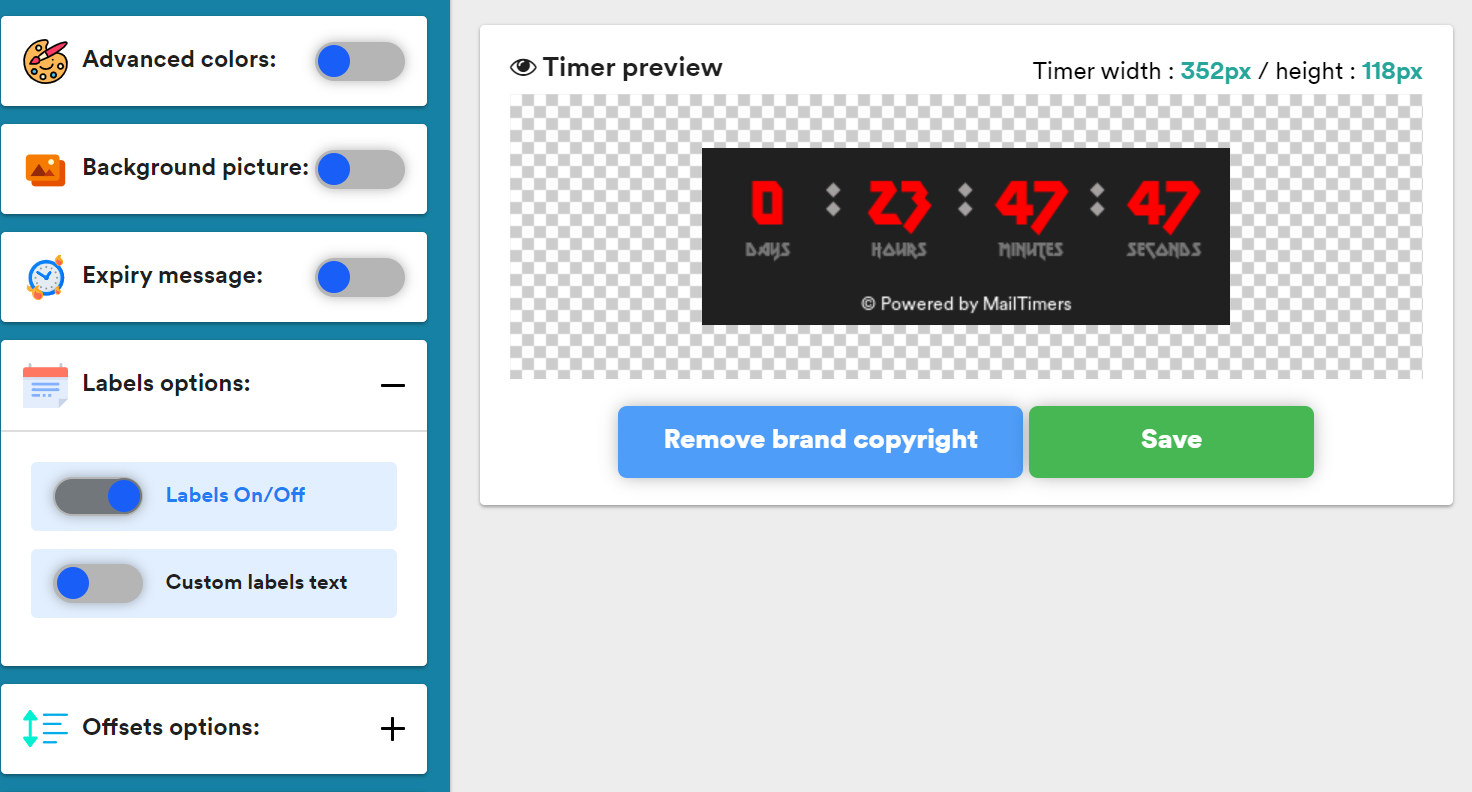 When the timer is ready, you can save it and get the embed code.
How to add a countdown timer to a SendPulse email template
We've decided to add an email countdown timer created in MailTimers into this email template created with SendPulse.
To add the timer, first create a new email campaign. Select a mailing list, fill in the sender's name and email, then add a subject line.
Choose a free email template from the gallery or go to HTML editor to create your own. Create the body of the email: add an image, text, button, and any other elements you need.
Add a new text element. Go to the Source code in the block settings.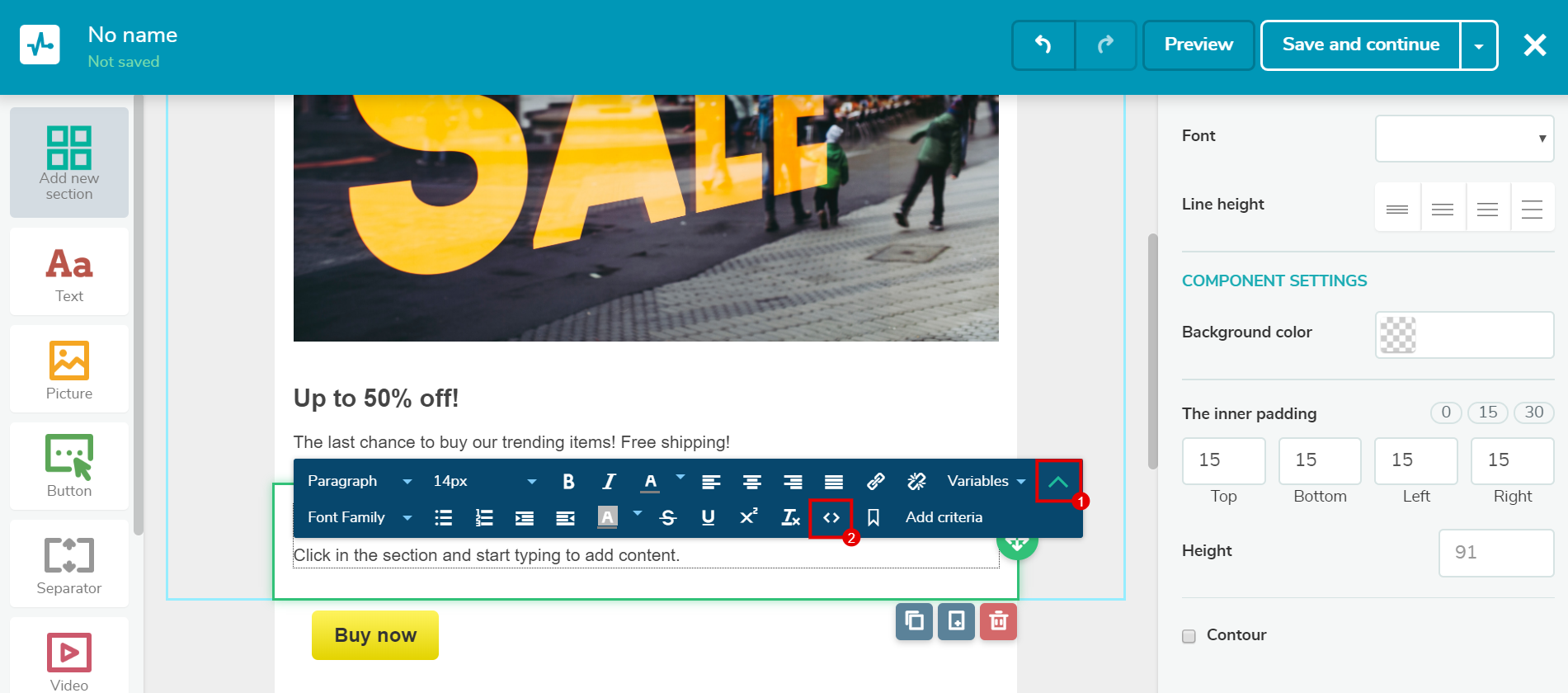 Copy the code from your email countdown timer tool and insert it into the field.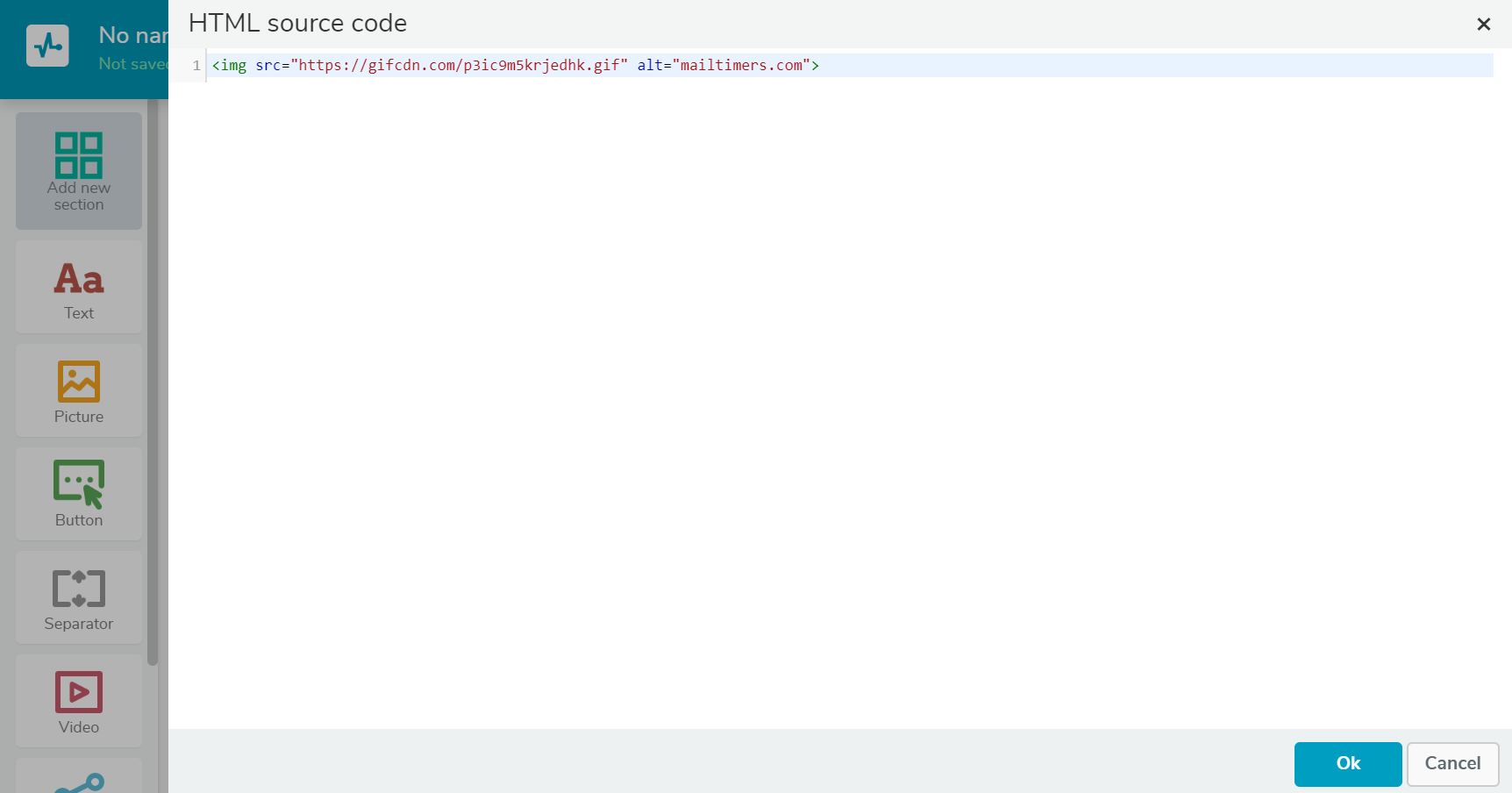 You can check the result in preview mode.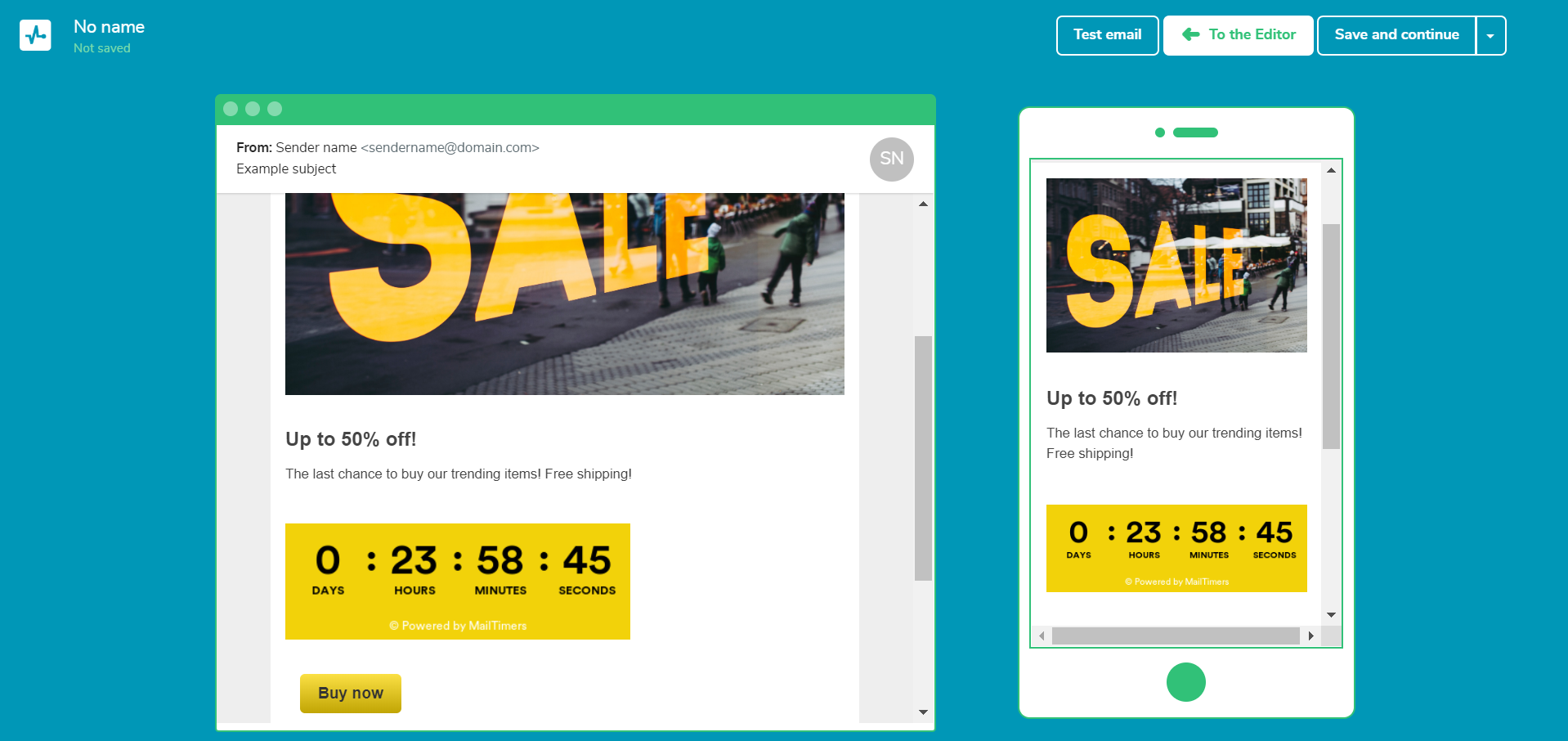 Countdown timer software comparison chart
Now it's time to sum up the results of our test drive. We've specified the main advantages and disadvantages of every countdown timer tool that we tested in the chart below. It will help you decide which one suits you best.
Countdown timer tool
Pricing
Advantages
Disadvantages
MotionMail
Free; paid plans starting from $10/mo
Simple to use

Built-in basic analytics fortimer performance

Lots of functions for free

Poor image quality of some design templates

Branding on the timer in free version

Sendtric
Free; paid plans starting from $9/mo
Nice and friendly onboarding

Different modes of use: with no registration, with registration for free, and three pricing options

Statistics

Wide customization options

With a free plan, there is only one design option available
Niftyimages
Starting from $20/mo; free trial
Comprehensible dashboard

You can create a professional design without special skills

Lots of useful settings, such as local timezone and dynamic language based on IP address

It's a big platform with many features that you may not need if you only want to make a timer

No statistics

Countingdownto
Free; paid plans starting from $28/mo or $69 once for a license
You can create a basic timer relatively quickly, without registration
Poor design options

Poor customization possibilities

No statistics

Mailtimers
Free; paid plans starting from $7.99/mo
Intuitive, colorful dashboard

Wide functionality for free

Branding in free version
No matter which countdown timer tool you choose, remember about the quality of your emails on the whole. To get the best results, create well-designed, comprehensible, and friendly emails, deliver them to a particular audience, and collect data to optimize your email marketing. SendPulse is a platform that will help you make the most of your emails — sign up and get started for free!