Zoom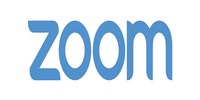 Zoom is a cloud-based platform for video conferencing, virtual meetings, educational online courses, webinars, training. It allows small and medium businesses to have 100 interactive video participants and 10,000 viewers. Zoom offers high-quality audio, video and screen-sharing options. It helps companies work better with remote employees, reinforce collaboration, facilitates sharing content wirelessly. The software generates a link that can be posted by users on social media platforms or inserted into an email to invite more participants. Zoom promotes sharing your useful content to create brand awareness. Besides, customers can create groups to share images, text and audio with its members. While sharing files, users may note and comment on the content. In addition, you are able to record your meetings in MP4 and M4A video formats that is great, because there's no need to look for third-party agencies or devices and save money.
Why integrate Zoom with SendPulse?
Integrating Zoom with SendPulse, you won't have to manage your mailing lists manually because Zapier does it for you. After the integration is set up, every new webinar registrant in Zoom will be automatically added to your SendPulse mailing list as a new subscriber. This way, you can easily keep in touch with your new attendees, notify them of the upcoming webinars, promote special offers. This integration helps you communicate with the customers and makes a business grow.
How do you connect Zoom to SendPulse?
Integrating Zoom with SendPulse unites these two simple tools to benefit your business. Just follow these steps: 
Create Zoom account
Create a new mailing list in your SendPulse account 
Make Zoom to SendPulse zap using Zapier with SendPulse integration
Set the kind of interaction you want between these two platforms
Set the trigger email you want to send to your contacts
See our Knowledge Base to learn more about Zapier integration.
If you have any questions on how to connect Zoom to SendPulse with the help of Zapier, please feel free to contact us.