Webflow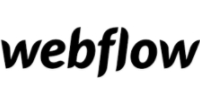 Webflow is a flexible content management system to build websites or blogs without having to code. It is created mainly for professionals but it ensures convenience for all users irrespective of their design experience. Webflow is easy to work with due to its intuitive interface, a wide choice of customizable widgets and visual drag and drop editor. Newbies have a great advantage since they take full control over each step of a website creation, hence, can edit anything without breaking the website design. With Webflow, you can launch a responsive website without coding skills. The CRM offers lots of customizable and responsive templates, great fonts gallery and dozens of design elements. Launch a blog, create custom interactions and animations in 4 steps, create beautiful forms using text areas, drop-down menus, input fields, labels, checkboxes, radio buttons and Submit Form buttons; receive notifications once a form is submitted and preview your website design for desktop, mobile and tablet.
Why integrate Webflow with SendPulse?
Integrating Webflow with SendPulse, enrich your mailing list without this tedious copy-pasting of email addresses. Now Zapier exports them automatically. Once, a new form submission is received in Webflow, Zapier will automatically add new subscribers to your SendPulse mailing list. This way, you save time for more important tasks and, at the same time, facilitate leads acquisition. From here on, send email marketing campaigns to new prospects with your best content, most relevant offers and recent updates.
How do you connect Webflow to SendPulse?
Integrating Webflow with SendPulse unites these two simple tools to benefit your business. Just follow these steps: 
Create Webflow account
Create a new mailing list in your SendPulse account 
Make Webflow to SendPulse zap using Zapier with SendPulse integration
Set the kind of interaction you want between these two platforms
Set the trigger email you want to send to your contacts
See our Knowledge Base to learn more about Zapier integration.
If you have any questions on how to connect Webflow to SendPulse with the help of Zapier, please feel free to contact us.