Intercom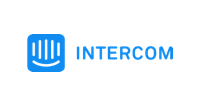 Intercom is a CRM system that allows to maintain communication between the businesses and users. It is a great platform for customer support as it makes possible the interaction with leads and clients 24/7 via a live chat, email, tickets and notifications. Intercom is a good choice for marketing as it helps to increase customer support quality, qualify leads, discover customer service analytics, track useful statistics such as the number of registrations, website visitors, ROI and carry out customer segmentation.
What benefits will you get connecting Intercom to SendPulse?
Connecting Intercom to SendPulse allows you to automatically export contacts from Intercom CRM to your SendPulse account, namely emails and names. After such export, you will be able to create welcome autoresponders, personalized mailings or any other email marketing campaigns. You won't have to manage the lists manually. Once you have a new contact in Intercom, it will be automatically added to SendPulse. You will ensure your outreach to customers is successful.
How do you connect Intercom to SendPulse?
Integrating Intercom with SendPulse unites these two powerful tools to benefit your business. Just follow these steps: 
Create Intercom account
Create a new mailing list in your SendPulse account
Make an Intercom to SendPulse zap using Zapier with SendPulse integration
Set the kind of interaction you want between these two platforms
Set the trigger email you want to send to your contacts
See our Knowledge Base to learn more about Zapier integration.
If you have any questions on how to connect Intercom to SendPulse with the help of Zapier, please feel free to contact us.