Instabot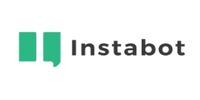 Instabot is an app, website and email chatbot that helps to get more insights about your users and increase conversions. It provides with the information to understand your audience better. Instabot allows to target your customers, personalize your strategies and carry out segmentation. Besides, the app is considered to help with abandoned shopping carts. Creating a bot is easy: provide them with images, videos and customer information; customize it with your logo, colours, font, backgrounds, etc; choose the groups to target; use a bot basing on your customers' behaviour, A/B test your bots to discover the most profitable ones for you.
Why integrate Instabot with SendPulse?
Integrating Instabot with SendPulse, you don't have to manually export all new users from Instabot to SendPulse mailing list — Zapier will do it for you. After an integration configuration, every new user in Instabot will be automatically added to the previously specified mailing list in SendPulse. After it, you can direct all your marketing efforts, methods and tricks toward them to ensure long-lasting communication.
How do you connect Instabot to SendPulse?
Integrating Instabot with SendPulse unites these two simple tools to benefit your business. Just follow these steps: 
Create Instabot account
Create a new mailing list in your SendPulse account
Make Instabot to SendPulse zap using Zapier with SendPulse integration
Set the kind of interaction you want between these two platforms
Set the trigger email you want to send to your contacts
See our Knowledge Base to learn more about Zapier integration.
If you have any questions on how to connect Instabot with SendPulse with the help of Zapier, please feel free to contact us.