Integration with JumpOut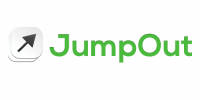 JumpOut is a set of widgets that helps you improve conversion rates, get more subscribers and drive traffic to landing pages.
Why integrate SendPulse and JumpOut?
You can collect emails of your website visitors by providing gifts, promo codes and special offers in your opt-in forms. It works the same way as an email series. For example, if you give a coupon code in your opt-in form, it won't be shown to those who have already used it. Moreover, you can set JumpOut widget to collect data from those users, who were directed to your page by specific keywords or came to your page from specific websites.
Integration features
Modern form designs. You can change colors, titles, use countdowns and two-step popups to increase your conversions.

Automatic data collection: name, email, phone number.

The possibility to select a mailing list, to which new email addresses will be added.

Export of the collected data to the SendPulse account.
Connect SendPulse to JumpOut
Follow these steps to set up the integration:
sign up for a JumpOut account and log in, 

install a given code to your website,

click on the "Create jumpout" button,

fill the name, domain fields and select "Collect contacts" as a goal,

navigate to a "Form" tab and click on the "Connect service" button. Then select SendPulse from the list,

log into your SendPulse account, go to "Account settings", choose API tab, activate API and paste the key and secret to the JumpOut form,

drag fields, which you want to add to your form and select a mailing list, to which the widget will add subscribers,

click "Save" and then a green button to enable widget on your website.
The main fields you should fill in are shown in the screenshot below.
Learn more about JumpOut.
Read this step-by-step guide to set up SendPulse and JumpOut integration.