Lander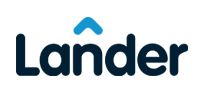 Lander is a platform for creating beautiful landing pages for PPC campaigns, social media, and email marketing.
Lander provides a variety of landing page templates for different types of campaigns. Lander lets you easily edit text, images, and videos using the drag and drop feature, with no need for programming. Among other features, Lander offers custom domains and A/B testing to boost the conversions of your marketing campaigns.
What benefits will you get by connecting Lander to SendPulse?
Connecting Lander to SendPulse will help your business growth. The combination of these two platforms lets you import subscribers' data from your Lander landing page, such as names and emails, directly into your SendPulse mailing list to ensure you can market to each subscriber. Using Lander and SendPulse together will expand your email marketing contact base. Send trigger emails to your new subscribers, and launch automated email campaigns with SendPulse to advertise your products.
How do you connect Lander to SendPulse?
You can connect Lander and SendPulse and turn it into one powerful marketing tool using Zapier. Just follow these steps:
Create a new address book in your SendPulse mailing list
Set the trigger event (e.g. filling in the form on your landing page)
Make a Lander to SendPulse zap using Zapier with SendPulse integration
Set the kind of interaction you want between these two platforms (e.g. importing new contacts from Lander to SendPulse)
Set the trigger email you want to send to your contacts
See our Knowledge Base to learn more about Zapier integrations. 
If you have any questions on how to connect Lander to SendPulse with the help of Zapier, please feel free to contact us.