There are many types of entrepreneurs nowadays. You can find mompreneurs, ecopreneurs, multipreneurs, passivepreneurs, etc. Nowadays, one of the most prominent types of -preneur is an infopreneur. In 2018, adults spent 10.5 each day consuming content, and this number only goes up. As a result, everyone who delivers information has a chance to shine.
Let's take a closer look at infopreneurs and what they do, as well as find out how to become an infopreneur. We have also made a list of successful infopreneurs to get inspired from.
What is an infopreneur?
An infopreneur is a person who monetizes their knowledge. They collect, organize, and sell information about a specific niche. You can make it either into a side hustle or invest yourself fully.

Infopreneurs can work on different platforms and tell information in different ways. For example, bloggers and vloggers work with social media and share their experience and expertise daily in small portions. There are also course creators and podcasters who work with specific platforms and share information in a more streamlined way. Authors get their books published in print or on websites, and speakers can work both online and offline on different events. Coaches talk to their clients individually or on social media, and consultants offer private consultations only.
Monetization, in that case, can also vary based on what kind of information you sell and where. Those associated with social media and podcasts do not sell information directly since they work on open platforms. Therefore, they have to earn from ads or community donations. Others get their money from selling courses, books, or consultations.
Why should you become an infopreneur?
Infopreneur has become quite a common choice. On social media alone, you can find 50 million content creators. Why is that so? Let's take a look!
It is a low-risk, low-investment entrepreneurship
There are two main reasons people do not start businesses: they lack funding and fear failure. Infopreneurship battles both of these reasons.
For most kinds of infopreneurship, you need no to little material investment. You just need the knowledge of your niche and some knowledge of creating content. Money for ads can help you reach your goals faster, but this is nothing compared to hiring employees and renting a workplace for other types of businesses. You do not lose anything if you do not succeed either.
However, it also takes more time to start earning money from infopreneurship, and it is something to be aware of. One can also need more investment if they create their own infopreneur website or film videos.
Read our recent blog on how to start your eLearning business from scratch and get some actionable tips and inspirational examples.
You are completely flexible
You are the one to decide what to do with your business, what deadlines to follow, and what type of infopreneurship to engage with. There is no boss to make you come to the office or reach more goals within a very limited time. You are the one to control how fast you want to grow and when your vacation is.
The decisions depend totally on your comfort zone and free time. However, it is also important not to overdo it or plan big but never commit to it.
You can easily generate passive income
This option works only for those who create books or online courses, but you can make it a part of your income in any type of infopreneurship.
Basically, you'll just need to commit to this big project once: carefully choose your topic, gather all the resources in an easy-to-digest way, and either record yourself or design a book. You will only have to make further effort to market it sometimes. Otherwise than that, no more work is needed, and you continue to receive the profit nevertheless.
Discover how to create and sell various types of digital products even if you have never done it before.
Many information and tools are available
Since infopreneurship has grown popular, other businesses have reacted accordingly.
There is a type of infopreneurs who work for the infopreneurs market. They share their way of getting to the top and issue guides on how to do so more effectively. Such infopreneurs can help you choose the right tools, platforms, and ways of presenting yourself.
Consider checking our post for actionable tips on making your personal brand shine.
The software market boomed as well. Many tools allow you to edit photos and videos intuitively and for free, automate social media posting, find your target audience with no effort, monitor your growth online, etc.

How to become an infopreneur
It takes not only the knowledge in your niche but the knowledge of infopreneurship as well. Let's take a look at these tips to get you started faster.
Find your niche
Many people know more niches than one. It is your job, but it is also your hobby or random interest you like to read about a lot. It is important to define what interests you the most, what makes you passionate, and what will stay with you long-term.
You can write down a list and make columns with the knowledge, experience, passion, likeliness for a long-term commitment, and how interesting it may be to your audience. After that, rate every column from one to ten and see which niche got the most points.
However, it is important to give a little bit more weight to the niche that you are actually interested in.
Here's a niche infopreneur website example. A hand lettering artist focuses on a specific niche and helps brands and marketers stand out from the competition with unique fonts.
Choose your content type and platform
There are different ways to share information. It is important to make a choice based on what you are comfortable with, what your preferred method is, and how many resources you have.
As we have mentioned previously, such content types as videos, podcasts, or printed books will require upfront investments, and you have to be ready for it. Thus, the two most popular platforms for infopreneurs to share their knowledge are blogs on WordPress and Instagram.

Learn how to work and create for that platform
Write down a list of skills you will have to learn and tools that you might need for these skills. For example, you may need to learn how to edit videos or podcasts, how to design Instagram stories, presentations, or books, what questions to ask during coaching or consultations, etc.
It is very likely that you might need more time to create something in the beginning and that it is not perfect. It is very normal. However, you need to never stop improving and following the latest trends to reach and stay on top.
Build your personal brand
There are many infopreneurs, and many people started to choose courses based not only on the expert's knowledge but also on their background, the quality of their setting, and how they deliver information. Thus, building a solid personal brand online is of utmost importance.
Here are some factors that influence the instructor's personal brand:
how much they engage with the audience;
how they talk;
whether they share theory or provide examples;
how relatable they are;
whether they include humorous explanations;
whether they share their failures;
what they do besides sharing the expert content.
Therefore, it is also important to find your style of sharing content. You can watch other infopreneurs, think back to your university experience, and critically analyze what you preferred. You can write down three good and three bad things about other creators to find your perfect formula that both suits you and engages others.
A British-American author, inspirational speaker, and author of online courses on leadership does a great job promoting his personal brand on Instagram by posting motivational videos and inspirational quotes.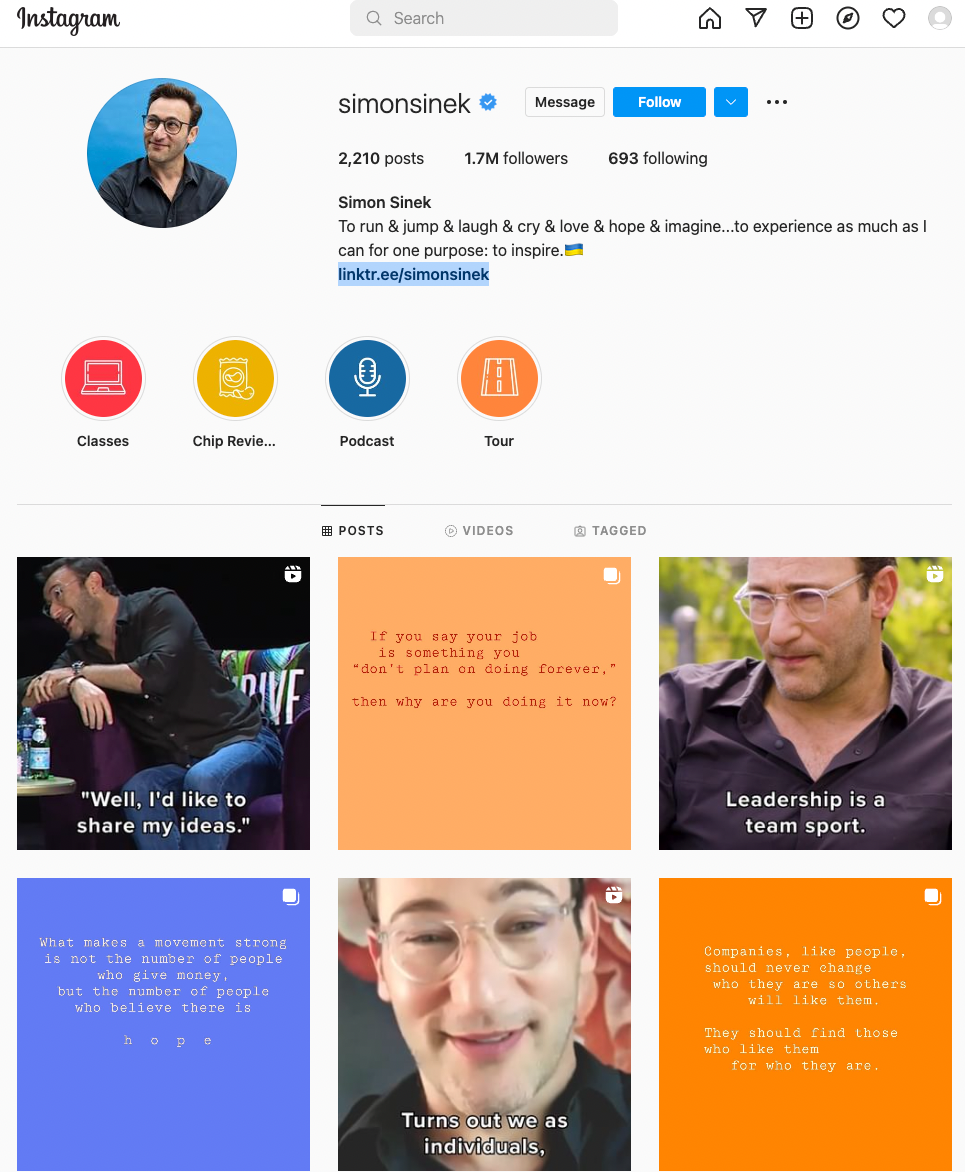 Learn how to land customers
There are numerous ways to get your first customer or subscriber.
If we talk about free solutions, you can ask your family and friends to share your initiative, create a referral system, work with other small creators to cross-advertise each other, advertise yourself on niche forums, and write guest posts for publications on other blogs.
The paid options include targeted advertisement or partnerships with big influencers. Do not forget to ask for testimonials to create more high-quality advertisements in the future.
Create a plan
Infopreneurship does require some responsibility if you want to grow, especially in the beginning. You always risk becoming a bit lazy and disorganized if you do not have a boss who controls your steps.
Therefore, it makes sense to create a long-term vision and short-term action plan. Long-term goals include information about products or services you plan to create, where you see yourself in two or three years, and what you want to achieve. Short-term action plans include content you plan to publish and partnerships or advertisements you want. They should include deadlines too.
Learn how to create a landing page for your online course that converts visitors into paying customers.
Top examples of successful infopreneurs
We encourage you to watch other infopreneurs in order to get inspired, motivated, and informed.
An infopreneur selling books on TikTok
You probably heard about the New York Times best-selling author Hank Green if you opened YouTube or TikTok. He's known as that science guy who explains complex science questions. The information delivery methods make him prominent in his infopreneurship and allow him to sell big volumes of his books.
He's very down-to-earth and likes to joke about himself and his brother; he never thinks that there is a stupid question and explains everything in a very straightforward way. He knows that his audience is not scientists but people who like random facts. So he sometimes makes answers easier than they are, but it does not make anyone uncomfortable. He also seems to be constantly in awe of how science works and passes this admiration to his audience.
An infopreneur selling online marketing courses
Neil Patel is a successful entrepreneur who had used his previous experience to become a successful infopreneur. He leverages his website and social media following to sell online marketing courses.
He created several extremely successful projects before he went on to talk about marketing. He is always consistent in his posting, uses different content types such as blog posts, videos, podcasts, guides, and books, and creates such in-depth articles that no one has enough desire to make something bigger.
A micro Influencer selling photography courses through Instagram
Shelley Paulson was a professional equine photographer who initially started working on her social media pages to attract more clients to her business. After she understood the demand for teaching equine photography, she decided to structure all the knowledge in the online course, which she currently sells on the online course platform.
After launching her online course, she managed to generate $35,000 in revenue, which is a great result considering that she has a relatively small Instagram following of just 10k people.
Conclusion
Infopreneurship is a career or a hustle that is easy to join. You need no prior investment, just your passion for a certain topic and some self-discipline.
Some types of infopreneurship are harder than others and require technical skills, such as course building. Do you want to create those effortlessly as well? Then go for the SendPulse course builder and create your first course in no time!